"Star Wars" fans love Tatooine and its twin suns, but astronomers working with one of the world's biggest telescopes have done Luke Skywalker's home planet one better.
Known as HD 131399Ab, the unusual exoplanet is located 320 light-years from Earth in the large southern constellation Centaurus. It's a gas giant like Jupiter but about four times as massive.
And while it's one of the coldest exoplanets ever to be directly imaged by a telescope (rather than detected as a result of the dimming of starlight as it passes in front of its host star), HD 131399Ab is very hot by human standards. The average temperature exceeds 1,000 degrees Fahrenheit.
In short, HD 131399Ab isn't the kind of place you'd like to call home. (And there's no hint that it harbors alien life.) But if you could live there, you'd find its sky a most peculiar place: You'd see either constant daylight or triple sunsets, depending on the season.
And each season on HD 131399Ab lasts about 300 years.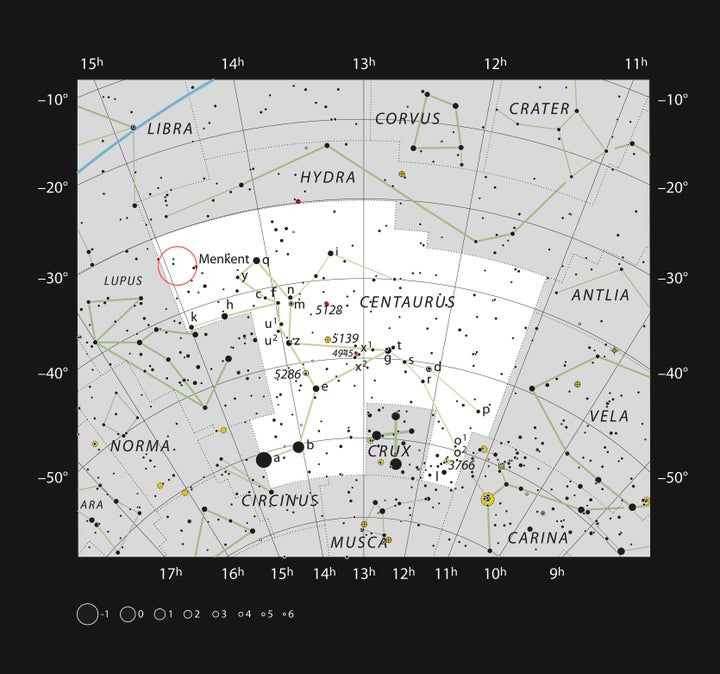 HD 131399Ab orbits the system's brightest star, HD 131399A, at a distance of about 7.6 billion miles. That's roughly 82 times the average distance from the Earth to the sun ― and, according to the astronomers behind the discovery, the widest orbit ever seen for a planet in a triple-star system.
The other two stars in the system, HD 131399B and HD 131399C, twirl around each other as they orbit HD 131399A at a distance that's 300 to 400 times greater than the distance from the Earth to the sun.
(If you're having trouble imagining what all this looks like, the images below should help.)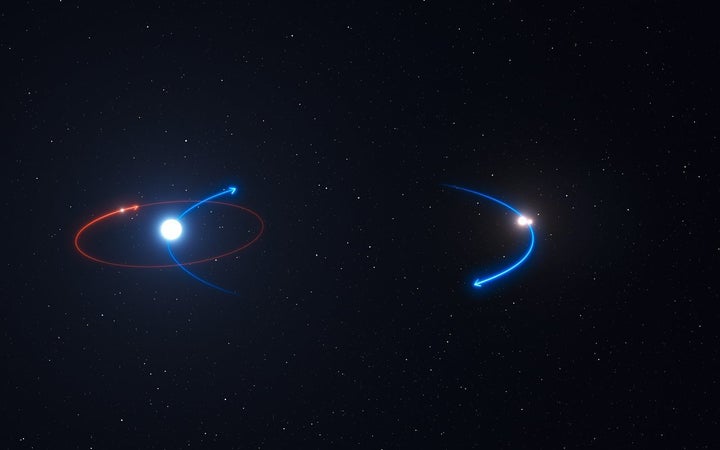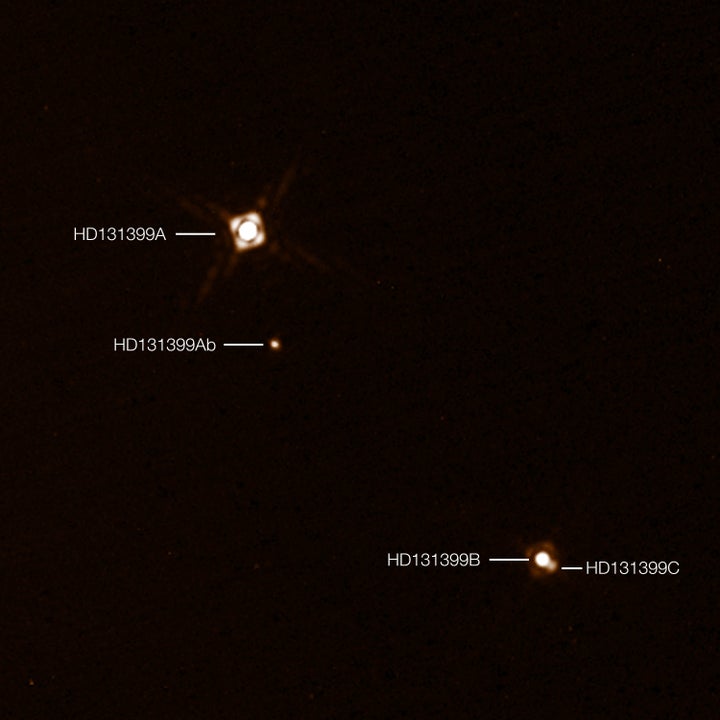 The newfound planet was discovered using the European Southern Observatory's Very Large Telescope in northern Chile. The ESO is supported by Austria, Belgium, Brazil, the Czech Republic, Denmark, France, Finland, Germany, Italy, the Netherlands, Poland, Portugal, Spain, Sweden, Switzerland Chile and the United Kingdom. Researchers published a paper on their findings Thursday in the journal Science.
Kevin Wagner, a University of Arizona Ph.D. student and the paper's lead author, told The Huffington Post in an email that the system's configuration is "surprising and extreme."
It's also a bit precarious.
"If the planet was further away from the most massive star in the system, it would be kicked out of the system," Dr. Daniel Apai, assistant professor of astronomy and planetary sciences at the university and co-author of the paper, said in a news release. "Our computer simulations have shown that this type of orbit can be stable, but if you change things around just a little bit, it can become unstable very quickly."
Stable or not, HD 131399A is fascinating to astronomers in part because it helps fill in gaps in our knowledge of how planets form and change orbit.
"This new report gives us a weird dynamical system to study, pushing our models of planet formation to new limits," Dr. Jay Pasachoff, professor of astronomy at Williams College, told The Huffington Post in an email.
The discovery also "allows us to study a planet that is close to what Jupiter would have looked like when it was very young," Apai said in the email.
Before You Go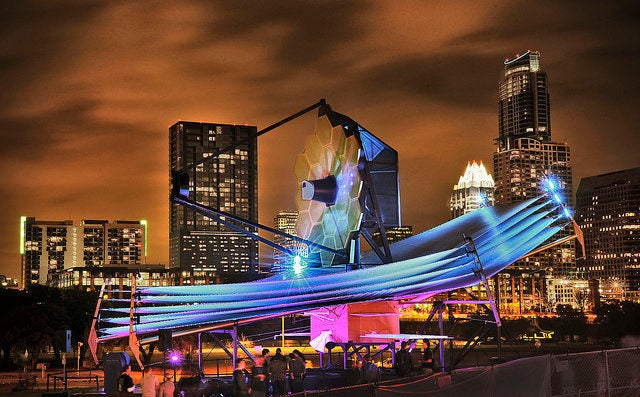 Extremely Large Telescopes
Popular in the Community