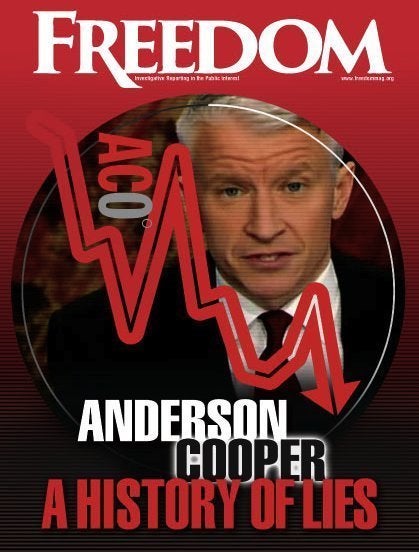 Anderson Cooper has made himself a powerful enemy: the Church of Scientology.
...Cooper thinks he can get away with this hogwash and pull off what even the greatest hucksters in history failed to accomplish, i.e., fool all the people all the time.

So in the immortal words of Cooper himself, let's start "keeping 'em honest" by presenting his Posse of Apostates as they truly are...
"...when an earthquake reduces Haiti to rubble, there he is, on site in designer jeans or cargo pants, to verify for himself that the villages were indeed reduced to rubble...Anderson Cooper has got to see it with his own two eyes while furrowing his brow to show how much he cares. But this time, Cooper refused to look. "
Later in the same video -- most of which is actually devoted to a rundown of the church's activity during 2009, and not to attacking Cooper -- the church writes what it says is the statement Cooper should have given to viewers, while repeating the same frozen second of footage of Cooper over and over again to make it look as though he is speaking.
This is not the first time that the Church of Scientology has responded aggressively to investigative journalism. The BBC and the St. Petersburg Times have also come under fire for their reporting in recent years.
SEE COVER: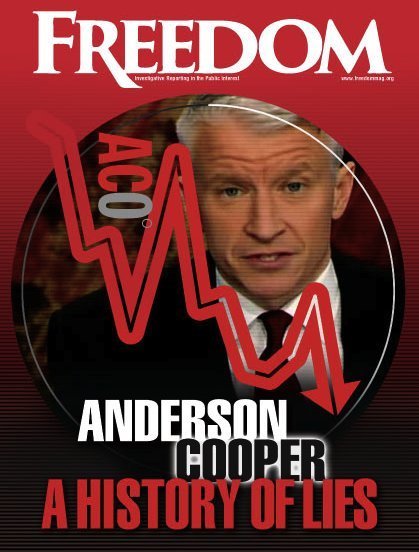 Popular in the Community