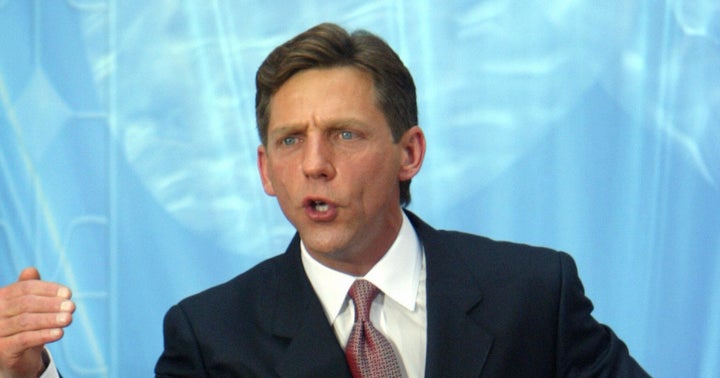 There are dysfunctional families, and then there are those who write tell-all books. 
The title is a reference to David's alleged total lack of concern for his father's health. Reportedly, an investigator hired to watch Ronald called the church leader at one point, claiming he witnessed his father in what appeared to be the throes of a heart attack. According to a Los Angeles Times article from April, David allegedly told the investigator in response, that "if it was Ron's time to die, to let him die and not intervene in any way."
Of course, his father isn't the only family member David Miscavige has issues with. His wife, Shelly Miscavige, disappeared in June 2006 and has not been seen publicly since August 2007 (actress Leah Remini filed a missing persons report after she left the church in 2013, however, police closed the case when they had a face-to-face meeting with Shelly). To this day, Shelly's whereabouts are still a public mystery, but the church claims the notion she's being held against her will is a "conspiracy theory."
Meanwhile, David's niece Jenna Miscavige Hill also penned a tell-all book in 2013, titled Beyond Belief: My Secret Life Inside Scientology and My Harrowing Escape,  claiming that her experience growing up in the church was "mentally and at times physically abusive."
The publication date for If He Dies, He Dies has yet to be released. 
UPDATE:  Church of Scientology spokesperson Karin Pouw sent the following statement to The Huffington Post: 
Mr. Miscavige has always taken care of his father and continues to do so. Beyond that, as a matter of policy, neither the Church nor Mr. Miscavige comments on members of his family. The Church knows nothing beyond media reports about any purported book.

As for the purported emergency incident involving an investigator and the second-hand account of an alleged conversation containing a despicably false quote, Mr. Miscavige's attorney, Michael Lee Hertzberg, is on record stating that Mr. Miscavige does not know the investigator, has never heard of the investigator, has never met the investigator, has never spoken to the investigator, never hired the investigator and never directed any investigations by him.

So let me be clear: No such conversation with Mr. Miscavige ever took place and any claim that one did is provable bullshit.
PHOTO GALLERY
Celebrity Scientologists
Calling all HuffPost superfans!
Sign up for membership to become a founding member and help shape HuffPost's next chapter