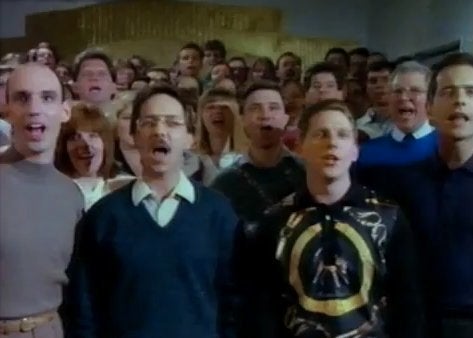 Scientology, the tiny sect of believers in the philosophies and methods espoused in science fiction writer L. Ron Hubbard's "Dianetics," is a group concentrated in Hollywood, with stars such as Tom Cruise as its figureheads. That association leads to a lot of publicity and fundraising, and, every once in a while, some serious production value in its propaganda hymn videos.
Which, like much of Hollywood's work from 20 years ago, is hilarious kitschy when viewed with fresh eyes.
The Church of Scientology put together this singalong video, titled, "We Stand Tall," which stars a whole plethora of its followers -- including Scientology leader, David Miscavige. Here's a sampling of the lyrics:
Words from a book showed me the way to be free from the shadows of yesterday.
But the price of that freedom we almost paid --
From now on, joining together we held our ground and lifted our voices one mighty sound,
And struck down the walls of darkness, we stood tall.
We decided to take a stand to defend the rights of man...

We stand tall, no turning back, we found the way.
We stand tall, forever strong, we'll live on.
We stand tall. knowing the truth will set us free, and take us from clear to eternity.
To a future we thought would be, we stand tall.
And your legacy is secure for we'll keep your vision pure
WATCH
:
Calling all HuffPost superfans!
Sign up for membership to become a founding member and help shape HuffPost's next chapter