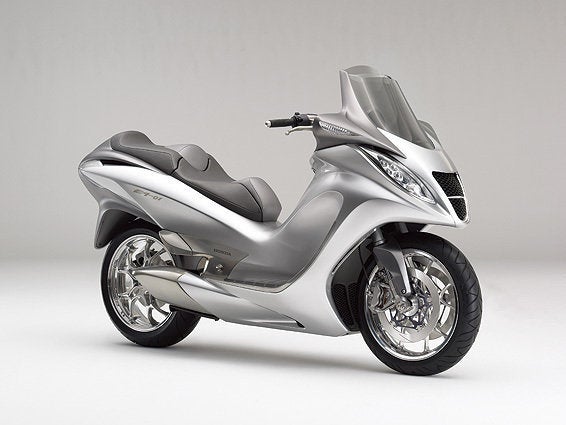 Vectrix Electric Scooter
First, an electric scooter that leaves a lot of other forms of transportation in the dust:
. Powered by a 125-volt Nickel Metal Hydride (NiMH) battery pack that you can recharge in a couple of hours, it can accelerate from zero to 50 mph (80 kph) in 6.8 seconds, with a max speed of 60 mph (100 kph) and a range of about 68 miles (110 km) at an average of 25 mph (40 kph). The 2008 North American MSRP for a
is
$9,395
.
You can see the Vectrix in action - filmed from low angles with rhythmic music - in this promo video:
Honda's Electric Moped Prototype
In 2005, we covered
, but sadly it doesn't seem like it is in production yet. (Honda, you reading this? Come on!) What made it interesting was its small size and weight, allowing for maximum urban mobility. It has a lever-based throttle system which is easier for novice riders, and Honda claims it has similar acceleration to an equivalent gas-powered scooter.
The Rider: An Electric Commuter Trike
is another concept/prototype, this time even more experimental than Honda's electric moped. It was designed by Elisha Wetherhorn as a complement to trains and buses. It's a three-wheeled electric commuter scooter that you can fold and carry with you. It tilts a bit when turning corners (making it more fun), and it can run for 4 hours at 15 kph (9.5 mph) on its 24 volt battery.
E-Max Electric Scooter from Germany
The
from Germany, and it is sold in Western Europe (and apparently coming to the US). There are many different models (see the
), from the bargain model with a range of 45-60 km (30-37 miles) to the most expensive model with a range of 130-150 km (80-93 miles). The electric motor is located in the rear wheel, and the battery will recharge to 80% in 1.5 hours.
IKOO Electric Scooter
The diminutive
will please fans of elegant design. The frame is made from ultra rigid T304 surgical stainless steel alloy, and it has tail lights, directional-brakes lights, and optional headlights and rear view mirrors can be added to the package. Don't expect highway speeds, though: The 600-watt electric motor can bring the IKOO to a maximum speed of 18 mph or 25 kph. Range: 15-18 miles or 25-30 km.
Price: $995, optional accessories $210 extra.
Electric Vehicle Technology's Z-20 Electric Scooter
The
by Electric Vehicle Technology America won't stand out in a crowd--until you drive away and there's no annoying gas engine noise, that is. With a max speed of 45 mph (72 kph) and a range of 30-45 miles (48-72 km), it can take you around town without problem. It is powered by a 2500-watt 60-volt brushless hub motor.
Price: $2,499
Zapino Electric Scooter from ZAP!
Finally, we have the
. The manufacturer claims that it is the most powerful electric scooter in its class (note that it's not in the same class as the Vectrix, mentioned above). Its 3000-watt "Super efficient" brushless hub motor can bring it to about 30 mph (50 kph), and it has a range of 30 miles (50 km) on the default battery or 65 miles (105 km) on the optional lithium-ion battery.
Price: $3495
.
Calling all HuffPost superfans!
Sign up for membership to become a founding member and help shape HuffPost's next chapter