"The taste of sweet blueberries and the word 'Barcelona' make me happy... "
Such a lucid notion: "The taste of sweet blueberries and the word 'Barcelona' makes me happy" -- just lie in the echo of that for a moment. It captures all that is most tender, effortless, thrilling and true about life's apotheosis. It stirs the mystery of the senses and the power of language up into one singular wave of joy.
Like all great verse, the line is a conjurer, uncoiling the imagination of the listener, calling us out to play. It has the capacity to transport, regardless of whether one translates "sweet blueberries" as a metaphor or an actual memory, or whether "Barcelona" evokes stirrings of discovery, admiration for those who play the beautiful game or simply melts like music in the mouth.
In this case, the line represents pure possibility for its authors, as well as for their audience. It was written by a group of eight to 11-year-olds, who participate in America SCORES Bay Area. The program serves urban kids six days a week with enrichment programs that inspire them to be healthy, confident contributors to their community. Empowered with soccer balls, writing workshops and service learning, America SCORES kids get inspired to see the beauty of potential in themselves, their world and the people around them.
Through an ongoing partnership with ASCAP, the premier music-makers collective, 20 or so lucky kids each year work with an ASCAP songwriter to make an original recording. This year's magical pairing involved two days at E.R. Taylor Elementary in San Francisco and an afternoon performing and recording at Tarpan Studios with Narada Michael Walden.
For 30 remarkably fruitful decades, Narada Michael Walden has been writing and producing hits for Top of the Pops artists, including Aretha Franklin, Ray Charles, Jeff Beck, Whitney Houston, Stevie Wonder, George Michael and Steve Winwood. He's not only put out two collections of his own music, but has performed with everyone fro B.B. King to Mick Jagger. And through his own foundation and as Music Director for the Rainforest Foundation Concert at Carnegie Hall, Narada Michael Walden lives the spirit of music's power to transform.
For this project, he asked the kids to riff on what feels good to them. The result was a song "Having Fun Tonight," with lines like the one I opened with and others that capture the universal sensation of feeling free and happy and golden -- "love inside my heart boom boom beating crazy."
The kids wrote from a place of freedom, untethered from the embarrassment and self-censorship that so often crushes creativity in young minds. Wonderful teams from both America SCORES Bay Area and Tarpan Studios encouraged the kids to be exuberant and it worked, even for the shyest. Music takes down our buffers, it reminds us to laugh, cry, play, and love, again and again.
Coach Manny called it "Angel Energy." Could anything be more profoundly potent? What a gift to share. So, here's to a chorus of: "Everybody's getting' down and being free." Here's to these bright, shining poet-athletes. Here's to kind and authentic leaders like Coach Manny, Narada Michael Walden, and ASCAP Producer Sue Devine. And here's to a first dream called "Barcelona."
and it's you are whatever a moon has always meant and whatever a sun will always sing is you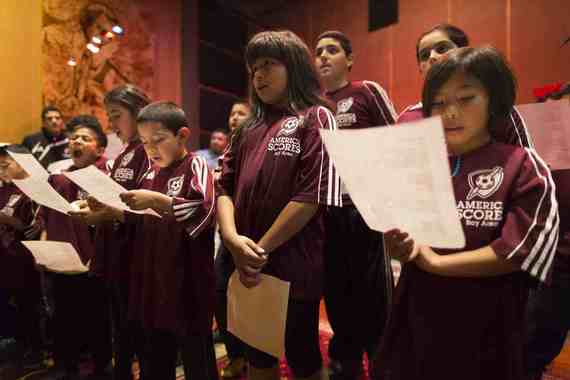 Calling all HuffPost superfans!
Sign up for membership to become a founding member and help shape HuffPost's next chapter