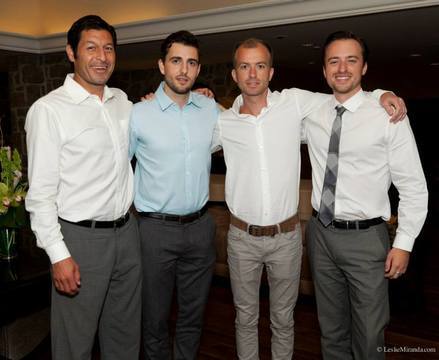 Beck & Score is a new high end sports travel business that offers "tailor made travel experiences to the world's premier ticketed events." It launched eighteen months ago and the timing is right for this type of venture as high net worth individuals are spending money again in a big way and BECK & SCORE is ready to win their business.
I recently spoke with COO Mitch Jolley about the business that he co-founded in 2013 with two friends; Chris Stone and Eddie Salcedo.
"There seems to be a trend amongst high net worth individuals in which there's now a higher value placed on experiences vs. luxury goods. There's fulfillment and satisfaction that can be derived out of an incredible travel experience that I don't think people can get out of buying a car or a boat. Our job is to provide these experiences...in luxury and in style." 
They launched Beck & Score with a travel experience to the World Cup in Brazil this summer and after this major launch event, Mitch feels like they can handle anything.
"We picked the largest event in one of the most difficult parts of the world to do business. Delivering 5-star level experiences in Brazil was a big task but if it was easy there'd be no need for us. The value that we bring is we're on the ground early and we vet every component of our offerings and provide our members with the best of the best. One lesson: I was naive thinking Spanish would help me learn Portuguese."
Mitch said his team gained valuable insight from their initial event. They had never been to Brazil and it proved to be very educational to see how business is done in South America.  He says, "It was easy to book hotels and drivers, everything else was not as easy as here in the US and Europe. We learned immediately that to pull this off, we would have to be involved in every component and have a strong on ground presence, no sub contractors. We had to facilitate every piece of the puzzle ourselves, it was a long process to make it what we wanted our clients to experience. We probably won't encounter a more difficult country or a bigger event."
"Strategically, we brought a select few concierge agents but also hired locals who knew the area and the language. We had a nice team balance with US English/client relationships. Personal touch is a huge part of our brand, so we provided familiar faces for clients. We also identified trustworthy Brazilians who speak English and built a great team, made an investment in Brazil so that when we return for the 2016 Olympics we can rely on those vendors and staff again." 
Now that the World Cup event is complete and their brand has been launched, they are moving forward prepping their next experience. Mitch Jolley fills me in on their start up journey:
How did the three founders come together?
"Chris Stone and I went to high school together in Las Vegas and we met Eddie Salcedo when we moved to the Los Angeles area five years ago. Eddie worked in soccer marketing, Chris in hospitality, and myself in real estate but our shared passion for sports and travel inspired us to start Beck & Score."
 
How is your Membership Business Model set up?
"As a new company, we're offering complementary memberships to all of our founding members. The long-term goal is to create a community of affluent travelers that enjoy being around one another and that trust us to deliver amazing experiences at these premier sporting events." 
As you prep for Sept. Ryder Cup golf event, can you talk about the management of travel/details etc. that leads up to the event?
"It's all about preparation and attention to detail. Our clients are very demanding and we have to ensure that every component of their trip is perfect. We get in early and secure the best accommodations, tickets, transportation, and get them access to anything that they might want to do on the ground. If any problem arises during the event, we're there the entire trip to provide solutions. Also, with our on-ground travel tool which we call the Valet, we're at their beck and call 24/7."
Best practices for spreading the word to grow your biz?
"Story-telling has been a really fun part of the process. We go beyond the actual sporting event into the country and culture and like to share the significance of the event with our members. In Brazil, we hired a local concierge that helped out clients get access to experiences that only locals would know about. Social media has been a great way for us to share those moments. My personal favorite was watching Brazil play during the World Cup at a private party atop Sugarloaf Mountain during sunset."
How are you going to stand out in a noisy travel industry?
"We don't want to be like a traditional travel agency company. We want a lifestyle component to the brand. We want to build a membership base who want to be part of the brand and travel with each other. We signed a partnership with LA Laker Steve Nash and he went with us to Brazil for special events, this made it very unique. This type of collaboration is what will separate us. At World Cup, one highlight was that we put on a five-on-five soccer match with Steve Nash and some other NBA players, world cup players and pro soccer players. It was an organic event, our clients loved interacting with the pros and they were playing soccer in casual environment at World Cup along with great music, delicious food. We had about eighty people there. It felt amazing!"
Will you expand into other travel experiences?
"For now, it's all sports related. We want to start small and focus on events that we are personally passionate about. We have one more event this year with the Ryder Cup and for 2015, we've targeted four events. We will start small and dial those in! When we're completely comfortable, we will probably expand into film and music festivals. But right now we are focused on where we bring the most value which is sporting events."
Like a professional athlete, a high-end service business requires constant focus, attention to detail, long hours, dedication and passion. Judging from the Beck and Score team's rookie season performance, they are willing to do the work and are currently undefeated.
Calling all HuffPost superfans!
Sign up for membership to become a founding member and help shape HuffPost's next chapter