As I prepare to celebrate my fifth Father's Day on the other side of the dad/not-a-dad line, I can't claim to know what's on the want list of all my fellow fathers, except for about six months of uninterrupted sleep and a winning lottery ticket to pay for college tuition. Since we're not likely to receive either of those gifts from our well-meaning loved ones this year, I can at least tell you one thing most of us would prefer to a necktie or a bottle of cologne: whisky. Scotch, in particular. Whether it's a single malt in a snifter, a highball with condensation beading on the glass, a perfectly executed Rob Roy, or however Dad prefers it, a little whisky makes those day-to-day problems seem a little less daunting. It soothes the nerves. It quiets that vein on your forehead that pops out when you're yelling at your kids.
If you're a whisky novice who wants to get something for the dad in your life but you don't know your Laphroaig from your Lady Gaga, here are eight choices, most of them recently released so there's less likelihood he'll already have them, ranging in price from less than $30 to... well, a lot more than $30. A LOT more. But this is a judgement-free zone, and your favorite dad is hopefully a judgement-free guy. Price and rarity aside, these five single malts and three blends all taste good, and that's what's really important.
I know I say this every year, but the most important thing you can give Dear Old Dad, along with one of these bottles, is a little quiet time to drink it. Moms, take the kids for a little while this Sunday, and close the door behind you when you leave. Dad's got to be alone with his whisky for a little while.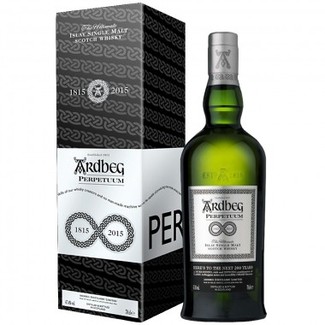 ARDBEG PERPETUUM SINGLE MALT SCOTCH WHISKY (47.4% alcohol by volume, no age statement, suggested retail price $100). This is Ardbeg's grab bag-styled blend; in fact I think GrabBeg would have been a great name for it. But Perpetuum is a much more dignified name, and when you're celebrating your distillery's 200th anniversary, you want to make a whisky with class, with gravitas, with a little zing. Perpetuum has a little bit of a whole lot of different Ardbegs -- very old, very young, aged in ex-bourbon barrels and sherry casks, and so on and so forth. It's quite mild for an Ardbeg; those trademark peat smoke and sea spray notes are in there, but it's a slow build to get to them, past vanilla and dark chocolate and toffee and just a hint of sherry. Uigeadail is still my Ardbeg of choice, but this is an elegant (limited edition) addition to the portfolio.
THE PERFECT GIFT FOR: Collector/hoarder dads. They'll love that it's a limited edition; in fact, perhaps you should buy them one to drink and one to save.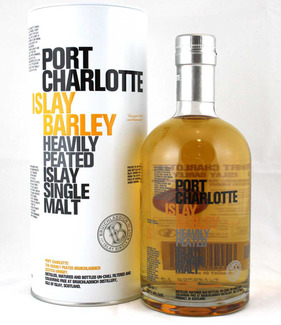 BRUICHLADDICH PORT CHARLOTTE ISLAY BARLEY SINGLE MALT SCOTCH WHISKY (50% ABV, aged 6 years, $70). I recently did a tasting of the entire Bruichladdich line -- well, the ones currently available, anyway -- with the Laddie's brand ambassador par excellence, Kyle Ford. There were some pretty amazing whiskies in there, both peated and unpeated, old and young, sherried and not sherried, and so on and so forth. But the ones that stayed with me, that almost called to me to try them again, were their two new Islay Barley expressions, Port Charlotte and Octomore. You see, other Islay whiskies don't actually use barley that's grown on Islay. I didn't know this. You probably didn't know either. And the thing is, it makes a difference -- terroir affects how barley tastes the same way it affects, say, grapes in a wine.
Provenance aside, this is a heavenly whisky. Don't let the "heavily peated" on the bottle scare you off -- it's actually quite tame, with a malty foundation overlaid with tropical fruit and cereal notes. Islay fans will get the smoke and peat they came for, of course, but there's something here for everyone.
THE PERFECT GIFT FOR: Scottish dads -- or those who wish they were. They'll love to lord the Islay barley stuff over Lagavulin fans.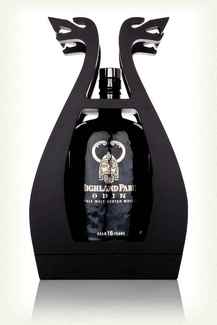 HIGHLAND PARK ODIN SINGLE MALT SCOTCH WHISKY (55.8% ABV, aged 16 years, $275). This is the fourth and final release in Highland Park's Valhalla Collection -- something about Orkney, the island where Highland Park is distilled, having a connection to Vikings and Norse gods and all that. It strikes me as a little silly, especially the crazy wooden Viking-style arks that hold the bottles. But there's no denying that these are some good single malts, no matter who they're named after. This one is named after Odin, the Big Poppa or "Allfather" of the Norse pantheon, and appropriately, it's a big, powerful whisky, bottled at a higher proof than its predecessors, Thor, Loki or Freya. The flavor hits you like a riled-up Viking, a wallop of candied orange peel and honey and wood and just a touch of smoke -- like a classic Highland Park, only more so. The finish is long and dry and goes on forever. Quite an amazing dram, and it's limited to 17,000 bottles worldwide, so get it while you can.
THE PERFECT GIFT FOR: Literary dads. They can explain Norse mythology while they drink it, and they'll love playing with the ark that holds the bottle.

LAPHROAIG 15 YEAR OLD SINGLE MALT SCOTCH WHISKY (Islay; 43% ABV, aged 15 years, $80). Like its Islay sibling Ardbeg, Laphroaig is celebrating its 200th anniversary this year. To mark the occasion, they're putting out a bunch of special editions, including this revival of a 15-year-old expression they stopped making in 2009. I never tried it the first time around, but it's hitting me where I live now. It's more nuanced and refined than Laphroaig's flagship 10 year old -- not that nuance is a word that immediately springs to mind where Laphroaig's peaty-smoky-ashy style is concerned. But it starts off quietly, almost subtly, doling out honeyed, tropical fruity notes before the dry, mineral, peaty-smoky-ashy notes start their ascendance. It's not as intense as the 18 year old expression that replaced it, but I think the 15 has a little more going on -- it's not quite as one-dimensionally Islay. A great whisky to sip and savor and mull over... and sip some more.
THE PERFECT GIFT FOR: The whisky connoisseur dad, who likes to nose his Glencairn glass and utter pronouncements like, "I get saddle leather and old shoe polish and red Jujubes and...."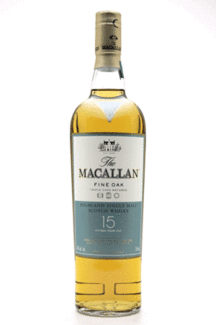 MACALLAN 15 YEAR OLD FINE OAK (Highlands; 43% ABV, aged 15 years, $100). There's been a lot of talk about Macallan falling short of its usual high standards in recent years. Whether it's just backlash against the gold standard of sherried single malts or there's some truth to the talk is a matter of debate. In my opinion, even if the Macallan is slipping, it's slipping from a pretty high perch. Their age-statement whiskies (I haven't tried most of the no-age-statement "1824 Series") are excellent, whether or not they're what they were 10 or 20 years ago. If anyone has a vintage bottle so we can do a little A-B-ing, let me know!
As for the whisky at hand.... Macallan is known for its intensely sherried malts. Less well known is the Fine Oak series, which is aged in both ex-sherry and ex-bourbon barrels for a somewhat sweeter, lighter character. The 15 Year Old is packed with vanilla and orangey citrus notes, with more tropical fruits like bananas coming through on the finish. It's also got a lovely buttered toast flavor throughout. If you're thinking that sounds like a delicious breakfast, you're right. And this probably makes an excellent breakfast whisky, though I haven't tried drinking it before noon ... yet.
THE PERFECT GIFT FOR: Brand name-conscious dads. The Macallan name is still synonymous with quality and class, and your pops will be proud to display this one on his bar.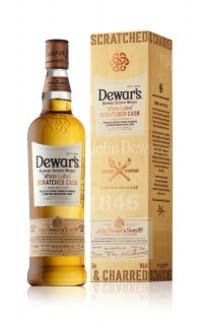 DEWAR'S WHITE LABEL SCRATCHED CASK BLENDED SCOTCH WHISKY (40% ABV, aged 7-10 years, $29). What to do when you make Scotch but it seems like all anyone cares about is bourbon? American whiskey sales are going through the roof, after all, while the Scotch market is in the tank (well, down single digits, at least). If you're a brand as enormous and successful as Dewar's, you could ride out the slump. Or you could take the reins and make a Scotch whisky with bourbon drinkers in mind. Hey, if you can't beat 'em, join 'em, right?
Scratched Cask is just that -- your standard Dewar's White Label, finished for three months in first-fill ex-bourbon American oak casks that have had just a bit of the char scratched off. That way, the whisky comes in touch with more fresh, uncharred oak, which gives off a lot of vanilla and oaky notes reminiscent of, well, bourbon. You can still tell it's White Label, but the signature lemony citrus notes and medicinal undertones are deeper in the background. I think it works extremely well; I've never been a big White Label fan, but I could drink Scratched Cask all day long. I don't plan to do so, mind you. I'm just saying I could. (For another great example of "scratched cask" whisky, check out Jack Daniel's brilliant Sinatra Select expression, which uses the same technique.)
THE PERFECT GIFT FOR: Old-school Dewar's fans or bourbon snobs who need to be turned on to Scotch. Also great for grateful offspring on a budget; just because your English lit degree hasn't made you millions yet doesn't mean you should give Dad an inferior whisky.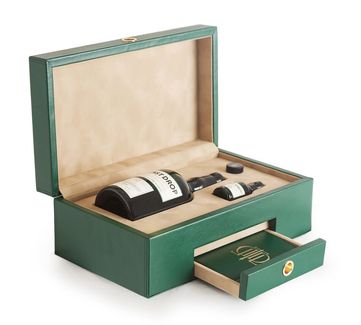 THE LAST DROP 1965 48 YEAR OLD BLENDED SCOTCH WHISKY (48.6% ABV, aged at least 48 years, $4,000). A few years back, three aging veterans of some renown in the spirits biz decided to pool their talents and seek out the rarest, oldest and finest whiskies in all of Scotland. And then acquire and bottle them, of course. They're not exactly a mass market brand -- their finds come a few barrels at a time, which yield bottlings ranging from a few hundred to a couple thousand. Their latest edition, a blend featuring whiskies distilled no later than 1965 (and many of them much older than that), is limited to 592 bottles. The Last Drop folks are keeping mum about exactly what's in the blend, apart from the fact that many of the whiskies used are from distilleries which no longer exist. Interestingly, after 21 years in ex-bourbon American oak barrels, most of the batch was bottled, but a small amount was placed into fresh barrels, also ex-bourbon American oak, for another TWENTY SEVEN years. Damn.
The result is, as my wife puts it, "the Sean Connery of whisky." It's a gruff old codger with dry, toasty oak flavors, but its sweet, gentle notes of fresh figs and peaches show its soft, sensitive side. And the impeccable long and dry finish is the work of a true artist. It's got depth, it's got soul, it's got character. And its packaging is as elegant as the liquid; each bottle comes with a bonus 50 ml sampler, so you can have a taste without cracking open the big (and very expensive) bottle. That's huge.
THE PERFECT GIFT FOR: The dad who seeded your trust fund. Or who gave you love and encouragement on the way to your making your first million. Or who supported you unconditionally even before you bought that winning lottery ticket. Or... you get the point.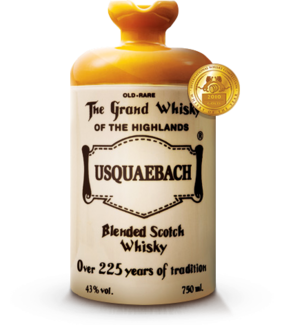 USQUAEBACH BLENDED SCOTCH WHISKY (43% ABV, no age statement, $115). I love the name -- Gaelic for "water of life," which was shortened and bastardized over time until it became "whisky." I love the porcelain flagon it's housed in. And the liquid itself is pretty special, too. It's not a well known brand (although I remember seeing the distinctive flagons as a kid in the '70s), probably because it's pretty pricey for a blend. This could be because, according to the website, it contains about 85% malt whiskies, where most blends are about 20-30% malt, the rest being lighter and less distinctive grain whisky. The blend is made from 41 different single malts up to 20 years old, of unknown provenance. Wherever they're from, the combo is a tasty one. It's quite fruity -- a little dried apricot, figs, prunes -- which means that at least some of the malts have been aged in sherry casks. But it's also spicy and rich with strong coffee notes. A nice balance between dry and sweet. Like most blends, it's not quite as complex as the best single malts, but it's a smooth and satisfying dram. You can add a splash of water or an ice cube, but I think it goes down best neat.
THE PERFECT GIFT FOR: Dads who judge the book by the cover. The whisky is excellent, but the porcelain flagon really makes it stand out -- all his glass bottles will look totally blah in comparison.