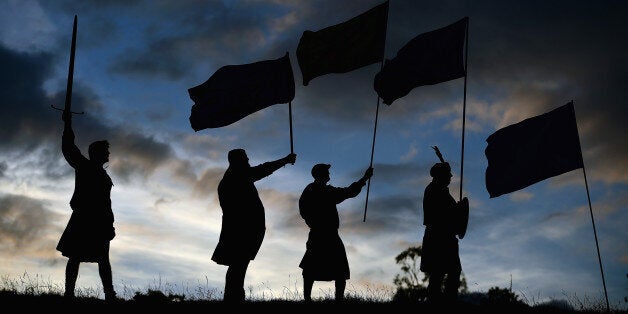 Scotland is just three days away from voting on whether it will become independent from the United Kingdom, potentially breaking up the 307-year-old country. As opinion polls show that a "yes" vote is a real possibility, Britain has promised to grant Scotland more autonomy in an effort to sway voters.
Here are five stories to read if you want to understand the intricacies of Scotland's bid for independence -- from details on the nationalist leaders to what independence may mean for regional economics.
As The Economist makes clear in this week's print edition, it firmly believes that Scottish independence would be a tragic mistake, arguing that the rupture of the union would be a devastating blow to Britain's international standing and its status as a nuclear power. It also disputes claims by Scottish nationalists that Scotland would become more prosperous if it gained economic independence. But the magazine writes that in the end, a different factor will determine the vote's outcome:
"The referendum will turn not on calculations of taxes and oil revenue, but on identity and power," it writes. "The idea that Scots can shape their own destiny, both at the referendum and afterwards, is exhilarating."
In this piece originally published in January, Foreign Policy's The Cable blog explores the implications of a Scottish "yes" vote for countries around the world facing similar non-violent independence movements. Despite efforts by Scottish nationalists to stress that their situation is unique, regions such as Quebec in Canada and Catalonia in Spain will be watching the vote closely.
Perhaps no one has turned as many heads during Scotland's independence campaign as Alex Salmond, the Scottish first minister. Admired by some, despised by others, the nationalist leader has succeeded in mounting an exceptionally successful campaign to put independence on the country's agenda. Looking back at Salmond's political career, The Washington Post investigates how a man ravaged by critics and labeled as a bully has been able to pull off what it describes as the political stunt of a lifetime.
In two opinion pieces for The New York Times, Niall Ferguson and Paul Krugman warn of the devastating economic consequences that may follow a passing of the Scottish referendum.
"The economic risks are so glaring that even Paul Krugman and I agree it's a terrible idea," Ferguson writes. "Big companies based in Scotland, notably the pensions giant Standard Life, have warned of relocating to England. Jobs would definitely be lost. The recent steep decline in the pound shows that the financial world hates the whole idea."
For his part, Krugman sends a message to the Scots: "Be afraid, be very afraid," he writes.
"The risks of going it alone are huge. You may think that Scotland can become another Canada, but it's all too likely that it would end up becoming Spain without the sunshine," he continues, explaining that Scotland's plans to share a currency with London without sharing political leadership may be a crucial miscalculation.
REAL LIFE. REAL NEWS. REAL VOICES.
Help us tell more of the stories that matter from voices that too often remain unheard.