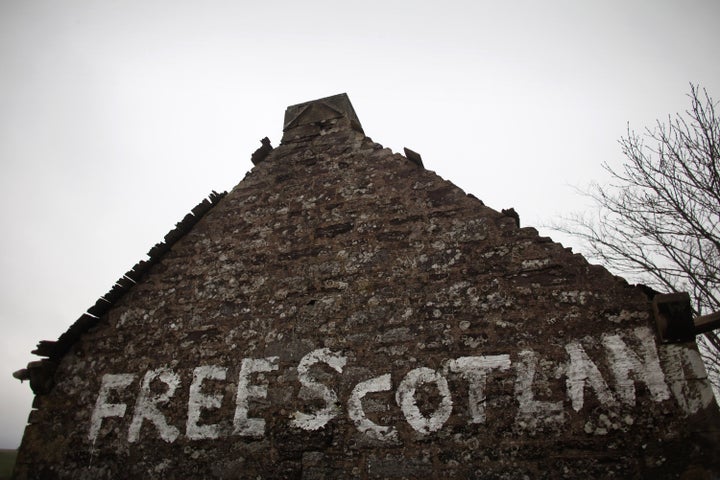 Scotland is facing an historic decision in 2014: whether to remain as part of the United Kingdom or to leave and go it alone. Scotland's nationalist First Minister Alex Salmond is in America this week and will seek to persuade Americans that Scots want independence, that it is our destiny and that U.S. relations with Scotland will only improve should it happen. On all counts, I believe that this analysis is flawed.
As a UK Government Minister, living in Scotland, representing Scottish interests at a UK level, it is my firm view that Scotland is better as an integral part of the UK. Together we are greater than the sum of our parts. Leaving the UK has always been the ambition of Mr Salmond and his Scottish National Party. But polls have always shown that this is not the case for most Scots. Around two-thirds of people in Scotland are always in the 'no' column when asked to express a view on breaking up Britain.
With huge challenges facing the global economy, it doesn't make sense to most of us to erect market barriers with our largest market and nearest neighbours -- England, Wales and Northern Ireland. With a strong position in Europe, it doesn't make sense either to have to negotiate new entry terms to the European Union, casting doubt over our opt-out from the euro. And with emerging security threats -- North Korea, Iran, Syria -- it doesn't make sense to us to split up our Armed Forces and adopt a divided stance on foreign policy. I am part of the overwhelming majority in Scotland who believe we are stronger, safer and better off together within the family of the United Kingdom.
Scots are sceptical of the SNP's assurances that, after independence, everything would either stay the same, or be better. So, as the UK government, we are actively engaged in all the arguments. We believe that the people of Scotland will choose to remain within the United Kingdom. But we are not complacent. For our part, we are setting out the facts and evidence to make sure that the choice for the Scottish people in 2014 is an informed one. Spelling out the realities of what an irreversible step to split up a centuries-old union could mean for the economy, our defence and security, and the strength of our voice in the world.
The decision taken in 2014 is rightly one for people living in Scotland. But we understand why our friends in the USA are already paying close attention to the issues at stake, not least in the areas of security and economic policy.
Scots are very proud of our security alliance with you. The shared experiences of two world wars and other conflicts keep our ties strong. As does the common security provided by NATO.
The SNP perhaps recognises this with its recent, but highly conditional, support for our military alliance. Despite this move, it is a very different kind of alliance that the SNP offers its international partners. The SNP wants unilateral disarmament now, with no regard to the strategic or security issues this raises. It has yet to set out a fully scoped defence plan. We are of course challenging them on this and their cut price approach to security. But we understand that you will watch this debate carefully and with great interest, as you should.
The U.S.-UK relationship is one of the strongest in the world. Aside from our shared security interests, we are each other's single largest investors -- almost $1 trillion invested in each other's economies. We see that and value that at first hand in Scotland with significant U.S. interests in our oil and gas, financial services and defence sectors. All of those companies based in Scotland enjoy the advantages of the UK's huge internal market and our place at the top table in the EU. Your investment is of enormous value to us and most Scots want to keep it that way.
Next year's referendum in Scotland isn't simply a question of national pride, a Braveheart romantic moment. Of course, the nationalists do not have a monopoly on Scottish patriotism or sense of identity. But the decision in 2014 will be one for the heart and the head -- and I believe that the case for the United Kingdom wins both. Scots have one of the strongest, proudest national identities in the world. But we are also proud of what we have achieved as the United Kingdom.
America too is made up of states and people with diverse identities and origins, bound together in a Union. Each of those states is immeasurably stronger and more prosperous in the Union than it would be in its own. That is a message which, I am confident, the people of Scotland will be keeping very much in mind as the referendum date approaches.