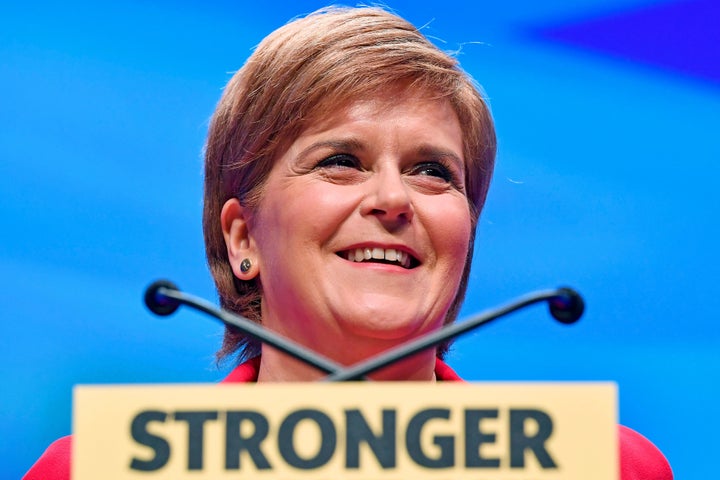 WASHINGTON ― One of Britain's most respected politicians says she acknowledges the election of future U.S. President Donald Trump but remains committed to challenging his excesses.
"During the campaign, I found so many of President-elect Trump's comments to be deeply abhorrent, and I never want to be — I am not ever prepared to be — a politician who maintains a diplomatic silence in the face of attitudes of racism, sexism, misogyny or intolerance of any kind," Scottish First Minister Nicola Sturgeon told the Scottish Parliament on Thursday. "We hope that President-elect Trump turns out to be a president who is very different from the kind of candidate that he was and that he reaches out to those who felt vilified by his campaign."
As leader of the Scottish National Party, Sturgeon broke a diplomatic taboo before the election by publicly saying she supported Trump's rival, former Secretary of State Hillary Clinton. Her condemnation of "diplomatic silence" is in keeping with this unconventional approach.
It also echoes German Chancellor Angela Merkel, who pointedly noted in a Wednesday congratulatory message to Trump that U.S.-German ties rest on a shared concern for human rights and the rule of law.
"We hope that President-elect Trump turns out to be a president who is very different from the kind of candidate that he was and that he reaches out to those who felt vilified by his campaign."
To hear these kinds of statements after a U.S. election is surreal. The U.S. and other nations in its orbit often issue messages like this following votes in less developed countries where democracy is fragile.
With the election of a candidate who has endorsed using torture, banning individuals based on their religion and curtailing the freedom of the press, it's America's democracy that seems to be viewed as threatened.
Leaders like Sturgeon and Merkel are signaling how badly they want to protect that system, which, warts and all, is seen by many abroad as an essential global force for good. Sturgeon noted that Trump won on the anniversary of the fall of the Berlin Wall ― a moment when western democracy seemed more secure and successful than ever.
The Scottish minister's comments Thursday and Wednesday are especially interesting given that Trump has links to Scotland through his mother, his significant business interests there and his interest in deeper ties with the United Kingdom.
Sturgeon's SNP is the third most powerful party in the British Parliament. And she has added to her popularity in recent months by strongly criticizing the U.K.'s June "Brexit" vote to leave the European Union. Voters in Scotland overwhelmingly opted to stay in the EU.
Trump supports Brexit and has presented the unlikely success of his "Make America great again" message as a parallel to those in the U.K. who wanted to take "their country back."
The move has weakened Britain's currency, cast doubt on its future economic prospects and created an environment in which hate crimes have increased significantly. The plan's future is currently in question because of a legal battle. But Brexit proponent Nigel Farage of the U.K. Independence Party has been cheered by Trump's victory, seeing it as a vindication for the ideology he helped spread.
Sturgeon's party has remained committed to social inclusion even as fear-mongering has grown in Britain. It has actually expanded its power, in a sign that there are ways to gain politically without pandering to xenophobia. The SNP cheered a report of an increase in immigration to the U.K. in 2015, while the country's two major parties argued over how best to keep people out, Stephen Daisley, digital politics and comments editor for broadcaster STV, noted in an essay on the SNP.
In her Thursday remarks, Sturgeon noted that incidents of bullying in schools had increased after the Brexit vote.
Anger about globalization's effect on the economy is something politicians in the U.S. and the U.K. should reckon with, Sturgeon said, bashing policies of austerity that have fueled dissatisfaction across Europe.
"However, we must never allow those legitimate issues to give a veneer of respectability to racism, misogyny or intolerance generally. We all have a responsibility to do that now, perhaps more than ever before."
Before You Go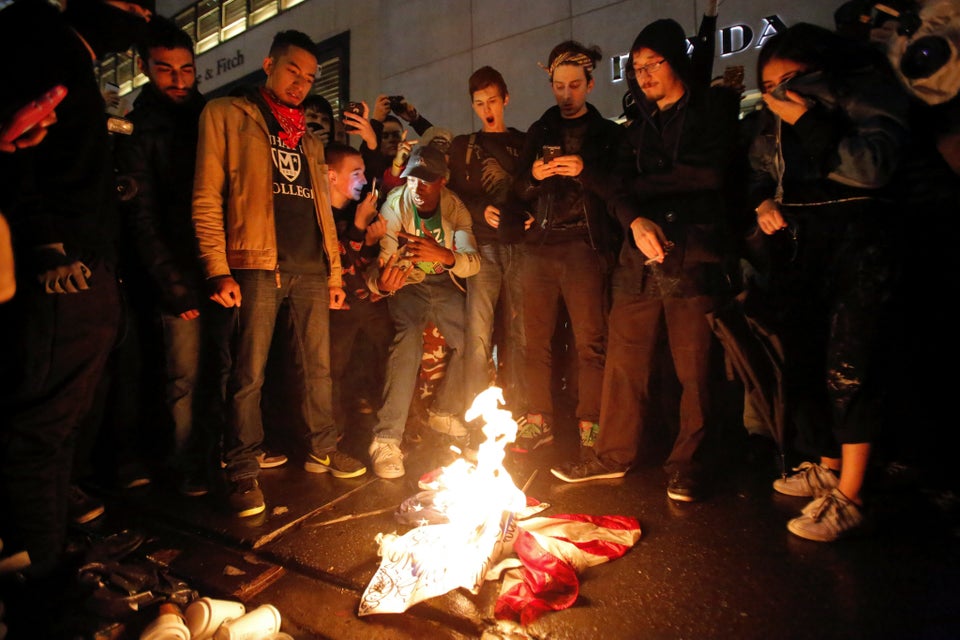 Donald Trump Win Sparks Protests Nationwide
Popular in the Community