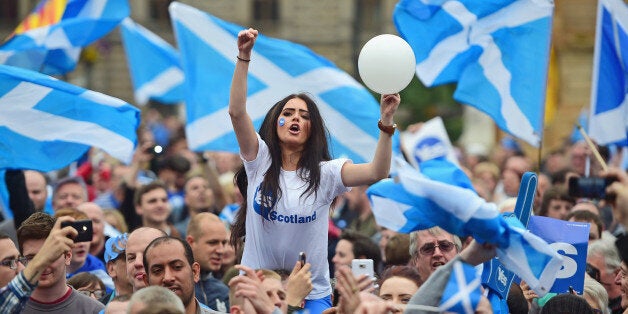 I remember the last time I felt like this. I was 15, and although I couldn't vote in the first Scottish Parliament election, I was excited. For the first time politics mattered that little bit more to all of us. We had 'mock elections' at school and learned all about democracy and devolution. It was probably why I spent the last decade campaigning for 'votes at 16.' I didn't understand why we could marry, pay tax, leave school and join the armed forces -- but not vote. It's funny to think that 15 years later, with the polls too close to call, 16 to 17 year olds may hold the key to determining Scotland's future.
It's such a historic moment. Just thinking about it makes me anxious and at the same time excited for what the future might hold. I know thousands of Scots are still agonising over what to put on their ballot tomorrow, some in fear of uncertainty, others in hope of opportunity.
When I led the Scottish Youth Parliament, I always maintained a neutral view on independence. To be honest, I had mixed feelings on the issue, but being elected to represent 14 to 25 years olds, meant focusing on the issues that mattered most to young Scots while staying out of constitutional infighting.
It was only in spending time outside of Scotland and working with people around the world, from different sectors, that I've had the chance to truly make up my own mind.
It's not been easy. Pouring over the facts, weighing up pros and cons, looking at the economics of it all. In the beginning I hoped 'maximum devolution' would be on the ballot paper and that we'd end up with a federal system. I had so many questions.
For me this referendum has never been about which politician to follow. I've never, and have yet to profess public support for any political party. But, the more I consider all the issues, the more I've settled on one conclusion: this is a one-time opportunity and independence is the best chance for Scotland.
Don't get me wrong; I believe we should be able to hold multiple identities. My own family is of Indian origin, having migrated to Scotland from Kenya. I love people across the UK and feel connected to so many parts of the world.
I'm also for 'inter-dependence.' Now more than ever we need countries to work together in coalitions, to demonstrate a new model -- building economies that operate within nature's limits while lifting the floor for their most vulnerable. An independent Scotland would be no less able to collaborate and join forces with the rest of the UK and Europe and the rest of the world -- but it would have the freedom to contribute in a way that reflects the true values and aspirations of the Scottish people. Values like equality, non-discrimination and sustainability, which are sorely needed to buck dangerous trends we see in so many parts of the world.
It's not just about the oil benefits -- that's short-term thinking. I really believe an independent Scotland with renewed confidence and flexibility could forge a more sustainable and equitable path than the rest of the UK. Investing strategically to harness its massive renewable energy potential, leading innovation in education and life sciences, contributing to international development, building a fairer and greener economy -- a beacon of prosperity and a force for good in the world. It could be really exciting.
Whatever the result, its been so inspiring to see people from all walks of life get engaged in the debate. One thing is certain we're headed for change; the people of Scotland don't want to live in a democracy where engagement is limited to ticking a box every four years. Either way, we're seeing the rise of one of the world's most participatory democracies. That's powerful.
I just hope we can sustain the momentum, and that we see a record turnout tomorrow. I hope that everyone has the chance to weigh up the arguments, consider the facts and make their own conclusion -- not based on fear or reprisal, but on what they really believe, in their hearts and minds, to be in the best interests of Scotland.
REAL LIFE. REAL NEWS. REAL VOICES.
Help us tell more of the stories that matter from voices that too often remain unheard.