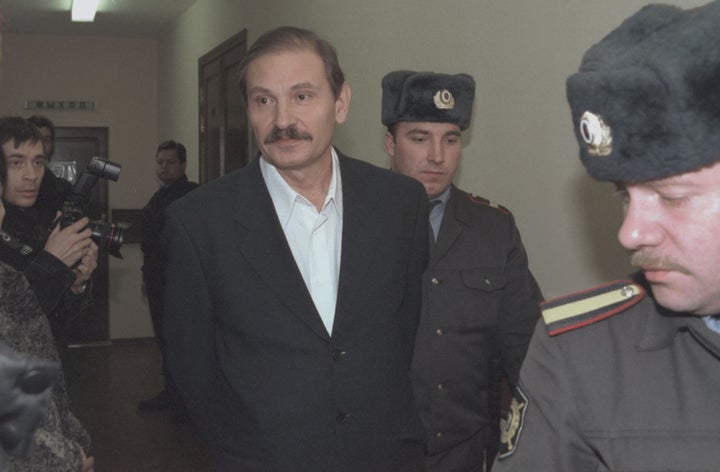 British police on Friday launched a murder investigation into the death of a Russian exile and critic of Vladimir Putin in London.
Nikolai Glushkov, 68, who received political asylum in Britain, was found dead at his London home on Monday.
Glushkov's death came just over a week after former Russian spy Sergei Skripal, 66, and his daughter Yulia, 33, were found on a park bench in Salisbury, England, after being poisoned by a nerve agent. They remain hospitalized in critical condition.
British officials said Monday it is "highly likely" Russia was behind the Salisbury attack on March 4.
The Kremlin's alleged "record of state-sponsored assassinations" adds to the likelihood that Russia either deliberately carried out the attack or let the poison get into the hands of others, said British Prime Minister Theresa May. Russia has denied any involvement in the poisoning. 
Scotland Yard said its counter-terrorism division is leading the murder investigation "because of the associations Mr. Glushkov is believed to have had," but noted that there is currently no evidence linking Glushkov's death to the poisonings.
"At this stage there is nothing to suggest any link to the attempted murders in Salisbury, nor any evidence that he was poisoned," the police said in a statement.
Russia's Investigative Committee also announced that it had initiated a murder investigation into Glushkov's death, The Guardian reported.
Glushkov was known to be close friends with Russian businessman Boris Berezovsky, who fled from Russian to the U.K. in the late 1990s after a falling out with Russian President Putin. Glushkov had worked for the state airline, Aeroflot, along with Berezovsky's LogoVaz car company. 
He left Russia in 2006 after a Moscow court gave him a two-year suspended sentence for fraud. In a 2017 Russian trial, Glushkov was sentenced in absentia to eight years in prison for stealing $123 million from Aeroflot. 
Glushkov was reportedly due to appear in court in London on the morning of his death but failed to appear.
In 2011, Glushkov gave evidence in a court case brought by Berezovsky against his fellow tycoon Roman Abramovich, an ally to the Kremlin.
Berezovsky was found dead at his ex-wife's home in Berkshire in March 2013. Though police did not treat his death as suspicious, the businessman's friends were skeptical. A coroner later recorded an open verdict in his cause of death. 
Glushkov told The Guardian at the time of Berezovsky's death: "I'm definite Boris was killed. I have quite different information from what is being published in the media."
He pointed to other Russian exiles, including Alexander Litvinenko, who had died under mysterious circumstances in 2006. "Boris was strangled. Either he did it himself or with the help of someone. I don't believe it was suicide," Glushkov said.
REAL LIFE. REAL NEWS. REAL VOICES.
Help us tell more of the stories that matter from voices that too often remain unheard.