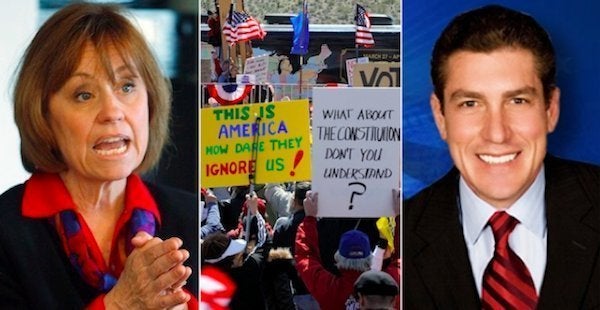 Jon Scott Ashjian, Nevada's little known actual "Tea Party" Senate candidate, said this week that not only was he going to stay in the race, he was going to overtake Sharron Angle on his path to victory.
Speaking with the Las Vegas Sun's Jon Ralston, the conservative agitator said that, despite recent negotiations to remove him from the race, the momentum was with him.
Ralston provides Ashjian's account of a recent conversation with Cleta Mitchell, a high-powered D.C. attorney who was trying to convince him to drop out:
"She threatened and bullied me," Ashjian claimed. "She told me she wanted me to withdraw as a candidate because I was helping Harry Reid. I told her, 'Obviously you haven't read The Wall Street Journal.' "

That was a reference to a recent piece in the national newspaper, a profile of Ashjian he seems quite proud of.

"She kept repeating to me, 'If I'm in the race, Sharron can't win. I am ruining it for them.' She wanted me to do the right thing and step aside."

Ashjian added, "Nobody can get me out of this race but me. As goofy as it sounds, you're going to see in the next few weeks, the race is between Harry Reid and Scott Ashjian."
That was just the latest in an ongoing saga of bizarreness taking place on the conservative side of the race.
In September, Ashjian sent a cease and desist letter to Sharron Angle's campaign attempting to force the GOP candidate to stop using the "Tea Party" nomenclature to define her candidacy.
He spelled Angle's first name wrong and, as Ralston put it, claimed he was "trademarking the name for his campaign."
Things got even weirder this week when Ashjian, Angle and their campaign managers met for their very own summit to discuss forming a unified coalition that would remove Ashjian from the ballot in November. The negotiations were fruitless.
At any rate, Ashjian, who the Wall Street Journal reports has a "Playboy-themed pinball machine in his office, drives a $160,000 black Mercedes with a night-vision system, and carries a pistol under his suit jacket," could indeed play spoiler for the Angle campaign.
Though his candidacy and appropriation of the "Tea Party" name -- he'll have it listed beside his name on the ballot in November, according to WSJ -- has been maligned by many supporters of the broader Tea Party movement, Ashjian could leave Angle competing for conservative votes.
And people like Cleta Mitchell who are speaking up for Sharron Angle are taking notice.
"Scott Ashjian is an ego-maniac whack-job," Mitchell told the Wall Street Journal on Thursday. "Every vote for him is a vote for Harry Reid."