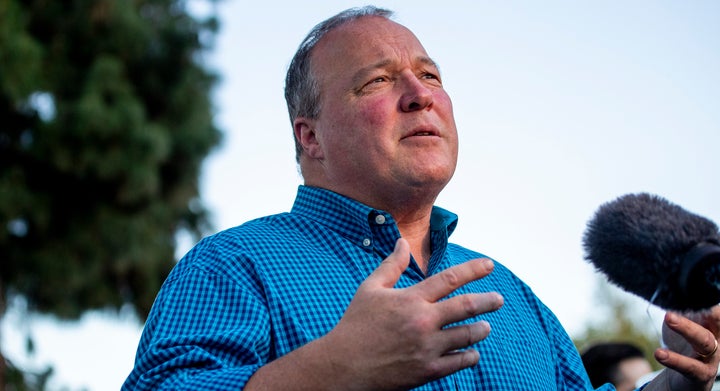 Scott Baugh, a Republican attorney hoping to flip a Democratic-held U.S. House seat in Orange County, California, said that "wokism" is more threatening to the country than the Sept. 11, 2001, terrorist attacks, both world wars and the Civil War.
"What's the greatest threat to religious freedom? We were born in the Revolutionary War. We survived civil wars, World War II, World War I, a lot of wars, 9/11," Baugh said in a video posted to YouTube in June. "None of those were that threatening to our country compared to the war that we're fighting now. That war is about wokism and the lack of common sense."
"That wokism ― it's communism, wokism, whatever you want to call it ― it's infected our churches. I like to tell some of our pastors that Jesus came to offend. That was his purpose," he added. "How would you know you needed a savior unless your sins were pointed out? And our churches aren't doing that."
In contemporary culture, "wokeness" and "wokism" usually refers to a view on the left that racism, sexism and other forms of prejudice are ubiquitous and intersecting sources of oppression in American society and that combating those forces requires vigilance and identity-conscious policies. Conservatives often use the term, however, to disparage a broader range of liberal ideas that they believe unfairly discriminate against historically privileged groups or undermine meritocracy and religious freedom.
House Democrats' campaign arm, the Democratic Congressional Campaign Committee, condemned Baugh's remarks, calling him a "perennial loser" who would fail again in 2024. (Baugh ran unsuccessfully for the seat in 2022 and lost in the primary for a neighboring seat in 2018.)
"Scott Baugh's disgusting culture war nonsense has gone too far," DCCC spokesperson Dan Gottlieb said in a statement. "Service members and veterans deserve better than this offensive propagandist, and so does California's 47th District."
"The loss of life in any traditional war is tragic and should be honored and respected."
Baugh's campaign insists that he was referring exclusively to the threat that he believes "wokism" poses to religious freedom.
"When Scott said those words, he knew that a handful of liberal groups and media outlets would react when they saw it," Baugh campaign spokesperson Zach Freimark said in a statement. "The loss of life in any traditional war is tragic and should be honored and respected.
"We also cannot allow liberal advocacy groups and their media allies to deflect the truth or take away the fact that woke politicians and the bureaucrats that work for them are destroying our education system, attacking faith-based institutions, de-funding law enforcement, and eroding our everyday freedoms. California needs someone willing to stand up to these attacks."
With the backing of House Republican leadership, Baugh is the strong favorite for the Republican nomination in California's 47th Congressional District. House Republicans see the seat, which includes the city of Irvine and surrounding suburbs, as one of their top pickup opportunities.
Since three-term Rep. Katie Porter is running for retiring Sen. Dianne Feinstein's seat, Democrats will lack the advantage of an incumbent in the district race in 2024. California state Sen. Dave Min and Joanna Weiss, an attorney and Democratic activist, are the two most credible candidates vying for the Democratic nomination for the 47th District.
Popular in the Community