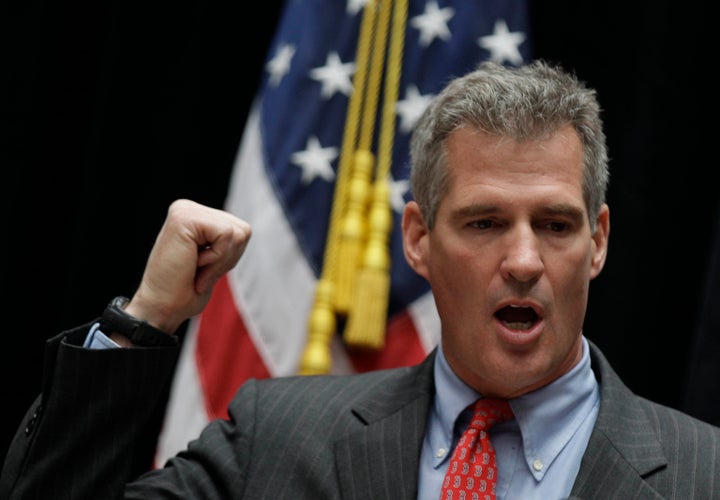 Sen. Scott Brown (R-Mass.) has made Elizabeth Warren's claims to Native American ancestry a major message in his campaign for re-election.
Warren, who has cited evidence that she is 1/32 Native American, was listed as a minority during her time at Harvard and the University of Pennsylvania. Brown and his surrogates have raised the issue nearly every day for the past two weeks, calling for her to release personnel records, the Boston Globe reports.
Jim Barnett, Brown's campaign manager, told the Globe on Monday that the story raised questions about Warren's honesty, and whether she gained an advantage in hiring by claiming minority status.
"The question here is not about Elizabeth Warren's credentials, so much as it is about Elizabeth Warren's integrity and truthfulness and willingness to be transparent,'' Barnett said.
Warren, who has said she will not release the records, called the issue a distraction.
"I stood up to big banks. I took on their army of lobbyists and helped win the fight for a consumer protection agency. But there's still more to do," Warren says in a radio ad released Tuesday. "Wall Street isn't going to change its ways until Washington gets serious about strong oversight and real accountability. No special deals. We need a tough cop on the beat to make sure that nobody steals your purse on Main Street or your pension on Wall Street."
10 more election stories from beyond the presidential field:
Indiana Gubernatorial Candidate Mike Pence Kicks Off TV Ad Campaign [Indianpolis Star]
Michigan Senate Race Takes Shape [MLive]
Reservist Ends Congressional Campaign For Afghanistan Deployment [KGBT]
Democrat Hits Republican Over His Support For Planned Parenthood [The Hill]
Marijuana Laws Become Last-Minute Issue In Idaho Senate Race [Idaho Statesman]
David Dewhurst Not Courting Newspapers For Endorsements In Texas Senate Run [Houston Chronicle]
Trailing North Carolina Democratic Hopeful For Governor Challenges Rival To Debate [Charlotte Observer]
Robocalls Denounce Colorado Gov. Hickenlooper As 'Divisive' [The Denver Post]
REAL LIFE. REAL NEWS. REAL VOICES.
Help us tell more of the stories that matter from voices that too often remain unheard.
BEFORE YOU GO