Sen. Scott Brown (R-Mass.) Thursday said he was glad that one of his Democratic opponents, consumer advocate Elizabeth Warren, didn't "take her clothes off" to pay for college. Brown, who won his seat in a 2009 special election, was speaking on Boston radio station WZLX.
Brown made his comments when asked about Warren's response in a debate Tuesday to a question about how she paid for college. The question referenced the fact that Brown posed nude for Cosmopolitan in 1982 to make money.
"I kept my clothes on," Warren said, adding that she borrowed money to go to a public university and worked a part-time job.
"Have you officially responded to Elizabeth Warren's comment about how she didn't take her clothes off?" the host asked Brown Wednesday.
"Thank God!" Brown said, laughing.
The host got a kick out it, too. "That's what I said! I said, 'Look, can you blame a good-looking guy for wanting to, you know…"
"You know what, listen: Bottom line is, you know, I didn't go to Harvard, you know, I went to the school of hard knocks, and I did whatever I had to do to pay for school," Brown cut in. "And for people who know me, and know what I've been through … mom and dad married and divorced four times each. You know, some real challenges growing up. You know, whatever. You know, let them throw stones. I did what I had to do. But [if] not for having that opportunity, I never would have been able to pay for school, and never would have gone to school, and I wouldn't probably be talking to you, so, whatever."
Warren did not go to Harvard either, as Brown seemed to imply. She graduated from the University of Houston, a public school, though she spent her first two years at the private George Washington University on a debate scholarship. She later attended law school at Rutgers, a public university in New Jersey. Brown graduated from Tufts University and Boston College Law School.
Brown reminded the host that they shared equally in the blame for the Warren crack.
"That's funny, you throw that jab," the host said, before Brown interjected: "You said it, too!"
It was fair game, the host pointed out. "Well, they said it about you! And not being in shape. You know, 'if you're going to take your clothes off, next time, be in shape.' That's what they said about you!"
Brown said he'd be happy to compete "anytime they want to have a little road race, or a triathlon, or anything."
Warren, a Harvard law school professor, was instrumental in establishing the Consumer Financial Protection Bureau. President Obama did not nominate her to serve as the permanent head of it, fearing a contentious Senate confirmation battle; he instead nominated former Ohio Attorney General Richard Cordray, who cleared his first hurdle in a Senate subcommittee Thursday.
READ MORE about Elizabeth Warren: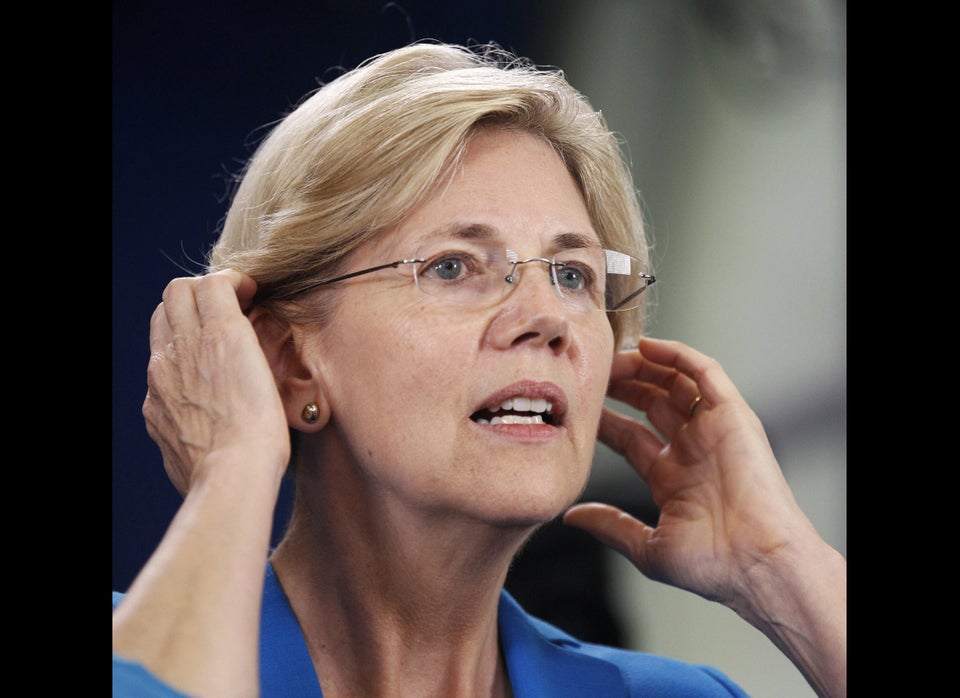 Elizabeth Warren
WATCH Scott Brown's legendary flu game performance on the Senate floor:
Popular in the Community