Sen. Scott Brown (R-Mass.) seems to have a new message for his Democratic Senate rival Elizabeth Warren: Shut up, already.
At least that's how it sounded when a New England television station asked Brown about recent remarks from Warren criticizing him for supporting the same agenda as Missouri GOP Rep. Todd Akin and the Republican Party's presidential ticket, which she says is profoundly hostile to women.
"I don't need Professor Warren talking, or speaking, or commenting on my votes," Brown said Tuesday, adding that she shouldn't be "distorting and misleading the voters about where I stand on issues."
Brown has been more supportive of women's issues than many of his colleagues, voting for the Violence Against Women Act, and to preserve funding for Planned Parenthood, for instance. He also called on Akin to quit the Missouri Senate race over comments about "legitimate rape."
But Warren counters that the if Brown remains in the Senate, Republicans will have a greater chance of taking control of the body and pursuing a broader GOP agenda that includes opposition to those things that Brown supported. She also said that Brown has opposed items that many women favor.
"Scott Brown voted against equal pay for equal work. I'm going to keep talking about that," Warren said in a statement sparked by Brown's curt dismissal of her criticisms. "Scott Brown voted for the Blunt amendment to limit women's access to birth control. I'm going to keep talking about that."

"Scott Brown supports Mitt Romney and Paul Ryan -– Mitt Romney who says he wants to end Planned Parenthood and Paul Ryan who cosponsored legislation to outlaw birth control pills. You can bet I'm going to keep talking about that," Warren added.
Brown's campaign responded by saying that Warren is focused on the wrong politicians: "Someone should remind Professor Warren that she is running against Scott Brown, not Mitt Romney," Brown spokesman Colin Reed said in a statement. "Scott Brown is an independent thinker who is rated one of the most bipartisan senators in the country. He has a proven record of working across the aisle to get things done for the people he represents."

This is not the first time Brown has been dismissive of Warren. A recent National Journal piece on the race reported that "Brown cuts in on a reporter quoting Warren's criticisms of him, interjecting, 'Blah, blah, blah, blah.'"
For the Warren campaign, Brown's comments suggest a broader sign of disrespect that Warren thinks women won't appreciate.

"Women and their families in Massachusetts are going to keep talking, speaking and commenting on his votes and his support for the Romney-Ryan ticket because Brown's election could hand the Senate to the Republicans and enable them to implement their radical agenda," Warren said. "Scott Brown's votes are on the record. His work to put Romney-Ryan in the White House and to put Republicans in control of the Senate is on the record."
The Warren campaign followed up her statement on Brown with an email pitch to supporters to organize and donate to the campaign. "I'm not going to stop talking, and I hope you won't either. Talk to your friends -- call them, Facebook, tweet, send them a fax if you're old fashioned. Talk to the person behind you at the grocery store, and talk to the person pumping gas next to you," Warren wrote. "Let them know why this race is so important."
Democratic Senatorial Campaign Committee head Sen. Patty Murray (Wash.) piled on later, saying that Brown would just have to deal with critics.
"Senator Brown says he is unwilling to accept any criticism," Murray said in a statement. "He needs to understand that if he is going to vote to block access to women's contraception, against equal pay for women, and in support of Republicans in Congress who want to get rid of Planned Parenthood and overturn Roe v. Wade, then he is going to get criticized."
Before You Go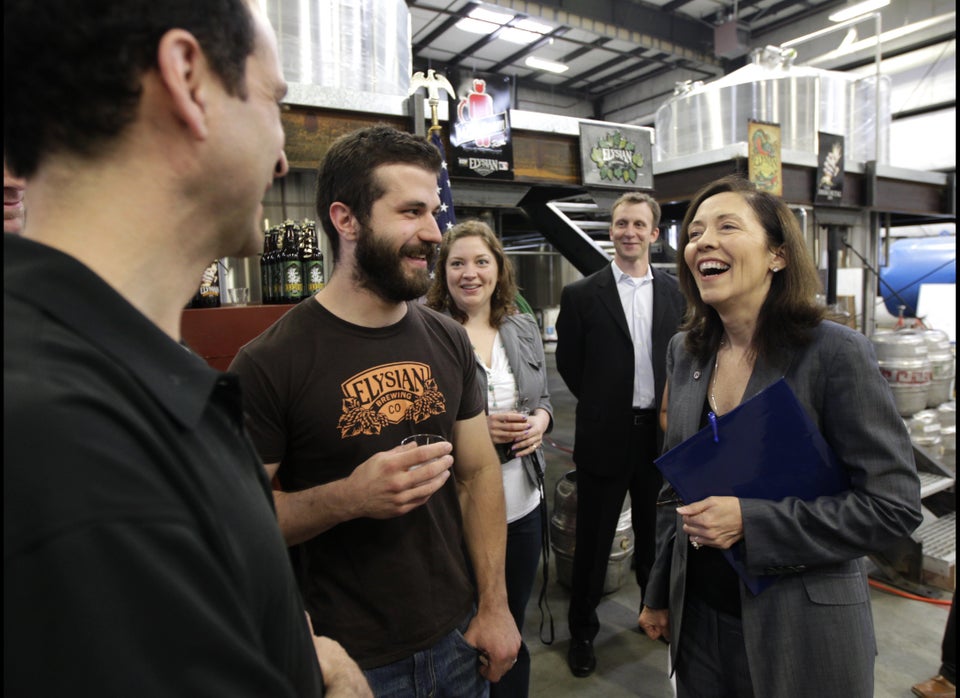 The Women Running for Senate in 2012
Popular in the Community