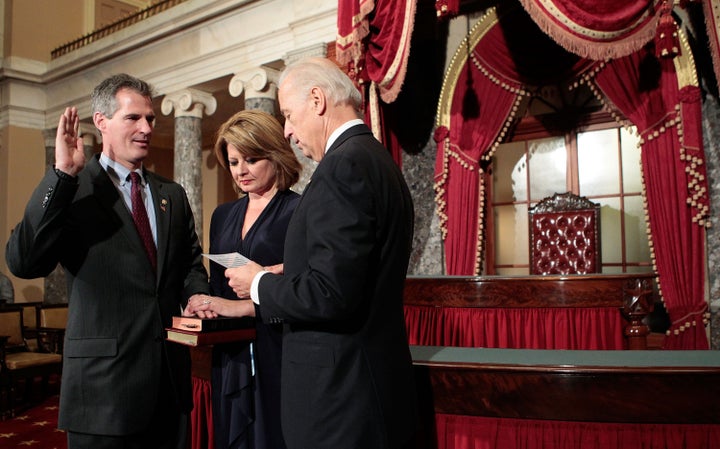 Less than an hour after Scott Brown was sworn in as the Republican junior senator from Massachusetts, he made it clear where he stands on bipartisan compromise.
"I'll be the 41st vote, not the 60th vote," Brown said at a brief press conference following his oath of office Thursday night. Of course, that includes his vote on health care reform, which Brown promised during his campaign he would kill. "It just wasn't good for Massachusetts," he said. "We need to go back to the drawing board and start again."
Brown is still a wild card in many respects, but Senate Democrats clearly aren't optimistic that they'll get his vote on a regular basis. Only eight of them joined the roughly 20 Republicans who came to watch Vice President Joe Biden swear him in on the Senate floor: Majority Leader Harry Reid (Nev.), Patrick Leahy (Vt.), Bob Casey (Penn.), Amy Klobuchar (Minn.), Tom Harkin (Iowa), and Mark Warner (Va.), plus Massachusetts senior Sen. John Kerry and interim Sen. Paul Kirk, who Brown replaced.
Likewise, the bleachers behind the left side of the aisle remained mostly empty, except for two staffers and Massachusetts Democratic Reps. Ed Markey, Stephen Lynch and Jim McGovern; the latter represents Brown's hometown of Wrentham. By contrast, the right-side bleachers were packed beyond capacity with staffers, and a few sat in extra chairs they had to place on either side. The Republican and Democratic senators who attended kept mostly to themselves, the Democrats seated together and the Republicans mingling in small groups.
The assembled Democrats didn't give Brown the cold shoulder, though. Kerry put his arm around Brown almost as soon as he entered the chamber, and the two chatted with Kirk and Sen. Jim Bunning (R-Ky.) until Biden arrived. Kerry continued to hold back and joke with Brown until it was time for Biden to administer the oath, and afterwards Reid was the first one to shake Brown's hand, followed by a vigorous handshake from Harkin and the rest of the Democratic contingent before Brown turned to greet the larger GOP welcome wagon lining up behind him.
Following Brown's Jan. 19 defeat of Massachusetts Attorney General Martha Coakley in a special election, the math of the certification process suggested that outgoing Democratic Sen. Paul Kirk would have another week in Ted Kennedy's old seat. But the certification was done early, and Brown pushed for a faster appointment than the one Sen. Al Franken (D-Minn.) received. "There's no hidden agenda. The answer's pretty basic: I want to get to work," Brown said at the press conference later. "There are a lot of votes pending that I would like to participate in."
He didn't seem to know what votes were coming up, though -- at least, that was a common excuse when he declined to commit on a particular issue. A self-avowed "independent voice," Brown demurred when pushed to cite specific votes on which he expects to side with Democrats.
"I need to see what issues are coming up, obviously," he said, following up with standard GOP talking points on the need for open and transparent negotiations. "I've worked closely with Sen. Kerry and Sen. Kennedy on many, many things."
Brown also punted on the push to repeal Don't Ask, Don't Tell -- "I want to speak to the generals in the field to see where they are right now," he said -- and on whether he would vote to break the Republican filibuster against Craig Becker, President Obama's nominee for the National Labor Relations Board. "Listen, I'm going to vote on procedural issues, on nominees, on any type of legislation," Brown said, begging off until he reads his briefings. "I have not been asked to do anything either way."
Earlier Thursday, Massachusetts Secretary of State William Galvin asked Brown to "respect the rights of the majority" and break the GOP filibuster on Obama nominees, allowing them to proceed to simple up-or-down votes. "To be honest with you, I'm not quite sure what he meant by that," Brown said.
So what did Brown come to Washington to vote for? "I think it's important obviously to look at the economy first," he said. Obama's budget is too grand, he said, and "I am concerned that we are living beyond our means." His answer: Across-the-board tax cuts. He likes Obama's targeted tax relief, but not much else the President has proposed to deal with the economic crisis thus far. "The last stimulus bill didn't create one new job," Brown said.
"It didn't create one new job?" one reporter at the press conference repeated, incredulous.
"That's correct. We lost another 85,000 jobs again, give or take, last month. In Massachusetts it hasn't created one new job, and throughout the country as well. It may have retained some, but it didn't create any new jobs." Apparently Brown defines job creation as net job growth across the whole economy, and judges the success of the stimulus not on whether it staunches the economic bleeding, but on whether it fully reverses the downturn.
In general, Brown said, he plans to take votes based on parochial interests, and that includes his vow to kill health care reform -- the signature domestic objective of both the Obama administration and the late Ted Kennedy. "I have always said publicly that everybody deserves a basic form of health care, but [not] the one-size-fits-all, especially when states like Massachusetts are going to be subsidizing Medicaid for, for example, Nebraska forever," Brown said. "If it's good for Massachusetts first, I'm going to look at it and consider it."
Popular in the Community