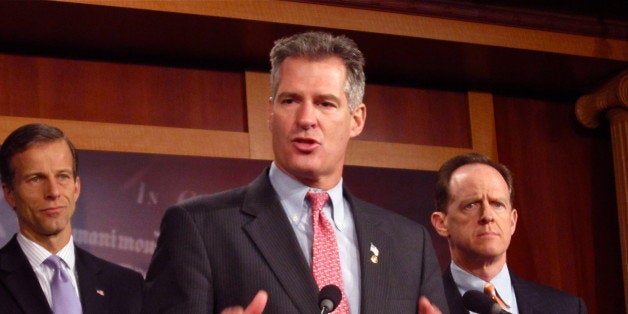 The campaign of former Massachusetts Sen. Scott Brown (R) is attacking New Hampshire Democratic Sen. Jeanne Shaheen for threatening to raise gas taxes. But records and news clips show that Brown is the only one of the two who could be said to have voted for something like that.
Brown, who lost his 2012 re-election bid to Elizabeth Warren, is trying to move to New Hampshire by unseating Shaheen in this year's election.
In recent days, his campaign and the New Hampshire Republican Party have been trying to take advantage of soaring gas prices by warning that Shaheen would raise gas taxes.
For instance, Brown Campaign Manager Colin Reed tweeted:
The state GOP has posted tweets calling Shaheen a liar, and accusing her of trying to hide her alleged support for a gasoline tax:
The claim is supported by a Concord Monitor news story that paraphrases Shaheen as saying a gas tax could be part of a solution to repair crumbling highways and bridges, but the article doesn't quote her directly. A transcript of the paper's interview with Shaheen has been unavailable.
There are two problems with Brown hitting Shaheen on gas taxes. One is that Brown himself said during his campaign against Warren that he may be open to raising gas taxes, although he more often said he opposed increasing the tax. If Shaheen did say a gas tax could be part of the solution, it puts her in the same place as Brown, since she has generally opposed any hikes.
The second problem is that Brown, while a member of the Massachusetts state legislature, supported a bill that critics at the time called a "back-door" hike of the state gas tax. In 2003, then-Gov. Mitt Romney decided to raise by a factor of five the half-cent per gallon gasoline tax that fuel suppliers paid into a fund for cleaning up underground storage tanks. Romney also decided to stop dedicating that money to cleanups, and Brown voted in favor of that budget. The practice was little noted at the time, but became a mini-scandal in 2010, when people realized the cleanup money had been diverted into the general fund, just like the rest of the gasoline tax.
The issue also surfaced in the 2012 presidential campaign. Romney argued that the hike was not a tax increase. Although Brown's campaign manager said the claim that Brown backed such a hike was not correct, he did not elaborate.

It's not the first time Team Brown has been critical of something he appears to have done. Brown slapped at Shaheen earlier in the campaign for supporting an increase in the federal debt limit, which Brown also backed.
UPDATE: 8:35 p.m. -- A New Hampshire Democratic Party spokeswoman said the GOP was intent on attacking Shaheen on gas prices because Brown refused to strip tax breaks from oil companies when he was a senator.
"The NHGOP is attacking Jeanne Shaheen to distract New Hampshire from Scott Brown's record of voting again and again for big oil tax breaks and collecting big oil money in return," said Julie McClain, communications director for the state Democratic Party. "Scott Brown is the candidate in this race who stands with oil companies, and they continue to pour millions into New Hampshire to try to buy him our Senate seat."
REAL LIFE. REAL NEWS. REAL VOICES.
Help us tell more of the stories that matter from voices that too often remain unheard.
BEFORE YOU GO
PHOTO GALLERY
Scott Brown