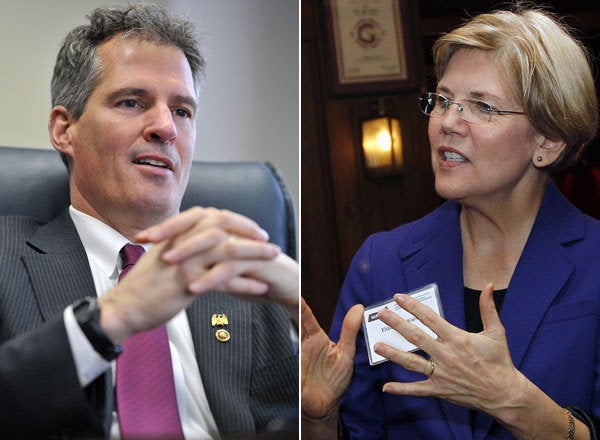 If politics is an all-contact sport, cynicism may be its rulebook. Even so, the recent hypocrisy of Senator Scott Brown merits a brief highlight reel.

In January, Brown and his opponent, Elizabeth Warren, reached an enforceable, voluntary agreement to limit the influence of outside parties on the campaign. Under the terms of the "People's Pledge," each campaign agreed to donate to charity half the cost of any third-party ad that either supported their campaign or attacked their opponent. The goal of the agreement was to limit the involvement of third parties in the campaign, a laudable effort to self-regulate in the wake of the Citizens United decision.
Brown quickly set out to get credit for the deal. When early news reports credited Warren because she first proposed that the two reach an enforceable agreement, Brown's campaign shot back, "We have been driving this, not her." Brown also put out a statement saying he was pleased Warren "joined with me in signing my People's Pledge."
But there was a twist. Early this week, the Huffington Post reported that Brown's drafts of the pledge -- and even accompanying cover letters -- had in fact been written by Sean Cairncross, the general counsel for the National Republican Senatorial Committee. In other words, an agreement to limit the involvement of outside players was in fact written for Brown by an outside player -- national Republicans.
That Cairncross would write a People's Pledge against the use of outside campaign funding while working outside the campaign is an act of hypocrisy; that Brown would ask for and accept such a letter, an act of bad faith. It's particularly bad because of Cairncross's home at the NRSC. Brown routinely emphasizes his independence from national Republicans and has made his supposed independence a central plank of his campaign. The whole episode shows, however, that the national Republican Party is in fact playing a central role in his campaign.
It's also worth noting that Cairncross is himself a national expert on election law -- and how to work around it. Ironically, the letter from Brown drafted by Cairncross stated, "As candidates running to represent the people of Massachusetts, we ought to be able to make such a pledge in simple and straightforward terms, without any fine print or legalese." A few days earlier, Brown similarly wrote, "The agreement terms are simple... no gimmicks, no fine print, no legalese... This election does not belong to outside interests, it belongs to the people of Massachusetts." Cairncross, while ghostwriting for Brown, demanded that Warren move quickly and not lawyer-up leading up to the pledge signing.
Cairncross's involvement also raises concern because of his personal track record. Cairncross has a history of trying to increase the influence of outside groups -- he once filed an amicus brief with the Supreme Court arguing that issue ads should not be considered within the scope of the McCain-Feingold Act. What's more, he also has a history of working closely with Ed Gillespie, Mike Duncan, and Tom Josefiak, a trio that worked with Karl Rove to establish Crossroads GPS, the super PAC that has spent more than $1 million on attack ads on Warren.

It now looks prophetic in hindsight to see that Warren's campaign responded to the pledge draft written by Cairncross by warning it had "loopholes big enough for Karl Rove to drive a tank through." It's hard to imagine that wasn't Cairncross's intent.
Warren made a number of revisions to close loopholes before the final deal was signed, but nonetheless, the Massachusetts Republican Party produced an online attack ad against Warren that fell outside the scope of the agreement within about a week of the Pledge's signing. The ad itself was not a paid advertisement and the pledge did not therefore apply, but it demonstrates how closely the Republicans were looking at the edges of the deal.
During the negotiations, Brown signed a letter written by Cairncross asserting that Warren shouldn't worry about loopholes because the Massachusetts voters will be able to judge for themselves how both parties conduct themselves around the agreement. If that will be the case, Brown better start conducting himself better and work to regain his credibility as an independent voice.
Calling all HuffPost superfans!
Sign up for membership to become a founding member and help shape HuffPost's next chapter