 PLYMOUTH, Mass., July 23 (Reuters) - Outside a sweltering campaign office where the air conditioner was broken, Massachusetts Senator Scott Brown boasted to supporters about the reach of his re-election campaign against Democrat Elizabeth Warren, a consumer advocate and Harvard law professor.
"We're just everywhere," Brown said. "I guess Professor Warren is in Martha's Vineyard."
The message behind Brown's recent jab at Warren was clear: It was a knock on the island's reputation as a playground for the wealthy and a reminder that the pickup truck-driving Brown has cast himself as the working-class alternative to a liberal academic.
It was just the type of political dart that supporters of President Barack Obama have thrown at another Massachusetts Republican: presidential contender Mitt Romney, whose luxury vacation homes and reluctance to discuss his personal fortune have helped Democrats' efforts to portray him as an out-of-touch elitist.
In one of the most intriguing contrasts of the election season, Brown and Romney share a party, a home state and even some top advisers. Yet they represent different sides of the ongoing political wrangling over class and authenticity that has come to shadow the 2012 campaign.
The campaigns of the Republican presidential candidate and the incumbent in one of the nation's highest-profile Senate races seem as if they're working from the same playbook - just opposing sides of it.
Brown, who surprised many analysts by winning a special election to succeed the late Democrat Ted Kennedy two years ago in a state where registered Democrats outnumber Republicans three to one, emphasizes his humble roots, draws attention to his opponent's wealth and calls on her to release more information about her finances.
Romney, a former Massachusetts governor, has faced precisely that kind of assault from Obama, a Democrat who has made appeals to the working class - and raising taxes on the rich - hallmarks of his re-election campaign.
In trying to attract Democrats, Brown often brings up his willingness to work with Obama. Romney, meanwhile, bashes the Democratic president at nearly every opportunity, calling Obama a failure in dealing with the economy.
Caught in the middle of Romney and Brown's differences are their campaign staffs, who share advisers and whose offices are 1-1/2 miles (2.4 kilometres) from one another in downtown Boston.
It's not unusual for political consultants to advise candidates with differing messages during an election season, but the mirror-image strategies for Romney and Brown show how flexible their advisers have to be during this campaign.
The most prominent link between the Romney and Brown campaigns is Eric Fehrnstrom, a top adviser to both. Asked to compare the candidates, Fehrnstrom declined.
"I'd really prefer not to mix apples and oranges," Fehrnstrom said in an e-mail. "Scott Brown and Mitt Romney are two very different individuals with their own unique styles and different positions on the issues."
Joining Fehrnstrom as advisers to both Romney and Brown are Beth Myers, who is vetting vice presidential candidates for Romney, and Peter Flaherty, who like Fehrnstrom and Myers worked for Romney during his term as Massachusetts governor from 2003 to 2007.
For experienced political hands, having to push conflicting messages is a job requirement, other strategists said.
"As political consultants, it's our job to do whatever it takes to win a race," said Rob Gray, a Republican strategist who has worked with Romney's and Brown's advisers. "Sometimes, that gets us twisted in a pretzel in terms of logic or consistency."
Such strategic twisting by the Romney-Brown advisers has been evident as Obama's allies have pressed the notion that Romney, whose fortune is estimated to be up to $250 million, is hiding something by refusing to release more than a year or two of tax returns.
"There's nothing hidden," Romney told Radio Iowa this month.
Obama's strategy should sound familiar to Massachusetts voters.
Brown's campaign has taken a similar position, accusing Warren of failing to be transparent by refusing to release her tax returns from 2006 and 2007.
"She is clearly hiding something. What is in her tax returns during these years that Warren is so afraid voters might learn?" Brown campaign manager Jim Barnett said last spring, sounding a lot like a spokesman for Obama's team.
In one statement, Barnett called the Democratic contender "Millionaire Warren." Warren's net worth could be as much as $14.5 million, according to her financial disclosures.
The attention to Warren's wealth is the kind of talk that Romney, in defending his fortune, has condemned as the "politics of envy."
"Everywhere he goes, we hear him talking about millionaires and billionaires and executives and Wall Street," Romney said of Obama last winter. "It's a very envy-oriented, attack-oriented approach and I think it will fail."
As Obama's supporters hammer Romney for sheltering his investment income in ways not available to most people, Brown has similarly tried to cast Warren as being the entitled recipient of special favors.
Brown has accused Warren of falsely claiming Native American heritage to gain an advantage in education and employment applications.
Warren, a graduate of Rutgers Law School, taught at the University of Pennsylvania Law School and is widely regarded as an expert in commercial law. Warren maintains that she identified herself as Cherokee because her mother had said she was part Cherokee.
"I never asked for any advantage, nor received advantage in going to college, to law school, or in any job," Warren said last week.
Warren supporters are encouraging her to fight back by trying to link Brown with Romney, despite the differences between the two Republicans.
The more she talks about Romney the better, they said, hoping to prove that the political distance between Republicans Brown and Romney is not as great as it may seem.
"These guys are brothers in policy. I call them Bromney. Like the celebrity marriages," said John Walsh, chairman of the Massachusetts Democratic Party.
Brown contends that despite their shared staff, his campaign is quite different from Romney's.
"I'm not worried about what Governor Romney does," Brown said. "He's doing his thing, and I'm doing mine." (Editing by David Lindsey; Desking by Eric Beech)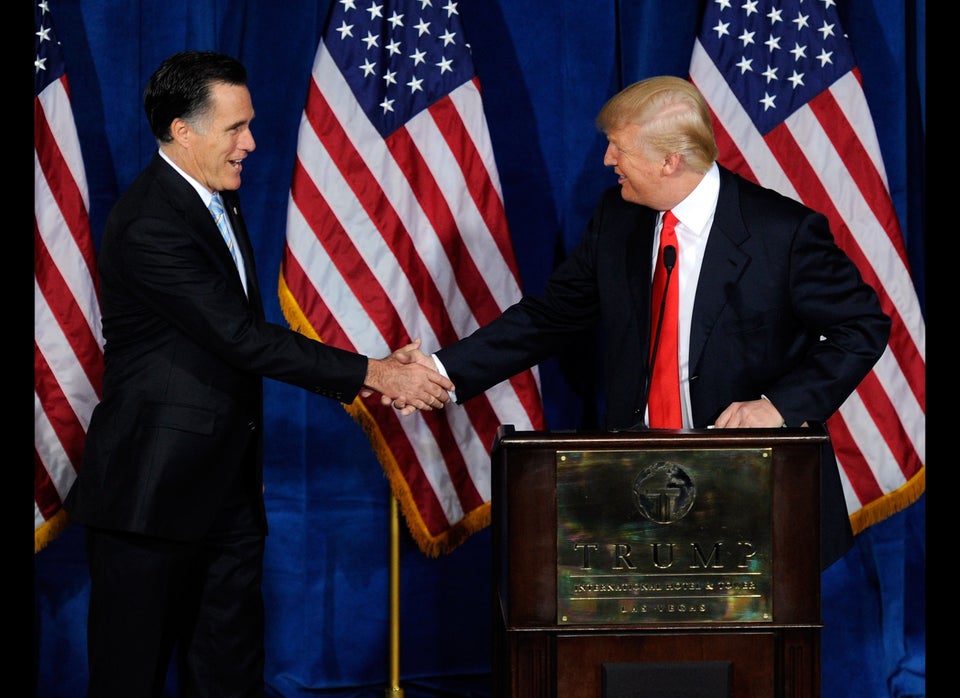 Mitt Romney's Greatest Hits
Popular in the Community