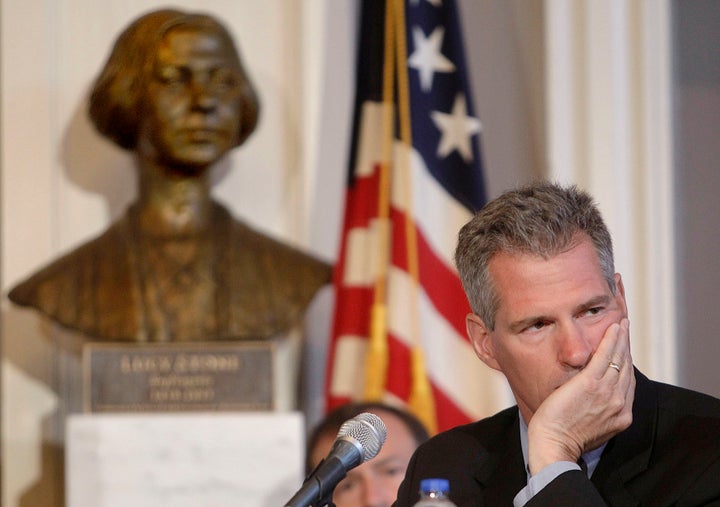 WASHINGTON -- When Sen. Scott Brown (R-Mass) was still a state senator running a long-shot campaign to win Ted Kennedy's seat, a variety of traditionally conservative advocacy groups gravitated towards his candidacy, drawn by the possibility of a reliably liberal seat becoming occupied by a Republican.
The National Rifle Association was one of those groups, devoting money and mailers to Brown's campaign as it reached its final stretch. When Brown pulled off an upset victory over Attorney General Martha Coakley, his Democratic opponent, the gun-lobby called it a "stunning defeat for gun control extremists" and praised him for being "tough on criminals yet supportive of the rights of law-abiding Massachusetts gun owners."
More than a year-and-a-half later and with his reelection campaign in full swing, the dynamic has shifted. Last week, Brown let it be known that he was formally opposed to one of the NRA's top legislative priorities.
In a letter to Boston Mayor Tom Menino, Brown said that he would vote against a bill that would require states that allow concealed carrying of guns to recognize each other's permits. Opponents have described the bill as a "race to the bottom" in concealed weapon law.
"As you know, I support the individual right to keep and bear arms as guaranteed by the Second Amendment to the U.S. Constitution," Brown wrote. "I also believe that individual states should be allowed to decide what constitutes safe and responsible gun ownership so long as it does not violate that basic constitutional right."
"Under the proposed House legislation, a national concealed carry reciprocity amendment would obligate states like Massachusetts to recognize that concealed carry permits of other states, even if the bearer of that permit does not meet the requirements established by Massachusetts to receive such a concealed carry permit. I believe that the people of Massachusetts are best positioned to decide what is best for Massachusetts. Therefore, if H.R. 822 or similar legislation comes before the Senate, I will vote no."
Brown has never cast himself as an expansive Second Amendment advocate, and his willingness to flout the NRA isn't entirely shocking, especially given that he faces a tough reelection campaign against Elizabeth Warren.
But the letter to Menino, who co-chairs the 550-member coalition Mayors Against Illegal Guns, is a major setback for advocates of gun-rights advocates. The National Right-to-Carry Reciprocity Act has 245 cosponsors in the House and is poised to comfortably pass through that chamber, but it needs 60 votes in the Senate to avoid a filibuster. The Coalition to Stop Gun Violence placed a full-page ad in the Boston Globe last Wednesday, urging Brown to vote no. Now that he has announced that he plans to do so, they and other gun control advocates can turn their attention to other moderate Republicans.
Popular in the Community