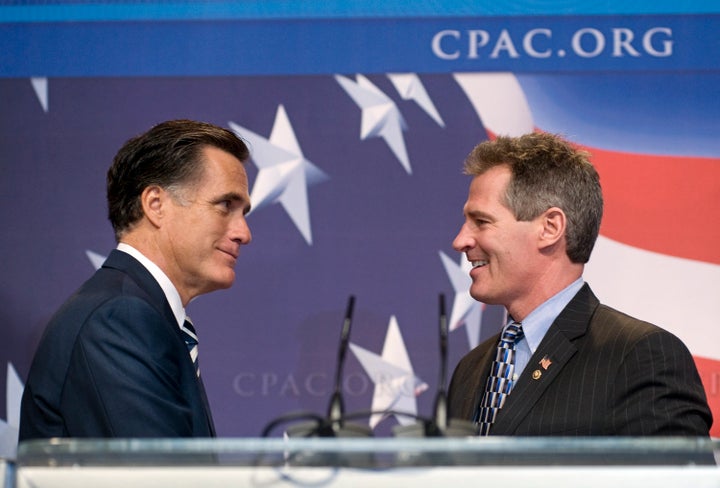 In 2006, the Massachusetts legislature tried to take control of a state commission meant to prevent discrimination of LGBT youth away from the governor, then Mitt Romney. At the time, the commission was overseen by the governor's office. But after some high-profile battles and threats by Romney to disband the panel, legislators decided to make the group independent.
Romney disagreed, and vetoed the legislature's bill. The measure then went back to the legislature, and every single state senator voted against Romney, except one: then-state Sen. Scott Brown, now a Republican U.S. senator running for reelection. The commission, now independent, still exists.
Brown's campaign did not return a request for comment about why he supported Romney's veto.
The Boston Globe reported in 2006 that the commission initially faced Romney's wrath after it put his name, without persmission, on a press release for a gay pride parade -- not exactly the image that a governor from a liberal state who is trying to court conservatives in advance of a presidential bid wants.
Brown was the only member of the Massachusetts congressional delegation last year who didn't not participate in a video for the "It Gets Better" project, speaking out against the bullying of LGBT youth.
Although Romney and Brown are running in two of the most high-profile races of the 2012 election cycle, they have largely kept their distance from one another. In 2010, Brown broke with his party and supported the repeal of Don't Ask, Don't Tell.
"It's no wonder they're staying away from each other. ... Romney's message is, 'I really am a conservative.' Scott Brown's is, 'I am a Massachusetts Republican, I am more moderate,'" Chip Felkel, a Republican strategist based in South Carolina, told the Boston Herald. "They're conflicting."
Popular in the Community