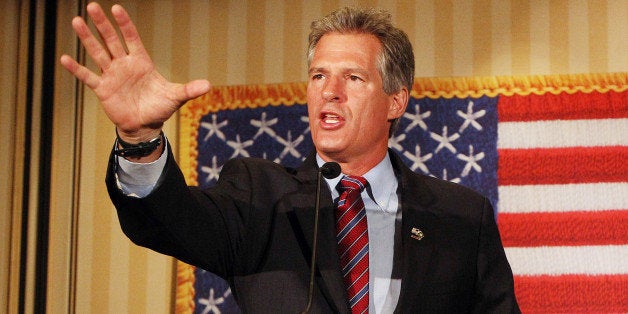 Scott Brown had an easy layup opportunity against Sen. Jeanne Shaheen (D-N.H.), the woman he hopes to defeat come the midterm elections in November. He missed.
Calling in to the Boston Herald radio show on Friday, Brown was given the chance to pile on a simple, if not inane, attack against Shaheen's absenteeism at numerous Senate Foreign Relations committee hearings. The conservative-leaning Boston Herald reported Thursday that the Democrat "skipped out on nearly half of the public hearings held by the committee over the last two years," including an April hearing on the dangers of the Islamic State.
The report prompted immediate hysteria from Republicans. "New Hampshire is an independent state, and it's sad that Granite Staters are being poorly represented by an Obama puppet and a no-show senator like Jeanne Shaheen," said New Hampshire GOP Chair Jennifer Horn. Former New Hampshire Sen. Gordon Humphrey (R) released a statement saying that, had Shaheen been in the military, she would have been "charged with abandoning her post."
To his credit, Brown, a former Republican senator from Massachusetts, took a more measured approach. He explained that while it was practically impossible to hold a spotless attendance record, the one hearing Shaheen missed on Islamic State was a matter of concern because it had taken place before the militants seized control of parts of Iraq earlier this year. Yet in passing up the opportunity to criticize Shaheen, Brown neutralized a line of attack from his own party and did Shaheen a favor at a time when the race appears to be tightening.
"Senators have tremendous amount of responsibilities," he said. "I don't think there's ever an expectation to have 100 percent attendance."
"They're double-booked a lot," he explained of committee hearings.
Asked by the host about gaps in his own attendance record while on the Arms Services and Homeland Security committees, Brown conceded the point entirely.
"That wouldn't surprise me. We would have to pick and choose what are we listening to, what are we working on today," he said. "I'm not criticizing [Shaheen] for her attendance at committee hearings. I am questioning where we are with ISIS."
Shaheen is not the only member of Congress whose committee attendance has come into question this year. In the deadlocked Iowa Senate Race, Rep. Bruce Braley (D-Iowa) was pilloried by Republicans for missing 75 percent of meetings for a committee that provides oversight over the Veterans Administration -- a headline especially damaging during the widely followed VA scandal.
REAL LIFE. REAL NEWS. REAL VOICES.
Help us tell more of the stories that matter from voices that too often remain unheard.
BEFORE YOU GO
PHOTO GALLERY
Scott Brown