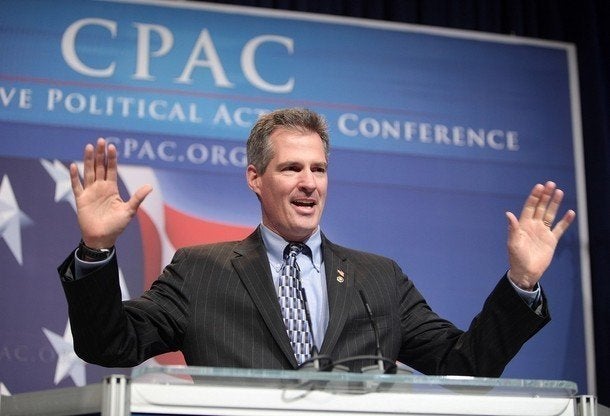 WASHINGTON -- Sen. Scott Brown (R-Mass.) is touting President Barack Obama's call for legislation banning insider trading by members of Congress as a personal victory, having authored the Senate bill to stop such unscrupulous activity. But Brown is studiously ignoring a similar ethics reform Obama pushed during Tuesday's State of the Union speech -- perhaps because Brown himself has run afoul of it.
"Send me a bill that bans insider trading by members of Congress; I will sign it tomorrow," Obama pledged in his speech, an opening that Brown then used to press the president on his bill.
"My insider trading bill is on [Senate Majority Leader Harry Reid's] desk right now. Tell him to get it out," Brown told Obama during a post-speech handshake, according to the Boston Globe. Obama appeared to agree: "I'm going to tell him. I'm going to tell him to get it done."
After the State of the Union, Senate Majority Leader Harry Reid told reporters that he would send the STOCK Act to the Senate floor this year. "Well, I think people should have enough sense not to do it [insider trading] without legislation, but I will support legislation," he said.
Brown's proposed bill would limit stock trading by members of Congress to prevent abuses in which lawmakers profit from their own legislative favors or access to nonpublic economic information.
But during the State of the Union, Obama also called to "limit any elected official from owning stocks in industries they impact." And this kind of ownership would still be legal under the STOCK Act. Brown's bill focuses narrowly on information gained by members of Congress during hearings and meetings, but does not prevent them from holding long-term investments in companies that may benefit from their legislative actions. So long as lawmakers don't sell their holdings while in office, however, they're in the clear.
Brown himself performed major legislative favors for big banks during the final round of debate over 2010's Wall Street reform bill. According to Brown's latest personal financial disclosure form, the Massachusetts Republican owns up to $50,000 of Bank of America stock. As the financial overhaul approached passage, Brown was the deciding vote determining whether the bill would clear a filibuster in the Senate. He used that position to leverage several changes to the bill that helped large financial institutions, carving out an exemption to the Volcker Rule that allows big banks to continue placing risky bets in the securities markets with taxpayer money, provided they do so through private equity firms and hedge funds. Brown also saved Bank of America and others billions of dollars in up-front costs by axing a plan that would have required them to pay into an emergency fund to cover the costs of big bank failures.
Sen. Brown's office did not respond to requests for comment from The Huffington Post.
Faced with a Democratic challenge for his seat from consumer advocate Elizabeth Warren, Brown has repeatedly attempted to cast himself as a financial reformer. During Tuesday night's speech, he literally stood up for consumer protection as the sole Republican to rise and applaud Obama's mention of Richard Cordray, the new director of the Consumer Financial Protection Bureau. The CFPB was the brainchild of Warren, who set up the nascent agency before running for Senate.
Calling all HuffPost superfans!
Sign up for membership to become a founding member and help shape HuffPost's next chapter
BEFORE YOU GO