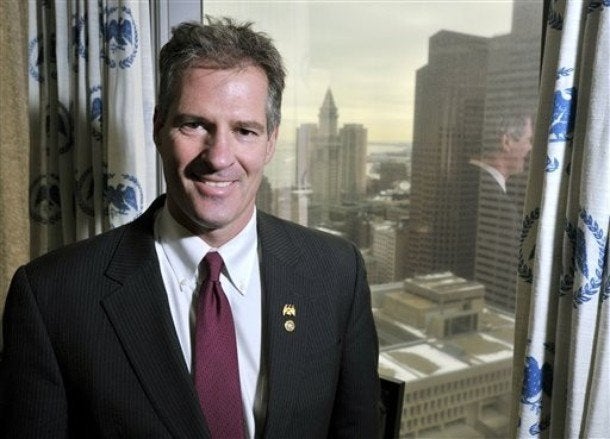 WASHINGTON -- As Democrats urge Elizabeth Warren, one of Wall Street's most public foes, to seek a U.S. Senate seat in Massachusetts next year, the financial industry is already throwing its support behind the seat's current occupant, Sen. Scott Brown (R), giving him nearly $315,000 in the most recent fundraising quarter.
The contributions from people and interests associated with the financial industry represented nearly 16 percent of the approximately $2 million Brown raised in the second quarter, according to his filings with the Federal Elections Commission. $48,000 of the financial contributions came from political action committees.
The donations, which came in between April and the end of June, were just below what Brown took in during the first quarter of 2012. Between January and the end of March, Brown raised $404,206 from the financial industry. During the first quarter, he received the third-highest amount of money from this sector of any senator or senatorial candidate.
This week, President Obama announced that he would not be nominating Warren to head the Consumer Financial Protection Bureau (CFPB), freeing her up for a possible Senate run. Warren, a law professor at Harvard University, has lived in Massachusetts since the 1990s.
On Monday, Massachusetts Democrats said they would be "thrilled" if she were to be on the ticket in 2012. The Progressive Change Campaign Committee launched a petition to draft her and is already fundraising on her behalf.
Warren's work was the inspiration for the CFPB, and progressives view her as one of their strongest advocates for working families and financial regulations. At the same time, congressional Republicans and many Wall Street entities have fiercely opposed her, with GOP senators saying they would block her nomination to head the CFPB at all costs.
"Scott Brown is Wall Street's favorite -- and for good reason," said Democratic Senatorial Campaign Committee spokesman Matt Canter. "He did their bidding behind closed doors during financial reform and he looks out for their interests every day, voting nearly 90 percent of the time with Mitch McConnell."
"It really smacks of desperation to watch Senate Democrats attack Scott Brown on a piece of legislation that they themselves also voted for, which President Obama signed into law and which Wall Street opposed," said Walsh. "It's also stunningly hypocritical when you consider that just days ago President Obama was in New York City raising campaign contributions from Wall Street executives and Senate Democrats themselves have received hundreds of thousands of dollars from Wall Street. But this is the type of misleading mudslinging voters in Massachusetts will have to get used to because Democrats in Washington know they can't beat Scott Brown fair and square."
Financial donations to Brown also spiked last summer, as Congress was considering financial regulatory reform. As the Boston Globe reported, between mid-June and early-July 2010, Brown took in $140,000 from banks and investment firms and their executives, which was 400 percent more than the average received by other Republican senators during that same time period.
Brown eventually voted for the legislation, but not before extracting key concessions to benefit the financial industry in his state. As Newsweek wrote at the time, Brown "managed to dramatically weaken the 'Volcker rule' barring banks from speculative proprietary trading, proposing a 2 percent exemption (which conference chair Sen. Chris Dodd then generously raised to 3 percent), and he got the Democrats to quash a planned $19 billion rainy-day tax on banks as well."
The Huffington Post wants to know about the campaign ads, town halls, robocalls, mailings and other election news happening where you live. Email us your tips, videos and photos to offthebus@huffingtonpost.com.
If you want to be even more involved with our election coverage, please sign up here.
Popular in the Community