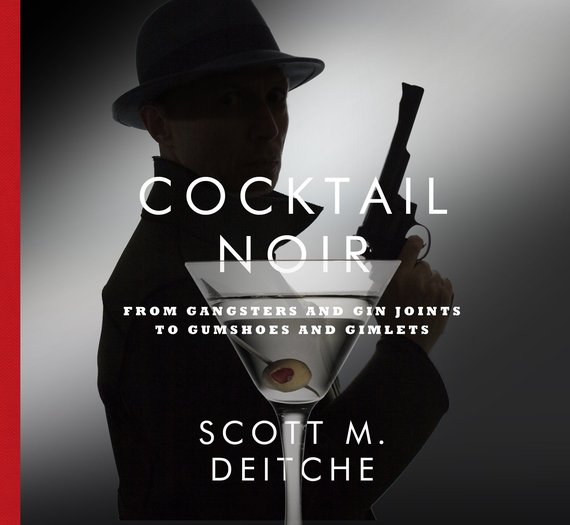 Scott Deitche, the author best known for Cigar City Mafia and The Silent Don, has put together the definitive work on booze, bars, gangsters, and those that chronicle the exploits of the underworld; the crime writer.
With just the right blend of alcohol, gangster, and writer (shaken, not stirred), Deitche assembles an All-Star cast of drinks, stories, those that inspire the tales, and those that craft them. In an evening of frivolity, one can mimic the drinking habits of Al Capone and Meyer Lansky, or they can post up in the favorite bars of mobsters and enjoy drinks in the style of Raymond Chandler, Dennis Lehane, or Arthur Conan Doyle.
The beauty of the book is that it takes overlapping components of the mafia lifestyle, and those that archive or glamorize that life, and combines them in a powerful piece of pop culture that can only be described as fun.
Scott Deitche explains the genesis of Cocktail Noir. "I thought Noir was a great concept because a lot of these crime stories and films have bars and drinks that are either important information gathering points and help the story move forward, or they really set the mood of the character and help define them. A great example is Kiss Me Deadly. Mike Hammer goes into the bar and says, 'Give me a bourbon and leave the bottle.' Something about a scene like that says all you really need to know about the type of day he had."
In Cocktail Noir, you can delve into the libations that inspired writers as well as the drinks that their characters imbibed. You can also read about those that took down a drink to report on the most notorious men in the mafia. Scott Deitche covers everything from the history of Prohibition, the mobsters who profited, the authors that were inspired, the writers that recorded, the bars that became a piece of legend, and the movies that were made; all with a common theme of amazing cocktails.
"In the 30's there were no Appletinis or Mudslides, it was whiskey in a whiskey in a whiskey," Scott says. He shares his own signature cocktail, created specifically for Cocktail Noir. "In developing this signature cocktail for the book, there were two things I kept in mind. One is that I am not a professional bartender or mixologist. So I built on simple blocks, nothing too fancy, though two of the ingredients are a little less common. The other is I wanted a drink that would convey the feel of the book. So I chose a rye base, because whiskey is the drink of Prohibition, of hard boiled PIs, of hard boiled writers, of gangsters, and of shady and mysterious characters and bars. The particular brand of rye I chose was Templeton Rye, which was the favorite of Al Capone. I chose Benedictine because it brings a robust unique flavor and a classic pedigree. I add a little Maraschino liqueur for flavor, and I added bitters. But not just any bitters, I used blood orange bitters. Because, well, blood."
3-4 dashes blood orange bitters
Add ingredients to mixing glass with ice. Stir vigorously for 30 seconds. Strain into cocktail glass. Garnish with orange peel.
An excellent read to pass the time, as well as essential coffee table addition, Cocktail Noir is a hit.
From the back of the book:
Catering to lovers of the well-written word and the well-mixed drink, Cocktail Noir is a lively look at the intertwining of alcohol and the underworld―represented by authors of crime both true and fictional and their glamorously disreputable characters, as well as by real life gangsters who built Prohibition-era empires on bootlegged booze. It celebrates the potent potables they imbibed and the watering holes they frequented, including some bars that continue to provide a second home for crime writers.
Highlighting the favorite drinks of Noir scribes, the book includes recipes for cocktails such as the Gimlet described in Raymond Chandler's The Long Goodbye, the Mojito Mulatta T.J. English drank while writing Havana Nocturne and the Dirty Martini favored by mob chronicler Christian Cippolini. Cocktail Noir also lets us in on the drinking habits of notorious organized crime figures, revealing Al Capone's taste for Templeton Rye, Meyer Lansky's preference for Dewar's Scotch and Gambino family hit man Charles Carneglia's habit of guzzling Cutty Sark.
With black and white illustrations throughout, Cocktail Noir is as stylish and irreverent as the drinks, often larger-than-life figures and culture it explores. Authors Quoted Extensively: Dennis Lehane Patrick Downey T.J. English Scott Burnstein Christian Cippolini Chriss Lyon Gavin Schmitt Authors Discussed: Mario Puzo Gay Talese Peter Maas Raymond Chandler Dashiel Hammet Authors Honorably Mentioned: F. Scott Fitzgerald Dorothy Parker Stephen King Truman Capote
Inquire at your local book store or simply order it at Amazon by going here: Cocktail Noir
REAL LIFE. REAL NEWS. REAL VOICES.
Help us tell more of the stories that matter from voices that too often remain unheard.