WASHINGTON -- A pro-life, family-values congressman who worked as a doctor before winning election as a Tea Party-backed Republican had an affair with a patient and later pressured her to get an abortion, according to a phone call transcript obtained by The Huffington Post.
The congressman, Rep. Scott DesJarlais of Tennessee, was trying to save his marriage at the time, according to his remarks on the call, made in September of 2000. And, according to three independent sources familiar with the call and the recording, he made the tape himself.
DesJarlais, who was provided a copy of the transcript by HuffPost, did not deny its contents, but in a statement released through his campaign characterized it as just another sordid detail dredged up by the opposition. "Desperate personal attacks do not solve our nation's problems, yet it appears my opponents are choosing to once again engage in the same gutter politics that CBS news called the dirtiest in the nation just 2 years ago."
That race featured charges culled from DesJarlais' divorce from Susan DesJarlais, which was finalized in 2001. The filing included allegations that he held a gun in his own mouth for hours in one instance and that he "dry fired" a gun outside his wife's bedroom in another.
DesJarlais' campaign vigorously denied those charges in his 2010 race against Democratic Rep. Lincoln Davis, saying they were hauled out of history for political purposes and had not been deemed credible at the time.
But the new transcript and other revelations from court documents paint a more damning picture of a man who was a serial philanderer willing to push one of his lovers -- whom he met as a patient with a foot problem -- to terminate a pregnancy, even when he suspected he was the father.
"You told me you'd have an abortion, and now we're getting too far along without one," DesJarlais tells the woman at one point in the call while negotiating with her over whether he'll reveal her identity to his wife. They then discuss whether he will accompany her to a procedure to end the sort of life the congressman now describes as "sacred."
"You told me you would have time to go with me and everything," the woman complains.
"I said, if I could, I would, didn't I? And I will try," DesJarlais says. "If I can [find] time, you're saying you still will?"
"Yeah," the woman answers.
The two bicker over when they can meet to hash out a solution, and they make clear the nature of their relationship when DesJarlais says delaying a resolution isn't fair to his wife.
"This is not fair to me. I don't want you in my life," the woman says.
"Well, I didn't want to be in your life either, but you lied to me about something that caused us to be in this situation, and that's not my fault, that's yours," the doctor responds.
"Well, it's [your] fault for sleeping with your patient," the woman fires back.
After arguing for a bit about who came on to whom -- with the woman seeming incredulous at DesJarlais' interpretation that she made the first move -- he gets back to the abortion.
"If we need to go to Atlanta, or whatever, to get this solved and get it over with so we can get on with our lives, then let's do it," DesJarlais says.
"Well, we've got to do something soon. And you've even got to admit that because the clock is ticking right?" he says at another point.
He talks repeatedly of getting the problem "solved" or "fixed" and eventually explains he's desperate to patch things up with his wife, who had filed for divorce two years before, in late 1998, alleging improper marital conduct. She had relented, however, and according to court documents, they were trying to reconcile.
The marriage appeared to fall apart for good at about the time DesJarlais made his recorded phone call, and he eventually admitted in court papers to at least four affairs. Court records indicate that at one point in the marriage, they had a "written agreement to date other people."
When DesJarlais was recording the call, though, he appeared to be trying for a last-ditch reprieve.
"Well, I've been going crazy. I mean, if Susan could talk to you, she'd tell you that I've been psychotic for months over this," DesJarlais says. "I don't sleep at night. I mean, it's like I'm trying to build my family back together just waiting for it to fall apart, and it's been eating me apart."
The family did fall apart. The recording appears to have been made in mid-September of 2000, shortly before the birthday of a friend whom DesJarlais mentioned in the call.
Less than a month later, Susan DesJarlais renewed the divorce proceedings, sparking a protracted, bitter battle that lasted another nine months.
The judge on the case ultimately found fault on both sides, declaring that neither was living up to the model they'd like to set for their toddler-aged child. But he also stipulated about Scott DesJarlais: "I have to look back at the fact that relative fault -- that actually this divorce began, was filed based upon his first indiscretions."
DesJarlais wound up beating incumbent Davis in the Tea Party wave.
Davis confirmed to The Huffington Post that his campaign was anonymously sent a transcript of the call in the waning days of the contest, but with just a few days left, did not use it, lacking the time to verify it. Davis said that he never actually saw the document until long after the contest was over.
Two other sources with independent knowledge of the transcript confirmed its contents, but requested anonymity due to their close relationship with the people involved.
HuffPost obtained the transcript and court documents through still other sources, and has identified the woman in the conversation.
Davis said he ultimately confirmed the authenticity of the transcript himself last spring, almost by accident, when he met with Susan DesJarlais.
Davis had been purged from his local voter rolls in a crackdown on voter fraud by the local GOP. He said that DesJarlais had heard about the purge, and wanted to talk to Davis, suspecting her ex-husband was behind it.
"He had nothing to do with that -- it was just some local pols," Davis told The Huffington Post. But when he met with Susan, it gave him the opportunity to discuss the transcript and the phone call, which the doctor apparently thought would help repair the marriage.
"She said he did it himself. She said the doctor did. She said, 'He recorded it and let me listen to it,'" Davis said. "She confirmed to me that Scott DesJarlais is the one who actually did the recording, and let her listen to it."
DesJarlais is currently leading Democratic state Sen. Eric Stewart in the polls.
UPDATE: 6:09 p.m. -- The congressman was confronted about the revelations Wednesday by a Democratic tracker, and DesJarlais or the person with him appeared to laugh as they headed into a meeting. DesJarlais offered no further clarification or explanation. His campaign stuck with DesJarlais' statement on the matter, only adding the claim that the revelations are "old news from the last election cycle that Tennesseans have already widely rejected."
Support HuffPost
The Stakes Have Never Been Higher
Before You Go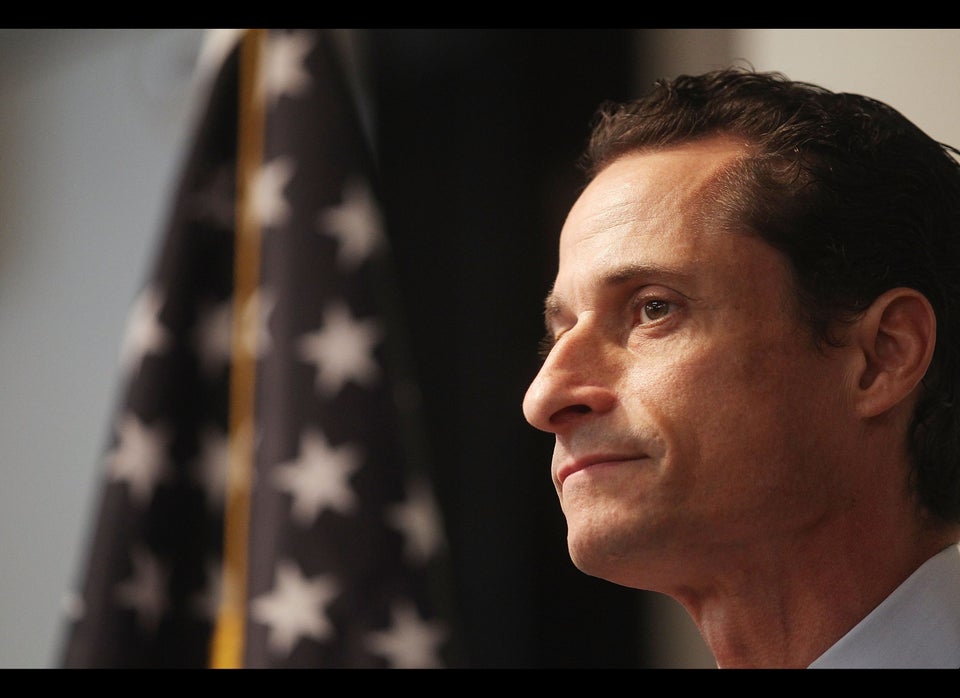 Political Sex Scandals
Popular in the Community