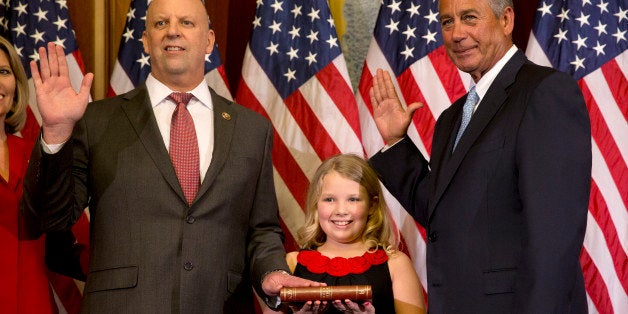 A Tennessee Republican congressman and physician who kept his job through the last two elections -- despite revelations that he had extramarital sex with his patients and counseled at least one, as well as his then-wife, to get an abortion -- is officially facing another primary challenge in next year's contest.
A lawyer named Grant Starrett, of Murfreesboro, Tennessee, announced Thursday that he intends to challenge GOP Rep. Scott DesJarlais in next year's Republican primary, the Chattanooga Times Free Press reported.
"I'm running for Congress because the country I love is endangered by the people in power," Starrett said in a post on his Facebook page. "America is hurting because of the actions and inactions of those who control the federal government, chief among them President Obama. As a result, the United States faces three crises today: a moral crisis, an economic crisis, and a constitutional crisis."
"I am prepared to do battle against these crises, and I hope and pray you will join me and patriots across Tennessee and America in taking them on," he added.
The statement does not mention DesJarlais' affairs.
According to the Times Free Press, Starrett bills himself as a conservative Christian who intends to run against DesJarlais from his right. He has picked up some support from the conservative blogosphere, but the most recent rating from the National Journal ranks DesJarlais as the fourth most conservative member of Congress.
DesJarlais beat his Democratic challenger easily in 2012 after the news of his affairs broke, and he defeated Tennessee state Sen. Jim Tracy last year by just 38 votes in the Republican primary.
Tracy, a relatively well-known figure in the middle and eastern Tennessee district, substantially out-raised DesJarlais and questioned the congressman's moral fortitude as part of his campaign strategy, but was still unable to prevail.
Starrett, a 27-year-old unknown, would likely face a tougher battle, which may explain his early entry into the contest.
A spokesman for DesJarlais, Robert Jameson, told The Huffington Post that they take the challenge seriously, but were nevertheless confident.
"We feel like we're in a pretty good spot," Jameson said, adding that DesJarlais is expecting to announce one of his best fund-raising quarters ever, soon.
He also said that DesJarlais was not too worried about being outflanked on his right, and predicted he would not suffer from conservative dissatisfaction with House Republican leaders, because DesJarlais voted against Speaker John Boehner (R-Ohio) when he was up for re-election.
"There's no question the congressman is very conservative," Jameson said.
Still, Starrett intends to launch his bid from deep right field, telling the Times Free Press that there are "big differences between myself and Congressman DesJarlais. The congressman's voting record in Washington simply doesn't match his rhetoric in the district."
REAL LIFE. REAL NEWS. REAL VOICES.
Help us tell more of the stories that matter from voices that too often remain unheard.
BEFORE YOU GO
PHOTO GALLERY
2014 Election Results: Winners & Losers