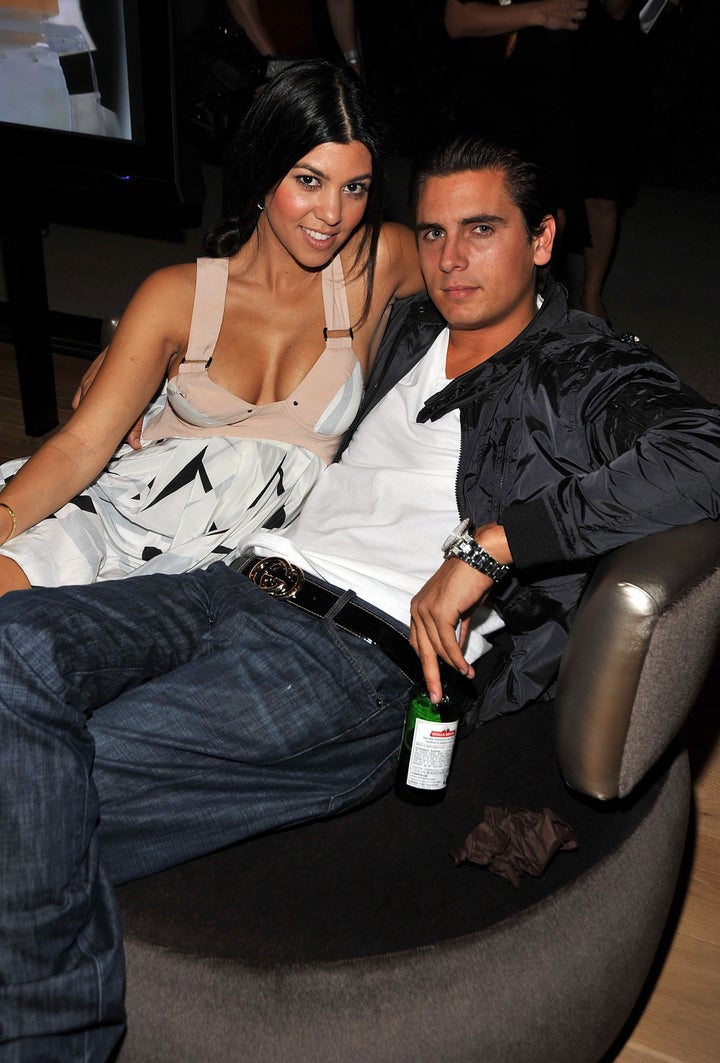 UPDATE: Kim has blogged about the events of Thursday night, assuring fans she is fine after being attacked by drunk fans.
"I always take the high road, so we all left straight after and didn't feed into their drama," she wrote.
PREVIOUSLY: Kourtney Kardashian's boyfriend Scott Disick, the father of their infant son, is showing his belligerent side just as the cameras start rolling for 'Kourtney and Kim Take New York.' He may have been coming to Kim's defense, as TMZ reports that the commotion began when a jealous woman threw a drink at Kim Thursday night.
Scott previously provided some drama on 'Kourtney and Khloe Take Miami' by flashing his genitals, punching a hole in a wall and landing bloody and wasted in the hospital.
Life & Style's press release follows:
Shattered glass, a violent outburst and public fighting--Scott Disick is back to his old (and dangerous) ways.

Joining all three Kardashian sisters--Kim, Kourtney, & Khloe--for the filming of their new show Kourtney & Kim Take New York, at Juliet Supper Club in NYC on Oct. 7, a supposedly sober Scott was seen wildly popping champagne and Hpnotiq liqueur bottles while fist-pumping on the dance floor. "He was out of control!" an eyewitness tells Life & Style about the father of Kourtney's infant son, Mason. The night took a dangerous turn for the worse when Scott exchanged words with an unidentified male and ended up in a brawl.

"As soon as Kourtney left to use the restroom, a guy went up to Scott and the two started shouting aggressively," an eyewitness tells Life & Style. "Glasses were thrown, and the glass shattered everywhere on the floor. Everyone surrounding them was really scared and moving around to avoid being hit--even the camera crew looked nervous and shocked."

Shortly after a visibly drunk Scott was kicked out of the club, the sisters followed. Although Khloe and Kim seemed unfazed by the scuffle, as if it were routine with Scott, everyone else appeared horrified.

"After Kourtney finally came out of the bathroom, she caught up with her sisters to ask why Scott had been kicked out," says the eyewitness. "She seemed confused and worried." Following the incident, another eyewitness tells Life & Style that production shut down after Scott and the Kardashians were escorted away. Check please!


TMZ has pics of a soaking-wet Kim after the incident: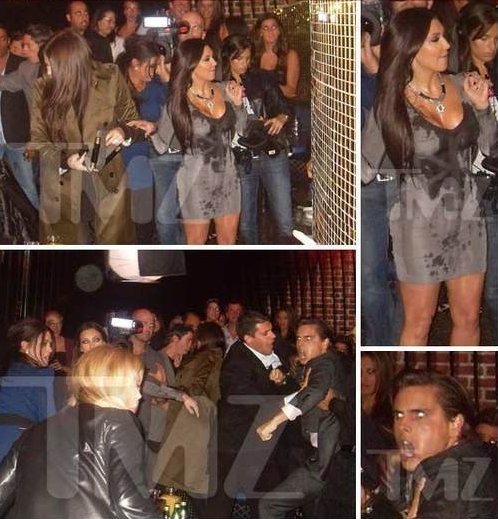 REAL LIFE. REAL NEWS. REAL VOICES.
Help us tell more of the stories that matter from voices that too often remain unheard.