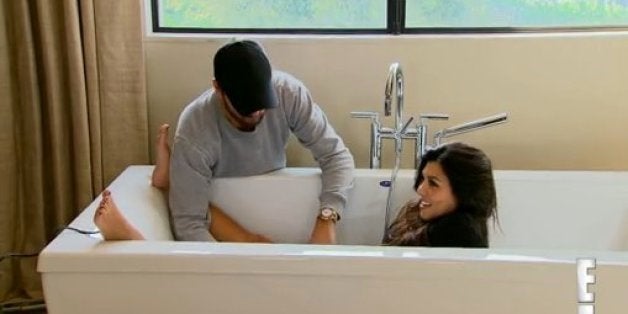 Sunday's "Keeping Up with the Kardashians" got dark. Scott Disick, Lord of Calabasas, is also apparently the lord of Kourtney Kardashian's pubic hair. One of the B-plots throughout the episode was Kourtney's nude pregnancy photo shoot with Brian Bowen Smith and Scott's desire for Kourtney to trim her pubic hair for the photos. "It's a little offensive," he told her when she confronted him about his request. Nah, Scott. You're a little offensive.
Sure, everyone has preferences, but Scott's disgust with Kourtney's "unkept lawn" makes it seem like it's inappropriate or unruly for a woman -- let alone a pregnant woman -- to have ungroomed pubic hair. (It's not, by the way.) On a call with Smith, Scott joked that he'll need a weed-whacker to cut through her pubic hair. "When her stomach is hanging over things, I don't think she gets how unkept her lawn can get," he said later in a confessional. "I think she forgets hair still grows downstairs."
As the episode continued, Kourtney told Scott she'd be open to shaving her pubic hair but needed his help. "It's lucky enough that I can shave my legs," she said. "There's a huge stomach here in the way so you're asking a lot to shave down there. I'm down. I just need some assistance."
His response: "Her bush is hanging out like it's the '80s and I'm not going to stand for that. If I have to get my hands dirty I will."
So, shut it down, Scott. A woman's pubic hair is her own.
Watch the full clip from "Keeping Up with the Kardashians":

Calling all HuffPost superfans!
Sign up for membership to become a founding member and help shape HuffPost's next chapter
BEFORE YOU GO
PHOTO GALLERY
35 Of Kourtney Kardashian's Best Beauty Moments