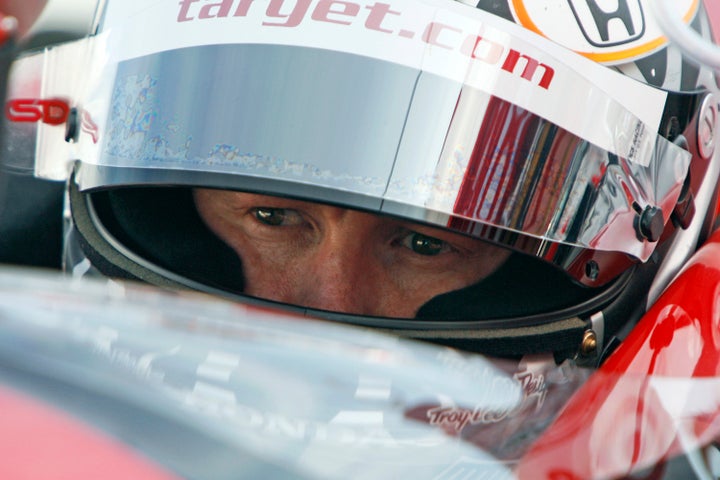 When not winning races, IndyCar champion Scott Dixon reads to his two-year-old daughter Poppy. Her favorite books are "Goodnight Moon" and the Clifford series, but Dixon likes to read her stories about the birds of New Zealand. He's a kiwi, after all.
This afternoon, Dixon will read to a group of over 150 students, from kindergarten to 5th grade, at the Cesar Chavez Elementary school in San Francisco. After the reading, he'll chat with some students and let them view his car. He hopes to inspire the same interest in learning he has tried to convey to his own child.
IndyCar racing, the American version of the popular Formula 1 league, uses open-wheel cars rather than the stock car models NASCAR competitions use. Dixon, 31, rose to international acclaim after becoming the most successful driver in the Indy Racing League's history when he won 21st major victory at the Honda Indy 200 in 2009. This May, he led for the most number of laps in the Indy 500.
For 45 minutes every night, Dixon sits at his daughter's bedside and reads to her. Becoming a dad changed his priorities, he said in an interview, and connected him back to the written word in a way he hadn't felt before.
He didn't become interested in reading until he was a teenager. "I didn't realize at school when I was a young kid that it was such an obvious big part of learning," he said.
The school where Dixon is reading is an affiliate of the Janestown Community Center, which has had a standing partnership with Dixon's sponsor, Target, since 2009.
The school has a large number of students who speak Spanish as their first language, and Dixon will be assisted at his reading by a team of Spanish translators so that the greatest number of children receive the whole message.
After not finding any books about IndyCar racing, Dixon settled for "NASCAR Racing to the Finish."
"It's a great book about teamwork and the effort it takes to win," he said, before discussing the unsung heroes of his sport. "People get this funny perspective, but its not just about the driver and the car. On our team alone, we have almost 300 people working together to win races. As a driver, you have to have great relationships with your engineer and other team members."
After the reading, Target will present the school with a grant to purchase books for their library, and every student will go home with a new book. The company said it hopes to give $1 billion toward education by the end of 2015.
"Reading brings everyone together," Dixon said.

REAL LIFE. REAL NEWS. REAL VOICES.
Help us tell more of the stories that matter from voices that too often remain unheard.