After a stunning come-from-behind performance, Scott Dixon was crowned as IndyCar's newest champion on Aug. 30. The victory, however, came at a difficult time for Dixon and the entire IndyCar community.
IndyCar driver and Dixon's friend Justin Wilson was killed in an accident the week before, making the season's last event at Sonoma Raceway an understandably difficult one to compete in. 
In New York on Thursday, Dixon sat down with The Huffington Post and opened up about his new title, his friendship with Wilson, and how Wilson's death will impact the driver safety conversation.
Growing up, who was your racing hero?
What started racing for me was watching my cousins race go-karts. I went and watched them when I was 7 and two weeks later I started racing. It's always about who's dominating in that era, so for most of my generation of race car drivers now, it's Ayrton Senna.
Senna just dominated racing. In his style of racing, he was really aggressive and phenomenal. He was all about the vision and the focus. He was quite a mysterious person too.
You're coming off of your fourth IndyCar championship, which you nabbed last Sunday. Congrats on winning your second title in three years. How does it feel to be a champion again?  
I think the biggest thing right there is that I finally broke the five-year cycle. They came in 2003, 2008, 2013, and at least now we got another within two years. I was a little nervous that I was going to have to wait until 2018 for my next one.
I think this one feels really sweet. It was a little unexpected. We were very much the underdog, and the focus was on Juan Pablo Montoya and Graham Rahal, because they were the top two in the championship standings [going into the final race at Sonoma]. We knew we had a fair shot at it, but we needed a lot of things to go our way. When we qualified ninth [at Sonoma], we were kind of on the back foot even more, which made it kind of frustrating. When it all came down to it, leading the way we did and winning the race, and also tying for first place [in the championship standings] and winning the tiebreaker because I had the most wins, it was a lot.
What was your mentality for that final race knowing that you still had an outside shot of taking the title?
It was tough, because with Justin's incident too, all of us are such good friends and the whole week was really difficult. I didn't get home until Tuesday, stayed in the Poconos at the hospital with his family along with some other drivers and their families. I got home for one night, saw the kids, and then flew out for press on Wednesday, and then more stuff on Thursday. We didn't get back into the car until Friday. 
I think going back to a race almost helped, because you're back with people who knew Justin. You're constantly talking about Justin, sharing stories and fond times. But the lead-up to the race was tough. They did all the ceremonial stuff before the race -- they played "God Save the Queen" and all the drivers got together in the pre-race. It was very different than any other race we've done before.
The morning of the race, though, I wasn't really feeling it. I was like, "Oh, we've qualified badly." Just thinking of all the bad things happening. Then my wife, Emma, was like, "You guys are still in it!" If you've ever met my wife, she's always chirpy and happy.
She sounds like an eternal optimist. Drivers need that.
Oh yeah, she totally is. She kept saying how I could win this, but I was just bouncing it off. I think I needed that in the morning, though. Once we got to the start [of the race] and we had such a good start. In the first lap or two we passed both Montoya and Rahal and moved into fifth place in the race. That was kind of the injection I needed to really get into it. The rest of the day went really well, man, really well.
I'd say. You won the championship! After the race, though, Montoya called your season "sh*t." Did you have any reaction to that comment?
It's in the heat of the moment. I've been teammates with Juan and been friends with Juan for many years. It's hard to swallow -- he led the championship from the very first race in St. Petersburg. He won that and has led all the way through. It's got to be heartbreaking.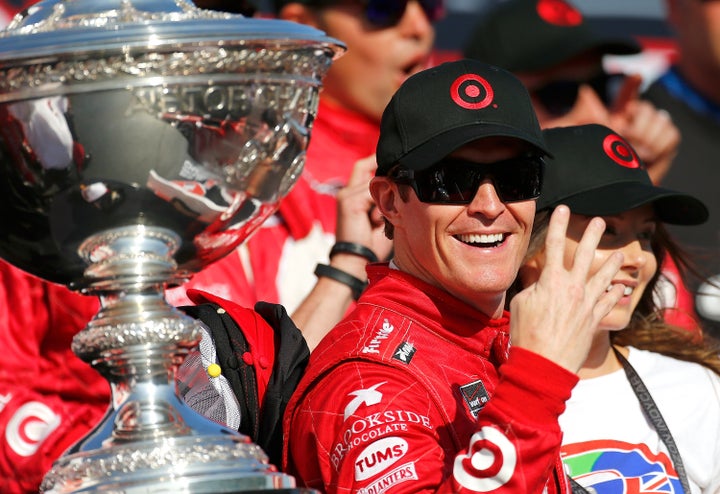 So you can empathize with him, then?
[Laughs.] Well, I'm not going to apologize for winning the championship, but it's all in the heat of the moment. You get out of the cars, you're all amped up, you're on adrenaline, and you get a mic right in your face. You're going to say things sometimes, which, actually knowing Juan, he wouldn't take it back. He's speaking the truth -- well, his side of the truth, I guess.
In reality, I don't think anybody really had a great season. In 2008, I think we won six or seven races. We got into a streak. Last year, Will Power had a really breakout midseason stretch. Nobody this year ran away with it. Juan led the whole time.
I can imagine it's been a bit difficult to bask in your win, especially given Justin Wilson's tragic death in August. What was your relationship with Wilson like?
It's such a close community that you always end up spending time together. The thing is with Justin, he was quite quiet. He was a very quiet guy, but also when you did have conversation with him, it was always great and informative. The guy didn't know how to lie. 
My wife is British and Justin and his wife [Julie] are British too. Our wives and kids ended up spending so much time together. We'd go to dinner after practice and they have a motorhome as well, so you'd be in the motorhome lot together and the kids would play together, we'd eat dinner together. Lots of great moments. 
One of the funny ones was in 2010. It was my 30th birthday, so we threw a big party. It was '80s themed, so you had to go as an '80s icon. I went as Andre Agassi and he went as Magnum P.I. I had a few too many drinks, as you do on your 30th. My beloved wife abandoned me on that night, but Justin made sure I got home.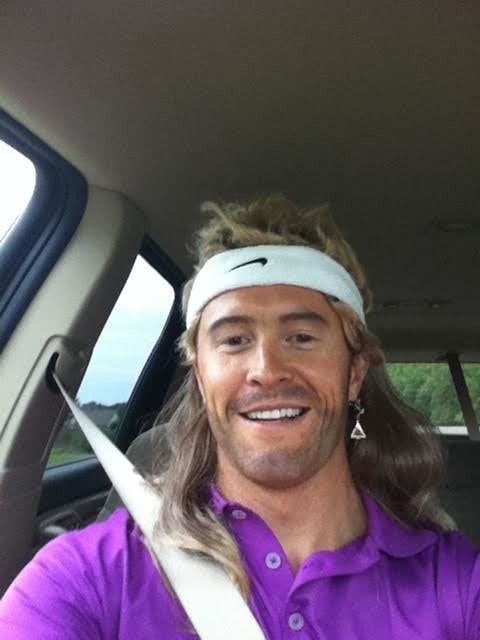 Wait, how'd your wife end up abandoning you on your 30th birthday?
Well, I think she'd had enough of me. [Laughs.] But Justin was always looking out for other people. With Julie and Justin, they'd do even the little things, like on your birthday, you'd get a birthday card from them. A lot of people, it doesn't happen. You might get a text or an email or an e-card, but Jules and Justin -- even with the kids, you'd go out of the country and come back and they'd have birthday presents for the kids. Just great people, man. 
What was your first reaction when you heard that he had to be hospitalized after the head injury?
When I saw the accident, I figured it was only Sage Karam. I asked the team, and they said he got out and was OK. But then when I came around for the next lap, I realized there was another car involved in the accident, and I'm like, "Oh, Justin was right behind me. That doesn't seem right. Maybe he crashed into Sage."
I did ask about Justin, but you're not going to get much of an immediate answer. I was going to the airport and talking to Emma and she suggested I stay. We had a bit of a weird sense, because you hadn't heard much from IndyCar. And you have to keep it confined too, because it's all about the family. I turned around, went to the hospital and hung out there, and then obviously … within time you realize how serious it is, and within 48 hours, you learn what's really come to fruition. It's horrible.
In IndyCar, you've lost friends to accidents in the past. Tony Renna passed in 2003 and in 2011, Dan Wheldon was killed. When driver deaths happen, how do you talk to your family about it? Both your parents were racers too, so how does that factor into these hard talks?
It's weird, because it's something we all understand as a consequence of racing. It's in the back of your mind. You always think it's not going to happen to you. I couldn't imagine doing anything else. I've even had people call me and say, "Why don't you just give it up? You've achieved a lot, you've made some money." It would feel weird to give it up. It'd feel like something died inside me for not continuing the sport that I love. It's been 80 percent of my life.
I have conversations with Emma and we talk about it a lot. My parents, they kind of understand. That's the hard thing, man. It's really hard on the families, because drivers are somewhat selfish. We go out there, we do what we do, we live what we do, and the families live with us through that whole part of our life. It becomes part of their life too. We can be selfish in those ways. It's the ultimate downside or horrible side to racing. 
I'm also one too, if it's your time, it's your time. I don't know what's next or what happens. You could walk across the street tonight and get hit by a bus.
Moving forward, how does Justin's death impact the ongoing driver safety conversation? In the wake of his death, Lewis Hamilton and Jenson Button of Formula One have both called for closed cockpits on the cars. Is that a solution in your mind?
I read some of Lewis' quotes and I see different sides of it. I've gone through and seen generations of drivers and I grew up with Senna, so it would just seem weird to change, but you also understand that safety is always changing and improving. Maybe it is the time for closed cockpits. 
On the other side of it too, there's a string of things that can be implications to that. If you land upside down, you can't get out of the car. If the car catches on fire, there's a problem in getting out. With the heat inside the closed cockpit, in general, you'd have to have air conditioning. The cars get sandblasted quite badly, and even in a 500-mile race you have about 15 tear-offs that you go through on your visor, so does the screen get pitted if you can't visually see out of it well?
Adding a closed cockpit would make the car more aerodynamic and go faster as well, right? They'd have to redesign a lot of the car.
Maybe. But then you're also adding cooling, and the cover itself could be up to 40 or 45 pounds. That alone, on an oval, adding that weight makes the crash impact even bigger as well. 
Since his passing, you've been working a lot with the Wilson Children's Fund. How has the response to that been?
Right now, all of the drivers, including myself, will be giving up the helmets they raced with at Sonoma for auction, which will raise a ton of money. The goal right now is a million dollars. The outreach too has been phenomenal on wilsonchildrensfund.com.
Justin was racing in IndyCar for a lot of underdog teams. He hadn't made it to the big team where he deservingly should've been at some point, so he didn't make a lot of money. That day was to come. The outreach and support so far has been awesome.
This interview has been edited and condensed for clarity.  
PHOTO GALLERY
Amazing Sports Photos
Calling all HuffPost superfans!
Sign up for membership to become a founding member and help shape HuffPost's next chapter