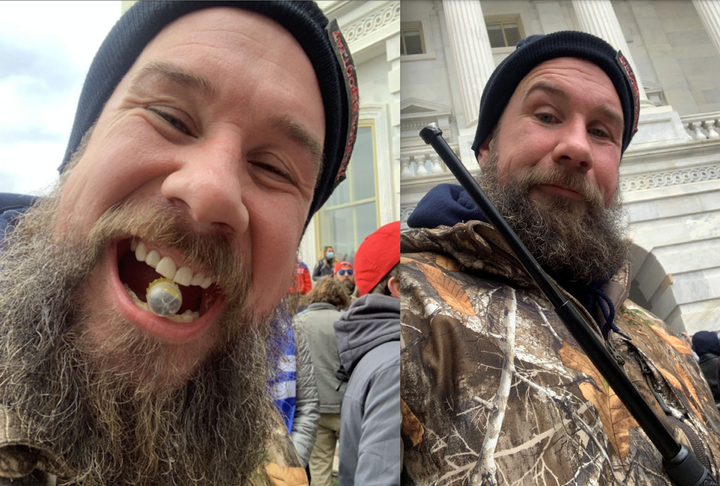 A Donald Trump supporter from New Jersey who assaulted law enforcement during the attack on the U.S. Capitol was sentenced to 41 months in prison on Wednesday, the stiffest sentence handed down so far in connection with the Jan. 6 attack.
A tearful Fairlamb said he had brought shame upon his family and asked the judge to "show some mercy" when sentencing him for his "completely irresponsible, reckless behavior" on Jan. 6.
"I take full responsibility," Fairlamb said, adding that prosecutors had been "nothing but professional" from start to finish.
Lamberth said he couldn't go below the sentencing guidelines given Fairlamb's behavior, but added that Fairlamb had done the right thing by pleading guilty. No jury, he said, would have acquitted Fairlamb for what he did.
Fairlamb was the first Capitol riot defendant to take a plea deal for assaulting an officer on Jan. 6, and was the first defendant sentenced for a violent crime. He pleaded guilty to two counts: one of obstruction of an official proceeding, and one of assaulting an officer.
A federal prosecutor stressed the important of deterrence in the case, saying that the court must send a clear message that violent attacks in support of a political cause would draw a strong response from the federal government.
Harley Breite, a New Jersey-based attorney who represents Fairlamb and previously worked out with Fairlamb when Breite was preparing for a MMA fight, told the judge that the government was "absolutely fair" to his client and had "done noting but elevate the status of their office" despite claims from pro-Trump figures that Jan. 6 defendants have been treated unfairly.
Breite also said that Fairlamb no longer believed that the election was stolen and has "a different ideology" than when he came to the Capitol on Jan. 6.
"I think that he's more aware of the divisiveness and the willingness of certain news outlets to serve and cater to an agenda rather than absolute truth," Breite said, referring to pro-Trump outlets that had fed the former president's lies about a stolen election.
Fairlamb's sentence was the harshest sentence handed out yet in a Capitol riot case. More than 650 defendants have been arrested, but there are hundreds more criminals still at large. More than two-thirds of the individuals who were on camera engaging in chargeable conduct on Jan. 6 still haven't been arrested, including more than 250 people who assaulted police during the U.S. Capitol attack.
Support HuffPost
The Stakes Have Never Been Higher
Popular in the Community