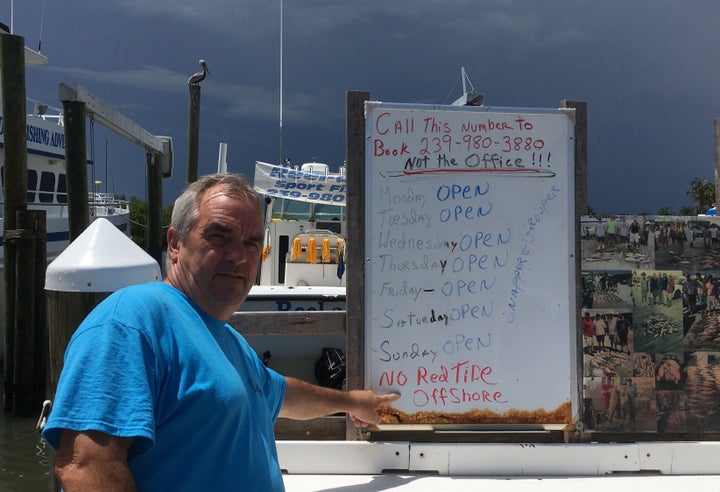 FORT MYERS, Fla. – At the dock where offshore fishing guide Larry Conley keeps his 28-footer is a whiteboard detailing Reel-Ality's availability for the coming week.
The word "OPEN" is printed in blue letters beside each day, just as it has been since mid-August when the red tide algae bloom along the Gulf Coast and the blue-green algae flowing down the Caloosahatchee River drove away the rest of his bookings. Conley, at some point, stopped bothering refreshing the calendar with dates to match the days of the week.
"I even stopped writing them down," sighed Conley as he sipped on a 24-ounce Heineken beneath a thatched hut near the marina office. "You get a phone call, and the first thing they want to know: What's up with the red tide?"
What's up with it is that the bloom has killed millions of fish, sea turtles, dolphins and manatees, their carcasses washing up on beaches and adding the stench of decay to air already acrid from the toxins released by the algae. Tourism has plummeted, and while August and September are typically the slowest of the year, officials fear that visitors will continue to stay away this autumn and winter.
"It hurts everybody," he said. "If I don't make enough money to buy a new car, that dealership is going to sell one less car. It's going to trickle down, because this is the land of vacation."
Like millions of Floridians whose livelihoods are directly and indirectly tied to the state's water quality, Conley is watching his income dry up just as the man he and many others believe is responsible for the environmental calamity is seeking a new political office: Gov. Rick Scott, who hopes to become Sen. Rick Scott.
Will the algae disaster be enough to stop Scott, who won both his terms as governor with but the slimmest of margins?
"I hope something does," Conley said.
Something may, but there are tens of millions, even a hundred million, reasons to believe that something may not: The piles of campaign dollars Scott has at his disposal to spread the message that ― despite his repeated weakening of environmental standards and enforcement programs ― the whole thing is actually the fault of the Democratic incumbent.
"Washington politician Bill Nelson made a pledge 30 years ago to solve this problem," a narrator says in one ad over an image of bright green water. "But Nelson's a talker, not a doer."
While both Nelson and his Democratic Senate allies have responded with their own TV ads, Scott's financial advantage and the bully pulpit that comes with the governor's job means that, at least for now and with some number of voters, Scott's message is working.
At the opening day of applying for special Small Business Administration loans for red tide victims, one pest control franchise owner who declined to give his name said he blamed Scott and Nelson equally. "They both let it happen."
Ron James, the owner of Metalcraft Welding and Fabrication who hoped to get a $50,000 loan, called it a federal issue. Essentially repeating Scott's message in its entirety, he said Nelson has had three decades to work on it. "Hopefully, this will wake them up and make them do something," he said of Congress.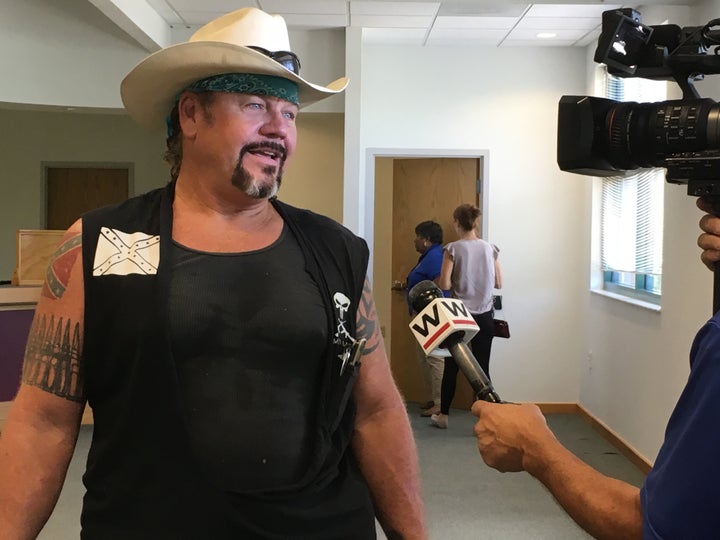 Environmentalists say Scott's up-is-down, black-is-white claims on the issue are, if nothing else, impressive to behold.
"It's so deceitful as to be demoralizing," said David Conway, the managing editor of Florida Sportsman magazine. Last month, the magazine published a detailed accounting of Scott's actions and inactions through the years that have precipitated the dual algae blooms.
Jeff Spencer, the vice chairman of the Democratic party in coastal Collier County, where Scott has a home, is bracing for the likelihood that the Republican's strategy will work.
"He's the sitting governor with an environmental crisis that he's a large part responsible for, and we're wondering if people are going to know that? It's insane," he said. "It's amazing to me that we're at this point."
The roots of Florida's summer of algae go back over a century, when the desire to control flooding and increase the amount of land available for farming and ranching led to the digging of drainage canals to dry out marshland, most notably in South Florida's Everglades.
Millions of acres of what had been swamp became vegetable, citrus and sugarcane farms, cattle ranches and, most profitably, housing tracts and strip malls. While the development made agriculture and construction interests rich and provided jobs and cheap homes for the state's fast-growing population, an unforeseen consequence has been the choking of much of the state's surface waters. Fertilizers from farms and front lawns as well as cow manure from ranches flow into streams and feed both algae and invasive aquatic weeds.
For a big chunk of Florida, that flow winds up in Lake Okeechobee in the central part of the state – prompting a detailed study as far back as 1976 that called for limits to the nutrients flowing into the lake.
"That was 40 years ago. We've been on a losing streak ever since," said Paul Gray, Audubon Florida's Okeechobee science coordinator.
Back before development, water flowed freely southward from the expansive but shallow lake as a slow-moving sheet across the Everglades and eventually into Florida Bay. But with the construction of the Herbert Hoover dike in the 1930s, water flow out of the lake has been carefully managed both to prevent flooding in the rainy season as well to provide an adequate supply to communities downstream that need it in the dry season.
It is those rainy season releases into the Caloosahatchee and St. Lucie rivers flowing into the Gulf of Mexico and the Atlantic Ocean, respectively, that have delivered to Fort Myers and Stuart a thick, greenish-blue slime. When the freshwater algae hits salt water and dies, it releases toxins that make the water poisonous and the air above it painful to breathe.
The entity in charge of managing those releases is the Army Corps of Engineers — a federal agency and, therefore, the line of attack Scott has chosen to blame the current crisis on Nelson.
Nelson, with his 18 years in the Senate and 12 years in the House in the '70s and '80s, should have forced the Army Corps to stop discharging algae-ridden water into the two rivers, according to Scott's theory of the case.
That argument, though, ignores the underlying problem of excessive nutrients in Okeechobee entirely — a problem Scott's policies made worse during his two terms as governor.
Scott's administration cut back on monitoring the flows of nutrients into the lake. It ignored scientific studies showing that nitrogen and phosphorous levels in the lake were increasing. It gutted the Department of Environmental Protection and the state's water management districts that were charged with enforcing water protection laws, resulting in dramatically fewer enforcement actions. It even asked the Environmental Protection Agency for a waiver from federal monitoring entirely.
Those policies, of course, were hardly a surprise. Scott was elected in the 2010 Tea Party wave that favored anti-tax, anti-regulation Republicans, and he took care to nurture those voters. In his first legislative session, Scott not only cut $700 million out of the state's water management districts, he cut their ability to levy taxes, too, slashing another $1.7 billion over eight years.
"This property tax cut allows families and businesses to use more of their hard-earned money in the way they see best, rather than having to send it to a government agency," he said in a press release at the time.
Scott campaign spokesman Chris Hartline disputed the environmentalists' concerns — "They're wrong," he told HuffPost recently — and instead argued that Scott has been a good steward for the state's water and land. "DEP has proven that through education and outreach, you can effectively prevent environmental harm from the occurring in the first place," Hartline said.
The facts of his eight years in office, though, tell a different story. Conway's Florida Sportsman report, citing data compiled by a former water management district scientist, showed dramatic spikes of nitrogen and phosphorous levels in Lake Okeechobee over the last three years.
"I don't think people realize how serious our water problem is," said Eva Armstrong, who had run the DEP's land acquisition program under Republican Gov. Jeb Bush. "It'll take years to get this turned around."
Arrayed against those facts, though, is the fundraising juggernaut of Scott's Senate campaign, which is likely to raise $40 million from donors as well as draw from his own net worth of nearly a quarter billion dollars — a personal fortune that over the years has repeatedly financed his political ambitions.
In 2010, Scott narrowly defeated establishment Republican favorite Bill McCollum in the primary for the governor's race, despite having led a for-profit hospital chain during the time it was conducting large-scale Medicare fraud. During the government probe that ended with Columbia/HCA agreeing to pay a record $1.7 billion in fines, Scott, in a civil lawsuit deposition, invoked his Fifth Amendment right not to incriminate himself 75 times. Scott spent some $20 million of his own money against McCollum and another $40 million in his even narrower general election win that November.
During the summer algae crisis, Scott has worked hard to deflect blame toward the federal government and, by extension, Nelson.
He and his staff try to draw a distinction between red tide, calling it a naturally occurring phenomenon that has periodically affected the Gulf Coast, and the blue-green algae from Lake Okeechobee. They claim the two are completely unrelated, and that Scott, in any case, is not responsible for either of them. The other part of his defense proposes as a fix reinforcing the earthen dike surrounding the lake — something Scott claims Nelson should have accomplished long ago.
"Our focus remains on limiting the harmful impacts from Lake Okeechobee water releases by the federal government," Scott said in a June statement following his successful efforts to use $100 million of money meant to clean up the Everglades to help repair the dike, instead.
Experts, though, dispute both of Scott's claims.
Researchers are studying links between blue-green algae and the severity of the red tide. The blue-green algae die when they hit salt water, and those dead cells may be serving as more nutrient to feed the red algae bloom. In any event, the worst of the Gulf Coast's red tide is occurring near Fort Myers, at the mouth of the Caloosahatchee, providing strong circumstantial evidence of a link between the two.
As for Scott's claim that strengthening the 80-year-old dike around the lake will solve the problem, experts point out that the Army Corps will still have to release exactly as much water out of the lake each year as what flows in.
"The dike doesn't have anything to do with the phosphorous problem or the estuary dumps," said Audubon scientist Gray. "The dike really is not an issue in this."
Where the St. Lucie River empties into the Atlantic lies Stuart, a city that two years ago decorated its downtown lampposts with flags bragging about winning the "Happiest Seaside Town in America" title from Coastal Living magazine.
This summer, there are new signs posted along the boardwalk and other city docks: "BLUE-GREEN ALGAE: AVOID CONTACT WITH THE WATER."
Avoiding contact with the water means no fishing, no kayaking, no waterskiing, no paddleboarding — which in turn means fewer vacationers, and fewer dollars in the local economy.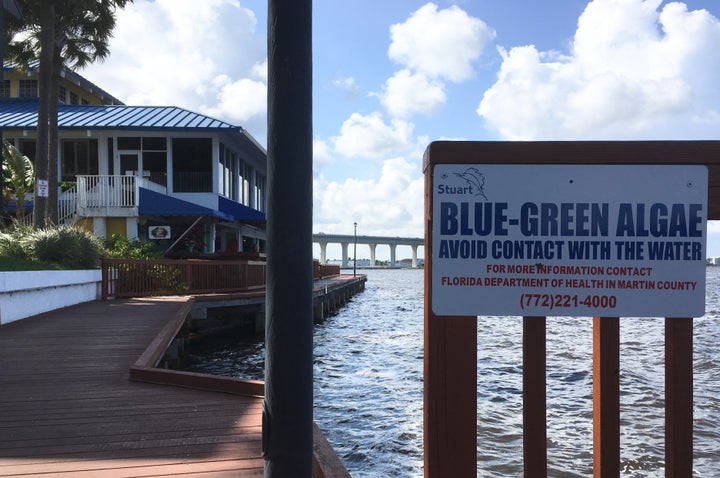 Mike Freese, a manager at the Boathouse restaurant on the waterfront, said there has been a noticeable drop in business, particularly on days with little wind after an Okeechobee discharge. "When the water's all green, no one wants to be out there," he said.
Nearby, one bartender has come up with a blue-green drink to honor the slime: a mix of peppermint schnapps, apple schnapps and vodka, garnished with a slice of lemon. "We've got to make something positive out of it," he said, speaking on the agreement that his name not be used because of the likelihood his corporate office would disapprove.
"It's not too bad. OK, it's not too good," he said after the concoction's recipient stopped after the first sip. "It tastes like that fuckin' water. My customers have a new name for it: 'Lake Okee-choke-me.'"
"It's definitely affecting us," said Lila Fredericks, a clerk at Moon Islander resort wear in nearby Sewall's Point. She said many of her customers are wives and girlfriends of vacationers who charter sport fishing boats from the Marriott resort on Hutchinson Island. "When the guys don't go out and fish, the gals don't come in here and shop."
In the absence of state legislation, seaside towns on both coasts have started imposing bans on lawn fertilizer, some temporary, some for the whole six months of the rainy season. Sewall's Point, a tiny but well-to-do community on a peninsula in the St. Lucie estuary, passed the first such restriction years ago — a total ban during the rainy reason, and a low-nutrient-only restriction for the rest of the year.
Even its proponents, though, understand that the nutrients feeding the algae in the coastal communities are primarily coming from cities and farms inland. "It doesn't stem from our town, but we're trying to do our part," said Sewall's Point Mayor Paul Lugar. "And we're proud of it."
Back across the state In Fort Myers, fishing guide Conley has suffered through red tide episodes before in his 10 years running charters out of Getaway Marina. "This year is the worst ever," he said. "All that green slime? That's never happened before."
He said he can tell the quality of the water just by looking at the sorts of fish hanging around the pilings near his boat. When it's clean, there might be mangrove snapper or a snook. As red tide takes hold, those species either die or swim elsewhere, leaving only catfish. "Right now, there's only catfish," he said recently.
Yoseph Tedros, the chairman of the Democratic party for the county encompassing Fort Myers, said he understands firsthand the dangers of that water. He said his wife accidentally splashed some on her face as she bailed out a kayak in a canal behind their house. "She had to go to the doctor," he said, describing a month of steroid treatments.
Yet despite the daily damage to their health and to their livelihoods, Lee County voters remain among the most loyal Scott supporters in the state. "It is mystifying," Tedros said. "You're going to reward Rick Scott for not doing anything, for actually contributing to the problem, by giving him a promotion? I just don't get it."
Popular in the Community