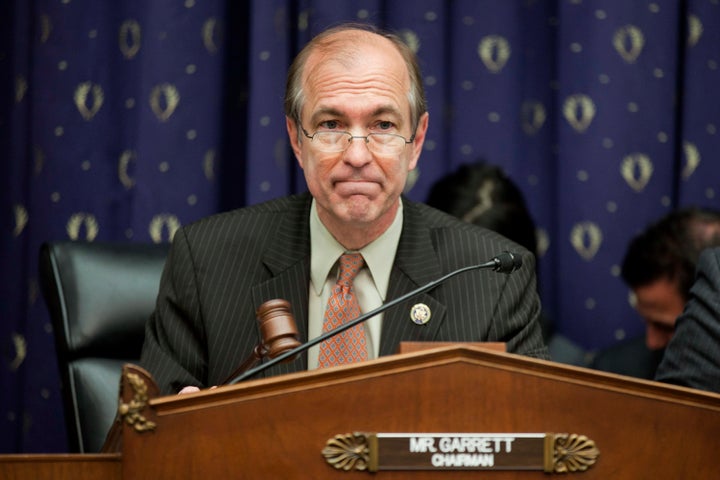 Rep. Scott Garrett (R-N.J.), who is facing the toughest re-election of his career and has been dogged by comments he made about gay rights, is now getting outside help from a super PAC that was founded in part to oppose same-sex marriage.
The Campaign for American Principles has started running ads in support of Garrett, according to NJ.com, and plans to spend $145,000. Last year, the group's founder, Princeton University professor Robert George, said he hoped the super PAC would pressure candidates to "come down on the side of religious liberty, of the sanctity of human life, of marriage as the conjugal union of husband and wife."
The group's Facebook page has also posted about fights around the country to stop the advance of equality for lesbian, gay, bisexual and transgender individuals.
Garrett, a seven-term congressman, has been in hot water ever since Politico reported last year that he told fellow Republicans in a closed-door meeting that he wouldn't pay his dues to the National Republican Congressional Committee because the organization supported gay candidates.
Since then, Wall Street and corporate donors have stopped donating to Garrett, which is especially significant since the congressman chairs a key House financial services subcommittee and normally, the firms would want to get in the good graces of this powerful lawmaker.
Garrett has since clarified that he doesn't oppose gay people running for office, but he believes the GOP should not support candidates who back same-sex marriage.
Garrett is running against Democrat Josh Gottheimer, a corporate executive who has worked for the Clintons.
The Campaign for American Principles' ad on behalf of Garrett doesn't discuss his opposition to LGBT rights, instead touting that he is focusing on the environment, small business and cutting wasteful spending.
George, the group's founder, didn't return a request for comment.
Gottheimer has received a significant amount of support from the House Majority PAC, which has spent more than $1 million in the race.
Garrett campaign manager Sarah Neibart refused to comment on the Campaign for American Principles spending and instead wanted this article to focus on Gottheimer and House Minority Leader Nancy Pelosi (D-Calif.).
"I'm confused why this story fails to highlight the relationship between Nancy Pelosi's $1 million ad buy for Josh Gottheimer and her policy positions in favor of Obamacare, the Iran deal, and tax hikes," Neibart said, presumably referring to the House Majority PAC. "I guess that doesn't fit your narrative."
"Given Garrett's backwards, bigoted views, it's no surprise he's become the ultimate champion for a far-right group founded on and dedicated to restricting the rights of LGBT Americans," said Jeb Fain, spokesman for the House Majority PAC. "Despite their bizarre claim, Garrett's values are as far from Jersey values as you can get, and voters won't be misled by their deceptive tactics. Garrett's bigoted views aren't Jersey values, they're outright un-American."
Gottheimer has raised $1.5 million more than Garrett. The incumbent congressman still had money in his account from past cycles, however, so the two are roughly even with the amount they have to spend.
Popular in the Community