WASHINGTON ― The Senate banking committee rejected President Donald Trump's choice to lead the Export-Import Bank on Tuesday, voting 10-13 against advancing his nomination to the full Senate. Two Republicans joined with Democrats in opposition. 
That's because Garrett once wanted to shutter the institution that he now is trying to run, and he consistently voted against reauthorizing it. 
In 2015, he lambasted the Export-Import Bank as an institution that "embodies the corruption of the free enterprise system."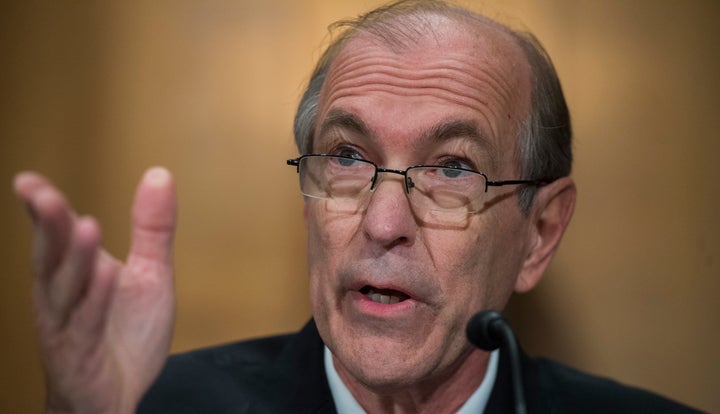 "Manufacturers are grateful to have an ally in the White House who seeks to ensure that America and its workers are not left behind as foreign governments do all they can to win in the global economy," NAM President and CEO Jay Timmons wrote in an October letter to Senate banking committee leaders. "At the same time, the NAM is firmly opposed to the nomination of former U.S. Rep. Scott Garrett (R-NJ) as president of the Ex-Im Bank given his longstanding opposition to its mission and his past actions to destroy the agency."
In his confirmation hearing before the committee last month, Garrett tried to convince senators that he turned over a new leaf. But many of them still seemed skeptical, since he refused to say his previous denunciations were wrong.
Instead, Garrett said he was no longer in favor of abolishing the bank because Trump is now president, and he simply wants to run it instead. 
"Senator, if the question is, what has changed since 2015, what we have seen changed is a new administration," Garrett said. "What we have seen change is a new agenda by this administration to see to it that the economy actually grows, and that businesses are given a fair chance to grow their businesses both nationally and internationally as well. ... My role has changed. I am not in a legislative function."
On Tuesday, Sen. Sherrod Brown (D-Ohio), the ranking member of the committee, said it was "clear to me that Mr. Garrett is not being honest with this Committee about why he wants to lead the Bank, and many others feel the same."
Sens. Mike Rounds (S.D.) and Tim Scott (S.C.) were the two Republican votes against Garrett. 
"I believe he's a principled man who simply believes in the abolishment of the bank," Rounds said. "While I wish him no ill, I believe he's not the right person to be the chairman."
"We are disappointed that the Senate Banking Committee missed this opportunity to get the Export Import Bank fully functioning again. We will continue to work with the Committee on a path forward," said Marc Short, the White House director of legislative affairs.
Trump has nominated other individuals to run government agencies that they once fought or opposed. Scott Pruitt is now in charge of the Environmental Protection Agency, and Mick Mulvaney is the interim chairman of the Consumer Financial Protection Bureau. But both of those agencies are ones that are more universally unpopular with the GOP and its backers. The difference with the Export-Import Bank is that it has more support within the party ― although many conservatives dislike it ― and the business community.
"Today's Senate Banking Committee vote on Ex-Im board nominees is a milestone for manufacturers across the U.S. whose customers require a fully-functioning Ex-Im Bank," said a GE spokesperson. "We urge the full Senate to move quickly on behalf of US workers and companies of all sizes to guarantee the Bank can once again operate at full strength."
Garrett, a founding member of the conservative House Freedom Caucus, lost his 2016 re-election bid in large part due to anti-gay remarks he made. 
Garrett later clarified that he didn't oppose gay people running for office, but he believed the GOP should not support candidates who back same-sex marriage. His comments cost him support from Wall Street donors, who had been a major source of funding for his previous campaigns.
This post has been updated with reactions and more details on the vote.
Calling all HuffPost superfans!
Sign up for membership to become a founding member and help shape HuffPost's next chapter
BEFORE YOU GO
PHOTO GALLERY
2017 Scenes From Congress & Capitol Hill