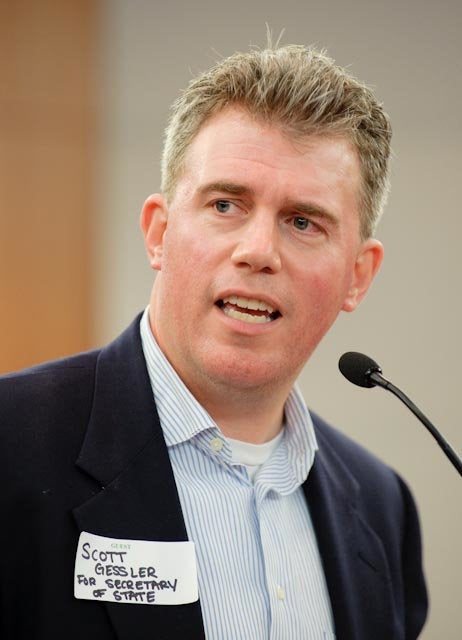 After Colorado's Republican Secretary of State Scott Gessler sent out letters questioning the citizenship of nearly 4,000 people, the majority of whom had registered as Democrats and independents, the secretary's office has backed down from a controversial plan to challenge 141 of those he says are non-citizens in hearings.
Instead, Gessler said he's passing along their names to county clerks to conduct any voter status challenges because his office said there would not be enough time to hold hearings before the election in November.
"There is no doubt in my mind that the united voice of many widely different groups helped convince Secretary Gessler to drop his ill-conceived plan," said Ethics Watch Director Luis Toro in a statement.
Of the 3,903 people in Colorado who received letters challenging their voter status, 1,794 went to unaffiliated voters, 1,566 went to Democrats, and 486 to registered Republicans. Hundreds turned out to be U.S. citizens and 141 were not verified.
According to the Coloradoan, only one registered non-citizen has called a Larimer County clerk to voluntarily withdraw his voter registration.
"It was a guy with a work visa. He didn't even know he was registered to vote," Doyle said. "Somehow we think it was a clerical mistake at the Department of Motor Vehicles when he got his driver's license."
According to a report by the Associated Press, Gessler blamed the federal government for having "dragged it's feet" to get Colorado access to Systematic Alien Verification for Entitlements (SAVE), a database that has information about immigrants who are in the country legally and are eligible to receive government benefits. The National Voter Registration Act prohibits states from conducting voter purge actions within 90 days of an election.
Popular in the Community