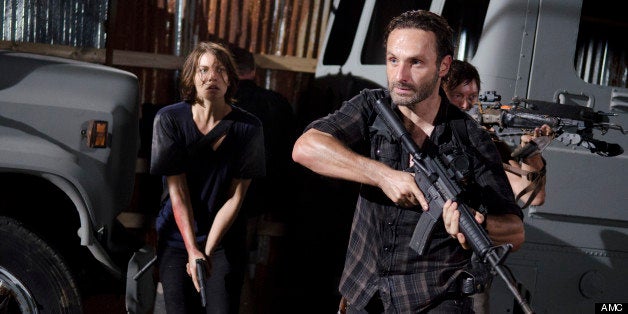 "The Walking Dead" is getting its third showrunner in four seasons with Scott Gimple taking the reins for Season 4.
"I'm trying to take a greatest-hits approach and take the best of both those runs and run with it," he said. "As far as my own personal stamp, it's more of what we do here already with character-driven stories and really delving into these characters while having some amazing, horrible scares and exciting sequences but all in service to a greater story that builds."
Gimple said "The Walking Dead" is at its best when "all that stuff is happening at once: the emotion, action, horror, scares."
While Season 3 of "The Walking Dead" explored the danger of other humans, Season 4, according to "The Walking Dead" executive producer Gale Anne Hurd, will get back to the basics a bit: zombies. "We are going to amp up the threat of the walkers, because they've started to seem like a manageable threat. They are not a manageable threat," she said during a "Walking Dead" PaleyFest event. "But, it is the people who you think you can trust who betray you, that you have to fear. It is the monster inside you. We all have them. How do we keep them in check?"
Comic co-creator and series executive producer Robert Kirkman said Season 4 will see a new Rick after the death of Andrea in Season 3, as well as Carl's behavior -- shooting a teen from Woodbury who was surrendering -- becoming problematic.
"Moving into next season, we're going to see a very different Rick, but one of his main goals is to manage this situation with Carl and see if he can bring him back from this darkness that's crept into him," Kirkman told IGN. "Whether or not he's able to do that, we'll have to see. But this is a big change in the character of Carl, but it's something that's going to be weighing heavily on Rick next season."
A fan of the comic, Gimple said Kirkman encourages him to stray from the source material. "Kirkman is more about departures from the comics than I have been in the past," Gimple tod THR. "His approach is more like, 'Oh, it's all good/ We've seen that in the comic. We can mix it up' ... To tell you the truth, at this point with where the story is, anybody who's a big fan of the comic would see that we have to. It's funny, in some ways the things that divert from the comic this year have actually served being closer to the comic in some way. There's going to be some looping around to the comic and remixing. That's how I essentially look at it: It's a remix of the comic."
"The Walking Dead" returns to AMC in October.