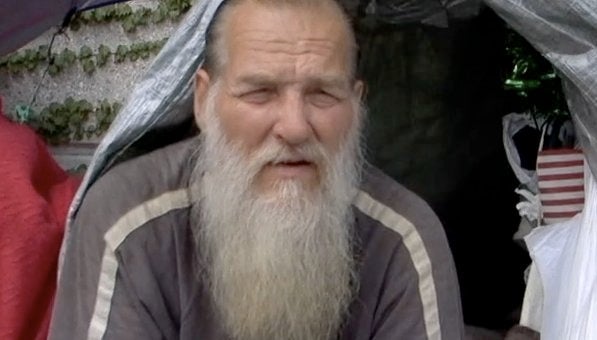 For nearly a decade, Scott Huber has been living on the streets of Naperville. After losing his home and business, Huber blamed the western suburb--and decided to create a "protest site" in downtown Naperville.
In 2009, the village came after Huber. They said his Chicago Avenue tent which included his laptop and a generator should not be allowed, and passed an ordinance that banned sleeping, camping or storing any personal property in downtown Naperville.
DuPage County Judge George Sotos on Thursday granted a permanent injunction aimed at preventing Huber from camping and storing property in downtown Naperville, as he has done for about a decade. Sotos also convicted Huber, 60, of unlawful storing of personal property on a public way or sidewalk and fined him $100, city officials said.

...

"The city is pleased with the court's decision," Assistant City Attorney Mike DiSanto, who prosecuted the case, said Friday. "We received the remedies we sought and, most importantly, we have compliance with the ordinance, which is what we've been seeking the whole time."
"There is no excuse for those affluent and holier than thou in Naperville to violate federal law and ban my presence," Huber told the Daily Herald in 2009. The Joliet Junior College graduate who once ran an electronics store and ran for mayor of Naperville in 2007 has repeatedly insisted that his presence in downtown Naperville is out of protest.
"I'm not the classic homeless person, sleeping on a park bench or underneath a bridge and wandering aimlessly through a community," Huber told the Tribune in 2009. "I am here by choice under the 1st Amendment -- freedom of protest."
DiSanto told TribLocal Huber actually violated the ordinance on 35 separate occassions, but the city was only seeking $285 in penalties and court fees because they knew Huber was "destitute."
Huber was asked to appear in court five times since the village came after him in 2009, but has missed all appearances.
"My non-appearance was no oversight," Huber told TribLocal, adding that he has a "motion forthcoming."
Popular in the Community