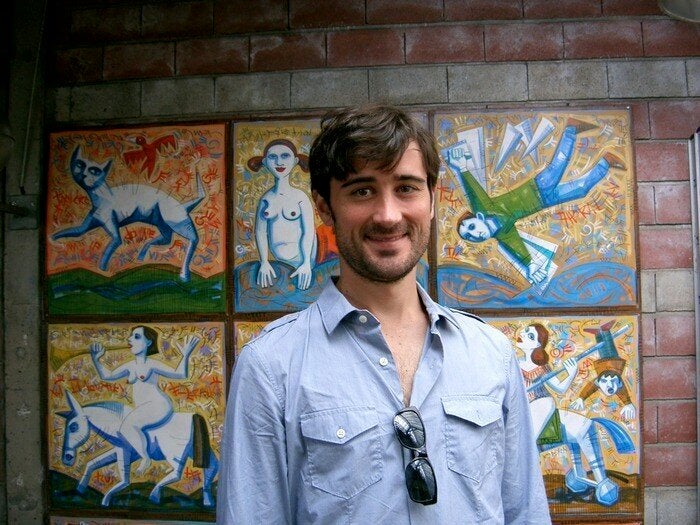 Who: Scott Hutchins, author of the much buzzed-about debut novel A Working Theory of Love.
Neighborhood: The Mission.
Current Gig: Arkansas-bred Hutchins is no stranger to the Bay Area literary scene. A former fellow in Stanford's prestigious Wallace Stenger creative writing program, he now teaches at the university (and works down the hall from legendary author Tobias Wolff). He's contributed local publications like San Francisco magazine and The Rumpus, the latter of whose founder, Stephen Elliott, he considers a mentor and friend.
A Working Theory of Love, which Hutchins has been crafting for nearly half a decade, tells the story of a disaffected 30something man recovering from a divorce who explores the meaning of relationships through a computer that channels the voice of his dead father. To celebrate its release, the HuffPost SF Book Club is cosponsoring Hutchins' appearance at Booksmith on October 2. We hope you'll join for the chance to meet him in person.
In the meantime, we sat down with San Francisco's hottest new novelist to find out his favorite places to find inspiration around town, his own working theory of love, and just how much of the story is actually based on his life.
Where did the idea for A Working Theory of Love come from? I'm not sure that I can be honest and accurate in this answer...but here's what I think. I knew I wanted to write about life in San Francisco, particularly about being a bachelor in San Francisco. I was also fascinated in this idea of what makes us human, what is consciousness. That led me towards the computer science stuff.
San Francisco plays such an important role in your book. Did you do this on purpose? Kind of like my main character, this is the scene of my adult life. I was interested in looking at what life is like here, the little daily observations I was making, and finding a way to weave that into something. San Francisco is the most abstract, aspirational place that I can think of. I definitely wrote about it on purpose; I didn't just stumble into the setting.
Any particular places you had to put in? I definitely wanted to talk about Dolores Park. I live in the Mission, so I wanted to do some Mission stuff. I wanted to see it from different points of view: The bridge, the tourist zone where the book starts.
Your main character is an introspective guy in his 30s from Arkansas who lives in Dolores Park. How much of the story is autobiographical? Well, he has a much better apartment than I ever did. [laughs] If there are events in my life that have come into my book, usually the emotional context is no longer the same. And if I'm using emotional context from my life the events are no longer the same. It's not like there hasn't been any conversation with my life--there definitely has been--but it's not strictly autobiographical in any sense of the word.
So you're not checking yourself into youth hostels to pick up girls? I have never done that. But I have heard of it.
The story explores how love can manifest itself in many forms. Do you think San Francisco is a difficult city to find love? I think it can be very difficult to find love here. I'm married now, but when I was single it was pretty hard to meet people. There are layers to San Francisco--if you just moved here, it's pretty impenetrable.
How did you finally meet your wife? It's a funny story, actually. My brother, who lives in Houston, was having a Casino Royale themed party for his wife's birthday and told me I had to wear a suit. I said 'great, sounds fun, I have suits.' So I opened up my closet where I was living, this bachelor pad, and my suits weren't there. I realized they were in the closet of a former residence of an ex-girlfriend. So I tracked down one of her roommates, who was at work, but she said, 'I have another roommate who will be at the house and can let you in.' The suits were still there, and the roommate and I started talking. Then we started dating. And now we're married.
Where do you write? I try to write at home, but I've been writing a lot at cafes lately. Ritual and Mission Creek on Valencia.
Everyone writes at Ritual. Sometimes I feel like a cliche when I come in. If I recognize an album they're playing I think to myself, 'hey, I've still got a little coolness.'
Any places around town where you go to find inspiration? Well, I go to the park all the time. I just discovered a whole new neighborhood I'd never heard of, driving up by the Randall Museum. This city has a lot of different facets. Different points of view. That's something I love about it.
What brought you here in the first place? I had a friend from college who was going to grad school at Berkeley. Honestly, if he had gone to Columbia I'd probably be living in New York right now. I didn't pick San Francisco very consciously. But it became this fascination for me...it's a fascinating city.
Do you have any favorite local authors? I love Stephen Elliott...Steve's a friend. I'm a great admirer of Andy Greer. If you go back into time, Dashiell Hammett, Philip K. Dick. And Michael Chabon lives in the area. He delivers.
How do you get your local news? I read the Chronicle...SFGate. I don't understand why they picked that URL and not SF Chron or SF Chronicle. And I read certain blogs. Mission Mission, SF Eater. I read the HuffPo San Francisco, actually.
That's awesome! I'm not just saying that.
If you had to move back to Arkansas and could only spend one more day here, what would you do? I would eat a lot of oysters.
Related
Popular in the Community