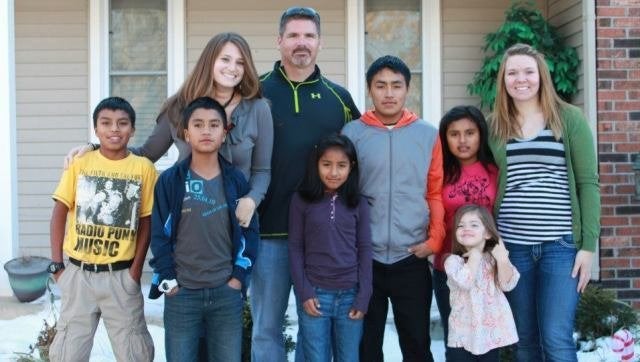 An email so heartbreaking it seemed like a scam -- but instead, it ended up changing the lives of a Missouri family.
Several months ago, Scott and Lauren Sterling received a note and photos from five orphaned siblings from Peru. "We need a mommy and daddy," the subject line read.
According to Fox News, the kids had learned of the adoption ministry at the Sterlings' church from an American visiting South America. In January 2011, the visitor helped them write a persuasive email, the Daily Mail reported.
A bit of research verified the story for the Sterlings and revealed their parents had died of tuberculosis seven years ago. But the couple didn't think much of it.
"I remember Scott and I looking at that e-mail and thinking about how beautiful the kids were," Lauren wrote on her blog. "I even thought, 'Someone rich should adopt them.' And then life went on."
Shortly after, Lauren visited an orphanage in Guatemala, where she witnessed the devastation of growing up without parents. Then she remembered the email.
"Somebody's got to do it, and why can't it be us?" Lauren, 30, said to her husband one night.
They already had two children -- a 3-year-old girl and Scott's daughter, 19, from a previous marriage -- but decided to add Yhonson, Gerson, Betsi, Joel and Siblia to the mix.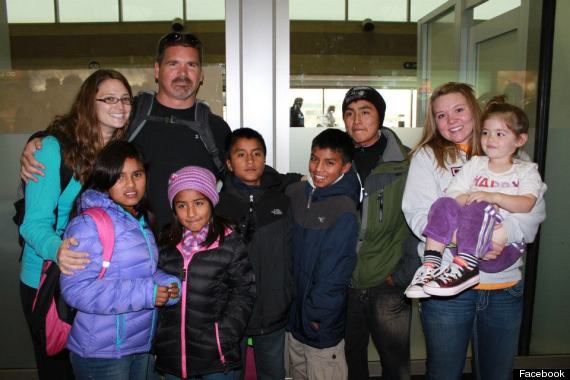 The path to Blue Springs, Mo., wasn't easy. In Peru, Yhonson had refused to let them separate, making them difficult to adopt, according to Fox4kc. Their records were missing from the orphanage, causing problems.
Then, the Sterlings needed $85,000, which supportive friends, family and church members helped raise.
"We may eat a lot of spaghetti. I will never buy another $100 pair of jeans again, and who cares? If those are my reasons, it's just practicality," Lauren told Fox4kc.
Last month, the community stocked the kitchen, scrubbed floors and put presents under the Christmas tree for their homecoming, the Daily Mail reported. The garden was dusted with snow -- a first for the group, which ranges in age from 17 to 9.
Now, they're attending four different schools and learning to balance their new life.
"Half of it's in Spanish, half of it's in English, and half of it's in Spanglish," Lauren said. "But it's really good. There's a strange peace amidst the chaos."
Calling all HuffPost superfans!
Sign up for membership to become a founding member and help shape HuffPost's next chapter
BEFORE YOU GO
PHOTO GALLERY
Sterling Family's Email Adoption