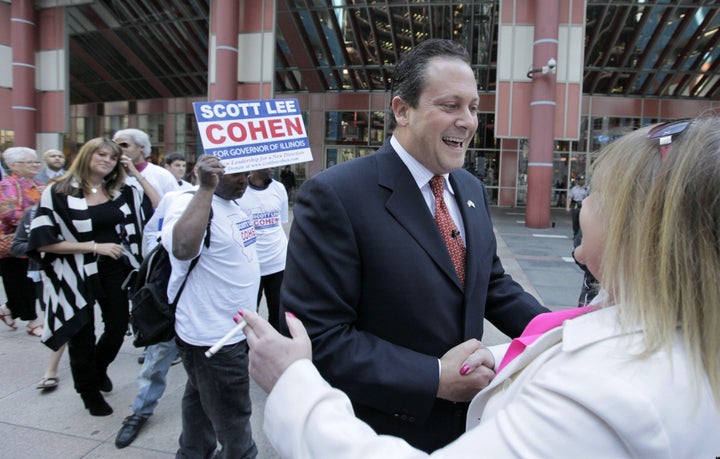 Josh Lederman covers community and politics for Northwestern University's Medill News Service, based in Chicago. Prior to Medill, he interned for CNN's "The Situation Room with Wolf Blitzer" and in the U.S. House of Representatives. This piece was originally published on Medill Reports: Chicago.
They say they don't know who Scott Lee Cohen is, why he's running for governor or who his opponents are.
They don't know who can legally sign a petition.
But that's not stopping people hired off the street on behalf of the Cohen campaign from collecting petition signatures for a dollar each.
Chicagoans recruited on the street have been sent out with no training or instruction and told to stand outside a South Loop pawn shop owned by Cohen's brother, Randy Cohen. They're getting paid $1 per valid signature, according to interviews Tuesday with three petition circulators outside of Royal Pawn Shop, 428 S. Clark St.
"A person on the street gave [the job] to me," said Luther Riddle, who said he didn't know what Cohen stands for or why he is running. What he did know was how much training he'd received.
"None," he said. "I ain't met the person yet."
A spokesman for the Cohen campaign said that individuals officially collecting signatures for the campaign are given explicit instructions. No campaign coordination is originating from the pawn shop, he added.
But Shakira Clayton said she went to the pawn shop after hearing they were paying people to circulate petitions.
Clayton approached a reporter Tuesday, asking him to sign her petition. The reporter told her he is registered in a state other than Illinois.
"It doesn't matter," she said. "You're a registered voter."
Under Illinois election law, a person registered to vote in another state cannot sign a nominating petition for an Illinois candidate.
Another person collecting signatures, Edward Jones, said he was brought to Ewing Annex Hotel at 6 p.m. Tuesday. The hotel is a transient men's hotel located above Royal Pawn Shop.
Jones said a woman named Stephanie, who he said works for the Cohen campaign, paid him $23 in cash, after eliminating seven signatures she ruled invalid.
Documents from the Cook County Recorder show Ewing Annex Hotel is controlled by Wayran Inc. The president of that corporation, according to filings with the Secretary of State, is Wayne Cohen, also a brother of Scott Lee Cohen.
Jones said he has decided not to continue collecting signatures, in part because of his coworkers.
"Junkies and all kind of stuff," he said Wednesday. "They dirty and smell like a bum. Really, really bad."
Scott Lee Cohen won the Democratic primary for lieutenant governor in February but withdrew days later after a number of personal scandals became public. He re-entered the arena May 3, this time as an independent candidate for governor. To qualify for the ballot, Cohen needs to collect 25,000 valid signatures by June 21. He had vowed to collect 150,000.
While it is not illegal to pay people to circulate petitions, and experts say it's common practice, they acknowledge that methods Cohen is using are unorthodox.
Both the Cohen campaign and Cohen's brother deny they're the ones paying untrained workers to collect signatures outside the pawn shop.
"Absolutely not," Randy Cohen said Wednesday. "They're not hired through my pawn shop because they're not getting paid through my pawn shop."
Randy Cohen said people come by the shop wanting to help his brother's campaign all the time, and while he does have petition sheets for them to sign, and will give out sheets if people want to help circulate, he doesn't pay anyone.
But the campaign says putting out untrained workers who would reflect poorly on the candidate would serve no purpose.
"We know that we need 25,000 good, solid, legal signatures," John Davis, Cohen's campaign spokesman, said Wednesday. "We're not going to do anything to jeopardize that, period."
Davis said the campaign has enlisted Grainger Terry, Inc., a Chicago-based political consulting firm, to handle the petition operation. The untrained circulators recruited off the street did not go through the campaign office or through Grainger Terry, he said. Grainger Terry did not respond to a request for comment.
"We believe that this is just an oddity," Davis said. "There are thousands upon thousands of people collecting signatures for Scott around the state."
But the campaign said later that it will make sure instruction sheets are sent to Cohen's brother immediately and that, while his help is appreciated, officials need to make sure that help comes in the right way.
Elections experts asked to respond to the signature collection tactics said Wednesday that they were not surprised.
"Obviously there's no political organization there," said Kent Redfield, who teaches political science at the University of Illinois-Springfield. "If you've got a group, a political party," he said, "you can be more systematic about it, have some more confidence in the people who are doing the signatures."
Because few people expect Cohen has a serious shot at the governor's mansion, there are few people who think he'll be able to eventually help them out, and therefore few willing to help the campaign, Redfield said.
Another expert said haphazard signature collecting methods, in addition to looking bad, won't help Cohen get on the ballot.
David Morrison, deputy director of the Illinois Campaign for Political Reform, said, "Their petitions might be thrown out. We'll find out in a few weeks if it's money well spent."
Popular in the Community