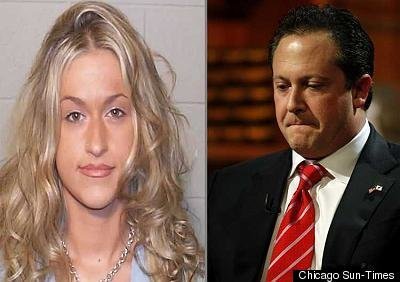 As state democrats hope that Illinois Democratic Lieutenant Governor nominee Scott Lee Cohen steps aside as soon as possible, the drama surrounding the nominee doesn't seem to be going anywhere. On Saturday, Amanda J. Eneman--the woman Cohen allegedly threatened with a knife in 2005--issued a statement saying Cohen was unfit for public office.
"Ms. Eneman was Scott Lee Cohen's girlfriend and lived with him for about a year, some four or five years ago," said Eneman's attorney Gloria Allred.
"Based on her personal observations during the course of their relationship and his behavior, Ms. Eneman does not believe that he is fit to hold any public office, including that of Lt. Governor," Allred told the Chicago Sun-Times.
Cohen's spokesman, Baxter Swilley, would not confirm this report, and as for Eneman's statement only said than Cohen wishes Eneman "the very best."
Aside from the alleged 2005 incident with Eneman, Cohen's ex-wife also had problems with the nominee. Divorce papers showed violence, adultery, steroid use and attempts at forced sex. During the "Chicago Tonight" interview, Cohen said those things happened at a very bad time in his life.
As the denouncements from state Democrats continue--many are wondering how long Cohen can hold out and deal with the constant media scrutiny.
WBEZ Web Editor Justin Kaufmann has an idea for Cohen if he wants to seek revenge on the media that destroyed his chances of a successful run for office: Step down during the Super Bowl.
Watch NBC Chicago's video of Mayor Daley talking about the Cohen situation in his own special way here:
Calling all HuffPost superfans!
Sign up for membership to become a founding member and help shape HuffPost's next chapter