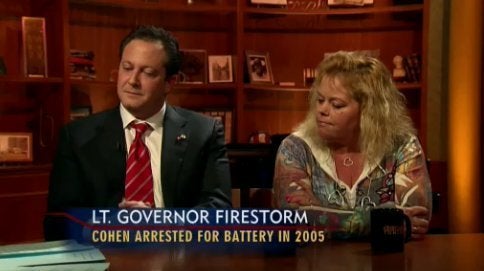 As state democrats find themselves anxious for Lieutenant Governor nominee Scott Lee Cohen to step down, Cohen seemed to have no intention of doing so in an interview with WTTW's Phil Ponce Thursday night.
Though Cohen admitted he did not think he would win the Lt. Governor nomination, he said he in no way tried to hide his past--telling Ponce he put everything out there before the race began:
"I had a legal right to seal the divorce file," Cohen said. "I had a legal right to squash the arrest record. I chose to keep it out there...I didn't hide anything...I tried hard to be an honest guy."
Both Cohen and his ex-wife told Ponce that the forced sex attempts, infidelity and steroid use came at a "bad time" in Cohen's life--and that he never physically abused a family member or the woman he was living with after he split up with his wife.
He also told Ponce that he was not aware of his ex-girlfriend's career as a prostitute, and said even though she pleaded guilty to prostitution charges--he still doesn't think she ever was one.
Neither of them, however, would talk about allegations that Cohen failed to pay child support while he pouring $2 million into his own campaign.
"I will not resign. I will not step down," Cohen said. "If the people of Illinois decided they don't want me as their lieutenant governor, I would consider it at that point."
Friday morning, the Sun-Times reported that Democratic Illinois Senate nominee Alexi Giannoulias called Cohen to step down:
"These revelations are deeply disturbing and there is no place in society let alone public office for this type of behavior," Giannoulias said in a statement.
Watch the Chicago Tonight interview here:
Related
Popular in the Community