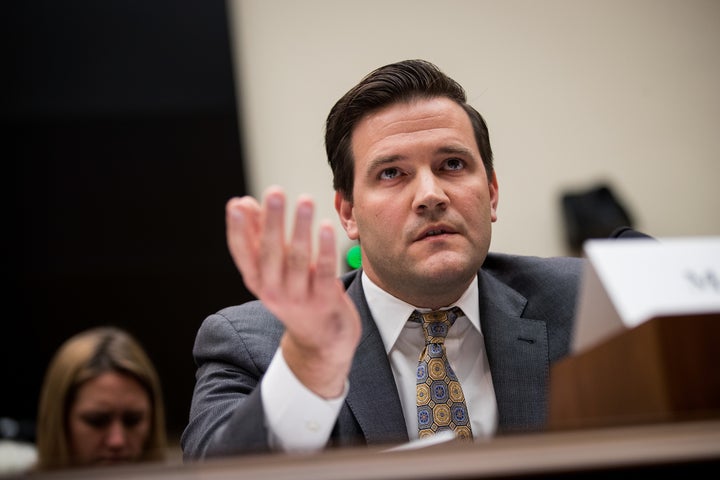 A Trump appointee's decision to personally review requests to release migrant children from jail-like "secure facilities" created a bureaucratic bottleneck that dramatically increased the amount of time kids spent locked up.
Office of Refugee Resettlement chief E. Scott Lloyd ― who first attracted national interest when a federal court slapped down his attempt to ban a teenage migrant who'd been raped from obtaining an abortion ― told subordinates last year that he'd have to personally sign off before any kids could be released from ORR's secure facilities.
As a result, hundreds of kids spent extra time in the jail-like facilities, which have been associated with far more allegations of abuse and mistreatment than the shelters and homestays that hold most of the children in ORR custody.
Brian Marriott, a spokesman for the Department of Health and Human Services, ORR's parent agency, denied the allegations regarding Shiloh, noting that the center runs under a state license and receives federal monitoring visits. "Our Office of Refugee Resettlement also conducts federal monitoring visits and medical reviews, and takes seriously the responsibility of caring for each child," Marriott wrote in an email.
Lloyd decided to make release decisions himself after reading news reports that some unaccompanied minors released from ORR custody later allegedly committed gang-related crimes, he told a congressional subcommittee last year. In a deposition for a New York Civil Liberties Union lawsuit challenging his new policy, which a federal judge halted with an injunction last month, Lloyd said he made the decision without an agency review and in consultation with just two colleagues.
Release requests were subsequently delayed for months as they mounted on the desk of a single bureaucrat.
One of the plaintiffs in the NYCLU lawsuit, a 17-year-old boy who has not been publicly identified, spent eight months locked in a juvenile detention hall after his arrest on gang-related charges that were never proven. Though it lacked evidence of criminal activity to justify his incarceration, ORR cited the boy's gang-related tattoos as one of the reasons for his extended detention. The boy has no tattoos, according to the NYCLU.
At least 700 children spent time in facilities with severe security restrictions because of the delay, the NYCLU says.
Lloyd's decision to make his personal signature a requirement for release from these secured facilities isn't an anomaly. It's part of a pattern. With almost no experience working on immigration issues or child care, the low-level bureaucrat has unilaterally made sweeping changes at the agency, blocking minors' abortions, keeping kids incarcerated longer and making it harder for parents to recover their kids.
An Anti-Abortion Crusader In An Unlikely Role
Lloyd had little immigration policy experience when President Donald Trump appointed him in March 2017. His only major immigration work, before he assumed control of an agency charged with helping tens of thousands of refugees, involved research and advocacy for Christians persecuted in Iraq, which he carried out as a policy worker with the Knights of Columbus and described in a 2016 CPAC panel titled "We Are All Infidels Now." His support for Iraqi refugees put him at odds with the Trump administration's first travel ban, which barred Iraqi nationals from entering the United States. (A later iteration removed Iraq from the list of restricted countries.)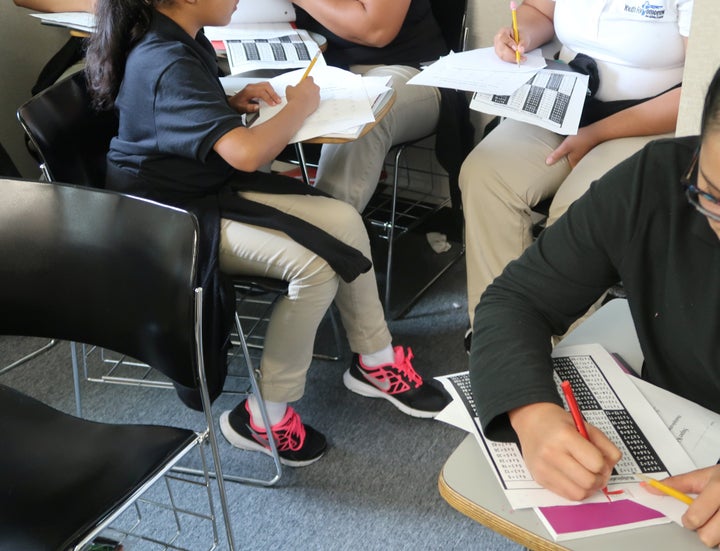 Lloyd's main policy experience before his appointment was in the fight against abortion rights. From 2009 to 2011, he worked at a Catholic law firm called LegalWorks Apostolate, run by prominent activists opposed to abortion, including the attorney Stuart Nolan. Lloyd sat on the board of the Front Royal Pregnancy Center, an organization that aims to dissuade women from terminating pregnancies. Some of his policy proposals were outside the mainstream of American politics: In a 2011 article for the blog Ethika Politika, he suggested that state lawmakers craft a law that would require women to gain consent from men before obtaining an abortion.
That background had little to do with immigration, but it seems to have appealed to Maggie Wynne, the anti-abortion leader whom Trump installed to transition the federal Department of Health and Human Services shortly after the 2016 election. Wynne recruited Lloyd to work at ORR, and he offered to direct the agency, according to the NYCLU deposition.
Lloyd, a father of seven, soon turned his anti-abortion politics into ORR policy. He denied abortions to six children in ORR custody, instead coaxing them to seek counseling at Christian-run pregnancy centers and requiring them to notify their families of the pregnancies, according to lawsuits. One of those women eventually received an abortion, and in April, a federal judge blocked Lloyd's policy of requiring unaccompanied children in ORR custody to carry unwanted pregnancies to term.
Lloyd declined to be interviewed for this story. But in an email, Nolan described his former colleague as a victim of "character assassination" by critics and political opponents.
"In all the years I have known him, Scott Lloyd has displayed nothing but the highest integrity," Nolan said. "He is a deeply compassionate person who is drawn to assist the most vulnerable among us."
Advocates say Lloyd's tightening of restrictions on release from ORR have had a dramatic impact on the children for whom the agency is responsible.
"Certainly under his leadership at ORR it's been a disaster for children across the board," said Brigitte Amiri, the American Civil Liberties Union lawyer who represented the minor in ORR custody seeking an abortion. "Not just with respect to abortion issues. He's put his personal stamp on things."
A More Active Role In Enforcement
Under Lloyd, ORR's mission as a human services agency is drifting toward one of more actively partnering with the immigration enforcement system, his critics argue.
"They're turning ORR into a detention agency," Bob Carey, who headed the agency during the Obama administration, told HuffPost. "It does not reflect the intent of Congress. They are not equipped to become a juvenile detention agency."
U.S. law bars Immigration and Customs Enforcement from detaining unaccompanied migrant children who cross the border without authorization. Instead, immigration authorities must transfer them to ORR, which holds them in contracted shelters until the agency finds a sponsor to care for them ― usually a family member. The goal, according to a 1997 consent decree called the Flores Settlement, is to promptly release children.
Tens of thousands of unaccompanied minors have moved through the shelter system annually since 2014. But at any given time, the agency holds a few hundred children in more secured facilities ― whether because of alleged behavioral problems, criminal infractions or the need for ongoing psychiatric treatment.
Last June, after Lloyd decided his signature was necessary before any child could be released, ORR began requiring all children accused of gang affiliations to be placed in secured facilities, according to filings in the Flores lawsuit.
But ORR typically classifies children as gang affiliates based on the word of Immigration and Customs Enforcement. In multiple lawsuits, judges later found that ORR had no evidence to classify several children in its custody as gang members, and did not consult with local law enforcement or put a process in place to appeal its decisions.
"Certainly under [Lloyd's] leadership at ORR it's been a disaster for children across the board."
Finding sponsors to whom to release children has also become more difficult under Lloyd's tenure. On April 13, three weeks before the Trump administration announced its now-abandoned policy of systematically splitting kids from their parents at the border, Lloyd signed a memorandum of agreement with ICE requiring sponsors to submit information documenting their citizenship and immigration status.
That move is scaring many undocumented parents away from claiming their children, according to Peter Schey, one of the attorneys who represents child migrants in the Flores lawsuit.
"Since his appointment we have definitely seen an increase in the number of children being placed in more secure facilities without being provided any type of a due process hearing or administrative appeal," Schey said of Lloyd. "We've seen cases in which children start acting out precisely because they don't know when, where or how they may be released."
"ORR responds by administering psychotropic drugs to these children," he went on, "and then refuses to release them to a relative because the relative cannot afford to purchase that psychotropic drug."
ORR's shift toward becoming an "enforcement ally" is "deeply troubling," according to Jeff Hild, the former chief of staff for the Administration for Children and Families, ORR's parent division. "You can see it bear itself out in the length of time it's taking to release kids to sponsors, which then has a ripple effect not just to those kids in care, but to the rest of the Health and Human Services budget," he said. "And it's all been made wildly worse by the family separation stuff."
Despite Lloyd's outsized impact on child migrant care, as the Trump administration's family separations at the border cast a spotlight on his agency, he has largely receded from sight. In the courtroom, in phone conferences with the press and on Capitol Hill, Lloyd rarely makes appearances, instead letting career civil servants like Jonathan White, a senior HHS official, speak about reunification efforts or policies restricting the release of migrant kids from secured facilities.
Lloyd has spoken with reporters twice over the last two months, according to HHS spokesman Marriott.
Lloyd's last major public appearance was more than three months ago, at a United Nations panel on migration. There, he echoed the White House's desire to make it harder for child migrants to enter the United States, citing an urge to protect them from human traffickers. He estimated that most of the children in ORR's care come for economic reasons that leave them with no claim for legal immigration status.
"What we're trying to do as an administration is to improve the legal framework whereby this program can be more focused on those who have legitimate claims for asylum, legitimate claims for special immigrant juvenile status," Lloyd said. "And those who are embarking on the journey for economic reasons are encouraged to find lawful means of doing so."
This story has been updated with comment from the Department of Health and Human Services.
Popular in the Community