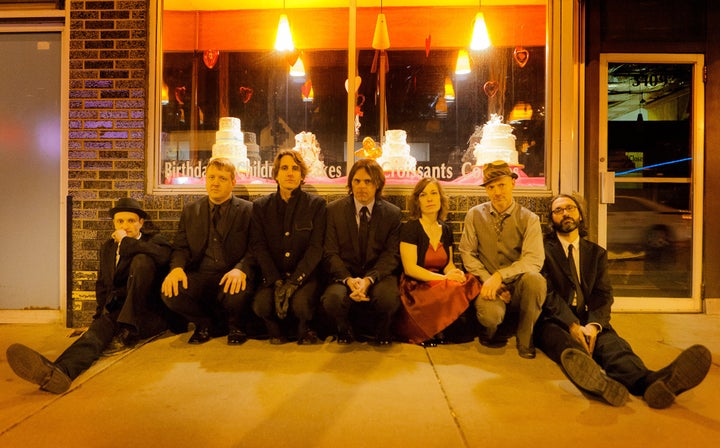 TOP 5 FOR WEDNESDAY, JUNE 13
1. Scott Lucas And The Married Men At The Red Palace
The Local H front man has been pigeonholed for far too long. Lumped into comparisons with bands that sound like they can't read instead of songwriters that actually share common traits, folks like Josh Homme and Jeff Tweedy, Lucas has continued to fight the good fight on not good stages far too long. This new act is celebrating the release of the newish band's second album, a much more Americana-sounding project than the meat and potatoes rock-and-roll of Local H. Armed with a cast of seven, Lucas is able to flesh out his music in a surprisingly subtle way. 8 p.m., 18+, $8
2. Heart of A Lion: Streets of Kingston Exhibition at Montserrat House
This new show from Joshua Coogan highlights the less touristy aspects of Jamaica. The opening will include a DJ set from Eric Hilton, a visit by Ziggy Marley and a portion of the proceeds will be donated to HIV programs through the MAC AIDS Fund. 6 p.m., 21+, no cover
3. Avi Avital At Sixth And I
This mandolin player is one of the finest in the world. We're taking the press release's word on this one. We can say that his YouTube videos have us enthralled. 8 p.m., all ages, $15
4. Mortified At Town
Storytelling seems to be all the rage. It's probably because shows like "Mortified" help remind us that high school exists. 8 p.m., 21+, $12 to $15
TOP 5 FOR THE NEXT 5 DAYS
Thursday, June 14
How to Host Your Own Event at Artomatic
D.C. is still a D.I.Y. town. The return of Fort Reno proves it. Whether you're a promoter, in a band or just there to have a good time, it's a good idea to get to know exactly why you're standing in a church, watching a black metal band, surrounded by teenagers.
Friday, June 15
JEFF The Brotherhood at The Red Palace
Regardless of what the future brings, this band will have a place in the heart of every kid that picks up guitar thanks to their super cool riff friendly "Heavy Days."
Saturday, June 16
Tour De Fat at Yards Park
The good people behind New Belgium Brewing present this festival of biking, beer and bands throughout the country. The D.C. event features a performance from recent Kennedy Center veterans Mucca Pazza. This punk rock marching band makes everything better.
Sunday, June 17
The Black Belles at Montserrat House
One of Jack White's favorite bands is coming to D.C. These four women stay true to the girl group tradition of reverb drenched vocals about love and lust, sound like they've emerged from a garage in 1973 after hanging out all day with T. Rex and dress like they're in the last good Tim Burton film.
Monday, June 18
Teen Mom, Alarms and Controls, Upforth at Fort Reno
The first Fort Reno show of 2012 means that summer is here. Teen Mom play jingly, comfortable pop songs. Alarms and Controls sound like the type of post-rock you'd want to hear from a Dischord band. Upforth is a group of teenagers playing progressive rock that doesn't sound like it's being made by a group of teenagers. All ages, free, no drugs or alcohol. This is what D.C. rock is all about.
CORRECTION: An earlier version of this post misidentified the name of the band Langhorne Slim.
Calling all HuffPost superfans!
Sign up for membership to become a founding member and help shape HuffPost's next chapter