A Utah dad fed up with his daughter's short shorts decided to do something that would make her realize they might not be as cute as she thinks.
Scott Mackintosh, a husband and father of seven, recently headed out with his family for some bonding time, he describes on his wife's blog, Becky Mack's Blog of Mild Chaos. The plan was to go to dinner and play miniature golf. Before leaving, he heard his wife asking his teenage daughter to put on some longer shorts. When the girl responded "no," Mackintosh decided to "make a 'small' statement on how her short-shorts maybe aren't as 'cute' as she thinks!"
So, he grabbed a pair of jeans, cut them into a tiny pair of shorts above the pocket and threw on a T-shirt reading "Best. Dad. Ever." The family got stares at the restaurant and stares at the mini-golf course, but his daughter still didn't seem to mind. Finally, when they ended the night with milkshakes, she decided to stay in the car instead of going through any more embarrassment.
There was no "Dad I get it" or "Dad you're the best…. thanks for that awesome lesson." ☺ I don't think my object lesson of "modest is hottest" made the statement I had intended. But no matter if social media gets the story mixed up and twisted, my daughter will always know that her dad loves her and cares about her enough to make a fool out of himself.
His daughter posted the photo of her dad to her Tumblr, writing, "My mom told me to change my 'slutty' shorts before we went to dinner. I said no. So my dad cut his jeans to fit in. We went to dinner and then mini golf like this." The post has since gotten over 130,000 notes. The photo also made its way to the social sharing site, Reddit.
"I simply did this in hopes that my daughter would know of my great love for her and that she knows of her great worth," he said in a statement to Deseret News. "Now that it has gone viral, I hope that young women everywhere understand their great worth. I will look like an idiot any day if that point gets across."
"She's dressed a little bit better since then," he said. "Yeah, she has."
As for the practice of public shaming, which involves potentially embarrassing one's child in a public manner as a means of discipline, some view it negatively.
"It's not just that humiliating people, of any age, is a nasty and disrespectful way of treating them," Alfie Kohn, author of Unconditional Parenting: Moving from Rewards and Punishments to Love and Reason, previously said. "It's that humiliation, like other forms of punishment, is counterproductive. 'Doing to' strategies -- as opposed to those that might be described as 'working with' -- can never achieve any result beyond temporary compliance, and it does so at a disturbing cost."
This story has been modified to include background on public shaming.
Related
Before You Go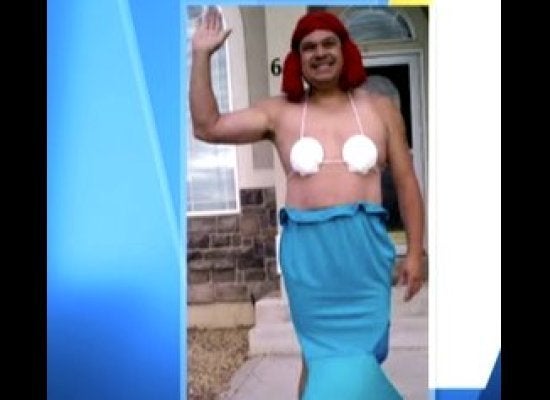 Most Embarrassing Dads