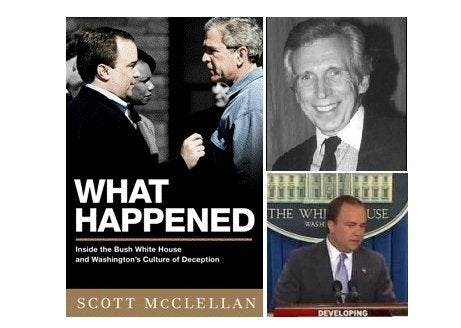 PublicAffairs founder and editor-at-large Peter Osnos has a hit on his hands — Scott McClellan's revealing new book, What Happened: Inside the Bush White House and Washington's Culture of Deception, has gone through the roof, hitting #1 on Amazon less than a day after The Politico broke the news of its "explosive revelations," including McClellan's assertions that the Bush administration used "propaganda" to sell the Iraq war; that the Bush administration had not operated with "candor and honesty" about "rushing to war with inadequate planning and preparation for its aftermath"; that Karl Rove and Scooter Libby met to "get their stories straight" about PlameGate, and "had at best misled" McClellan about those stories; that Bush and his advisors had grossly mishandled Hurricane Katrina; that he'd been "badly misguided" on information he delivered in some of his press briefings, and by "badly misguided" he means "at best misled".
MSNBC's "First Read" says it "guarantees one thing: There is NO CHANCE Bush fixes his perception problems in the public and the media anytime soon." (Ed Gillespie, who are you going to pin this one on, huh?). It also sees the book as striking a blow to the campaign of John McCain, who has been slowly backing away from the President but remains identified with many of his less popular policies, including many associated with the Iraq war. In short, this is a big book.
Osnos had a taste of this back in November when a small excerpt of the book was published on the Public Affairs website, and back then marveled at the resulting explosion of hype. We asked him if it felt different this time around, or if this was exactly what he planned. After all, doesn't every publisher plan for their books to hit #1? Here's what he had to say about it:
Did you know that McClellan's book would unleash this kind of firestorm?
We knew it was a powerful book, both its news value and its deeper message about what's wrong with Washington, as Scott calls it, "the culture of deception."
Did you have an inkling after the last round of publicity, when HuffPo picked up the tease from the Public Affairs website?
Sure. But a lot of people were skeptical about how far Scott would go in shaping his criticism. He's delivered in every respect.
Even knowing that this would have revelations, were you still surprised by the volume and power of the reaction?
You can't ever be sure. The book just went to #1 on Amazon. Last night it was 110,000. Yes, that's surprising.
How did Politico get the book early? Was it embargoed?
We asked booksellers to put the book up for sale on June 2 so that everyone would have it at the same time. A Washington bookseller either ignored the request or just overrode it.
Did you work directly on the book with McClellan? (Who was his editor?) How did the book come to Public Affairs?
The editor was Lisa Kaufman and yes, I worked very closely with them. He has an agent, Craig Wylie (no relation to Andrew) who contacted Lisa because he liked the way she had worked with another of his authors.

Back to the firestorm: Were you anticipating this level of attention? Did you factor in new-media political frenzy into your PR strategy, or was that just a happy accident?
The new media issue is a major one. Within minutes of the Politico post, everyone had an opinion about a book that none of them had read. There are hundreds of blogs holding forth without reading the book, just the fragments on Politico.

Do you think that's any different than any other book embargo, where a book is reviewed and there is a public reaction (as with Bob Woodward's last book), or does that just feel like more because there are so many more voices shouting?
If the book had been rolled out in a stately old-fashioned way, I think the reaction would be less explosive. Same book, less shouting without reading. Embargoes have always been a vexed issue in a business where distribution is cumbersome. It still takes three weeks to ship books by truck across the country. We did not have an embargo on release, just asked people to respect the June 2 date so everyone would have the same shot and, well, they didn't.
How, as the publisher, do you address the tension between important, breaking news that a book contains, and the fact that you know it won't reach the public for months, given current publishing norms?
PublicAffairs moves very quickly. Scott's book was finished about six weeks ago and is now for sale.

When you decided on the pub date for the book, was the election a factor? Did you think about where it would fall in the election cycle, and was that a consideration?
No. We decided to publish it as soon as it was finished. It was always scheduled for the spring, but took a little longer to complete than we originally anticipated.

Working with McClellan, what was your impression of how he felt about the book? Was he tense about its publication, conflicted about being accused of betrayal of confidences and disloyalty to his former boss, guilt-ridden about his own role in the process of obfuscation with respect to the drumbeat to war?
Scott was amazing. He knew from the beginning that this would be a controversial book and he was, ultimately, fearless in his judgments. He recognized that he would be subjected to criticism from all sides. But he felt what he had to say was worth the vituperation. Speaking out is not disloyalty. When Scott first approached us, we made sure that he understood what kind of publisher we are - and independent which carries a dedication in every book to Benjamin C. Bradlee, I.F.Stone and Robert Bernstein, former head of Random House. Scott wanted that kind of publisher. And anyone who knows anything about publishing knows, that authors never come to PublicAffairs for the money.

Any juicy bits that ended up on the cutting room floor?
The book reflects everything Scott had to say.
Related
Popular in the Community